The government's aspiration for foundation trusts to take over failing hospitals appears in significant doubt, a month away from the deadline for agreeing the future for all acutes.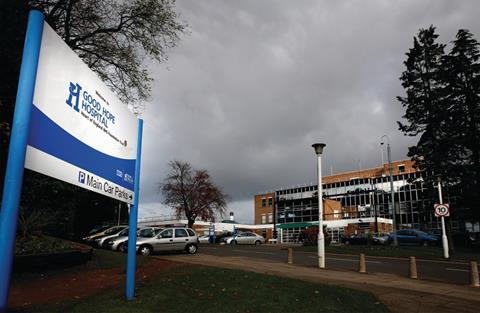 Heart of England Foundation Trust's rating has fallen since it took over Good Hope Hospital in 2007
Strategic health authorities and foundation trusts have expressed doubts about whether acquisition and merger will be a widespread solution, particularly by the March deadline.
In the future mergers will have to take into account the requirement to keep quality and safety at the level external bodies are expecting
The warnings come after the announcement Mark Goldman is to step down as Heart of England Foundation Trust chief executive, three years after leading the only acquisition of a hospital by a foundation (see timeline).
Despite Heart of England earning a reputation as a strong foundation trust, its annual health check quality score has dropped from excellent to good to fair in the past three years.
Last month Monitor cautioned the trust for missing its accident and emergency target and gave it a red risk rating for governance, while service change plans have faced strong local opposition.
Dr Goldman, a former surgeon, said he did not regret the takeover of Good Hope Hospital Trust in 2007, but more realistic expectations had to be set of how mergers would affect performance and how long they would take to succeed.
He told HSJ: "In the future mergers will have to take into account the requirement to keep quality and safety at the level external bodies are expecting.
"In the past we have set trajectories on finance. We also need clear trajectories on performance and the expectation of what's going to be achieved, then we wouldn't lose confidence in each other.
"The expectation has been that suddenly everything will be fine. That is never going to be the case."
But he added: "Let this not be a suggestion that ours is not a success. Both organisations are coming through it and my successor will have a dream job."
Ministers have approached leading foundations in recent months to discuss how it can be made easier for them to improve failing trusts, while NHS chief executive Sir David Nicholson has identified merger and acquisition as the main solution for trusts that will not become FTs.
There are widely expected to be at least 30 trusts in that position.
The operating framework set a deadline of 31 March for trusts and SHAs to set out how they will become foundations or an alternative by the "end of 2013-14 at the latest".
But there is uncertainty about whether the government will answer foundations' requests to reduce the risk of such moves.
FTs' wish list includes regulators making their requirements clearer, Monitor making it less of a risk for foundations, and financial support.
Foundation Trust Network director Sue Slipman said the DH had "certainly been willing" to discuss the barriers but not yet put changes in place.
She said foundations wanted a body, potentially SHAs, to have a role in leading and coordinating the changes, rather than them having to do it themselves.
Ms Slipman said: "I think we are being listened to but not yet entirely responded to."
Newcastle upon Tyne Hospitals Foundation Trust chief executive Sir Len Fenwick said foundations would be interested in mergers if there was "an interim arrangement to bring a more distanced organisation up to a level".
But Michael Macdonnell, a consultant looking at merger and acquisition for some foundation trusts, said political opposition to service changes would make moves from foundations unlikely until after the general election.
Several SHAs are understood to recognise the pitfalls of merger and acquisition and are exploring alternatives for their trusts.
Policy experts have repeatedly urged caution over the benefits of acquisition and merger. NHS Confederation policy director Nigel Edwards said while regulators might make some allowances in future, "there is a limit to how far people are going to stretch".
He said: "Seventy per cent of commercial mergers fail, and NHS organisations are rather more complicated.
"A significant number in the past in the NHS have been implicated in poor organisational performance."
High profile failures linked to mergers include Maidstone and Tunbridge Wells Trust and Stoke Mandeville Hospital. "It is expensive and takes much longer than you think. The risk of it is really very high. That message has never got across," he said.
NHS East of England strategy director Stephen Dunn said foundations were wary of the risks of acquisition and merger, possibly more so because of coming investment cuts. However, he said more transactions should and will go ahead.
He said: "Management in the NHS will step up to the challenges we face, and think about the quality of care they provide and how we spread that out."
The Good Hope story
April 2005 Heart of England becomes a foundation trust
August 2006 Monitor issues first guidance on mergers for FTs
April 2007 Heart of England makes first FT acquisition, taking over Good Hope Hospitals Trust
May 2007 Monitor predicts the Heart of England takeover may be the first of many similar ones
June 2007 South Staffordshire FT acquires Shropshire County PCT's mental health services
June 2008 Writing in HSJ, Heart of England chief executive Mark Goldman says the "risk/reward" balance must be altered if more FTs are to take over failing trusts
January 2009 The Foundation Trust Network publishes a guide to FT mergers and acquisitions
February 2009 DH and Monitor publish guidance for mergers
February 2009 HSJ reveals that 20 acute trusts are not timetabled in the foundation trust "pipeline"
October 2009 South Essex Partnership University Foundation Trust selected to take over Bedfordshire and Luton Mental Health and Social Care Partnership
December 2009 NHS chief executive Sir David Nicholson tells HSJ there are not enough incentives for foundation trusts to take over failing organisations
February 2010 Cambridge University Hospitals Foundation Trust withdraws its bid to run Hinchingbrooke Health Care Trust, leaving only private sector organisations tendering
February 2010Mark Goldman announces he is stepping down as Heart of England chief executive
Dream of taking on ailing trusts founders on rocks of Good Hope
1

2

3

Currently reading

Rescue plan for ailing hospitals in doubt