Trust's audit reveals discrepancies in A&E patients' "virtual" and actual admission to emergency decisions unit
Whistleblower claims staff at Worcestershire Acute Hospitals Trust admitted patients into "virtual ward" to avoid four hour target breaches
Trust says investigations found no "deliberate" gaming of four hour target but revealed "poor processes and recording"
A struggling hospital trust has found evidence that breaches of the four hour accident and emergency target may have been under-reported because patients were being admitted to a "virtual" ward even when they were still physically in A&E.
Worcestershire Acute Hospitals Trust has shared with HSJ an audit report it carried out in response to allegations that staff were admitting patients to a "virtual" emergency decisions unit in order to avoid breaching the four hour standard.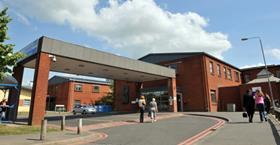 The audit, carried out in August to September 2015 and again in April 2016, found some emergency patients at Alexandra Hospital were recorded as being in an EDU despite physically remaining in A&E. The report also uncovered examples of patients whose recorded admission time did not match with the time they were actually moved.
The latter examples may have resulted in the trust failing to record breaches of A&E targets when it should have, the audit found.
Worcestershire Acute Hospitals has long been one of the poorest performers in the country against the four hour target. It has not hit the target since at least the beginning of 2013.
In a statement, the trust said investigations found cases of "poor processes and recording" but no evidence of any deliberate attempts by staff to "defraud or game the system".
According to the trust, "virtual EDU" was a term used by staff to describe the discrepancies rather than a "policy initiative".
Minutes from a senior managers' meeting obtained by HSJ show the term was in use as early as 2013.
A former staff member who worked in the trust's A&E department said the virtual EDU was nicknamed a "breach avoidance unit". The source also said staff felt under pressure from managers to "falsify records for the four hour target", and nurses did not want trust managers "harassing" them over four hour breaches.
A trust spokesman said the trust did not recognise these claims and refuted them.
The whistleblower, who wished to remain anonymous, said staff would "pretend" a patient had moved into an EDU but would not physically move the patient out of A&E. This would enable A&E nurses to continue to care for the "admitted" patient without having to spread themselves more thinly by working in both the A&E and actual EDU wards.
"Very often it was at night or weekends, where there were very few staff," the source said.
In February 2015, the trust asked its audit committee to look into the allegations but found "no evidence on the manipulation of data".
On 10 November 2016, the audit committee looked into "a small number of cases" where the times entered for admission in computer notes "did not tally" with the time in paper notes. The audit concluded that these cases were administration errors rather than an attempt to present the trust in a better light.
Another audit, completed on 18 August 2016, covering 126 admission cases, said: "Instances were noted where the records available do not support that patients have been moved to EDU.
"The matron explained that this will occur infrequently where an initial decision to move a patient is actioned on the system but then a subsequent decision is made to retain the patient in ED which cannot be reversed… The matron has explained that these will relate to timing differences between actual physical transfer and the times subsequently recorded on admission."
Trust chair Caragh Merrick said: "We can confirm that these alleged practices are not happening today and that previous investigations show that 'virtual EDU' was a language issue rather than a policy initiative.
"Since joining the trust in September, I have regularly acknowledged that we need to change some aspects of the way we operate and also the way we engage and communicate with patients, public and stakeholders. We are a very challenged trust and our performance against a number of targets and indicators hasn't been, and isn't, good enough.
"As we move forward with a new permanent leadership team a different culture will be introduced, led from the top but being recognised and delivered at all levels within the organisation."
The trust named a new substantive chief executive in December. Michelle McKay, who currently runs social care services in Queensland, Australia, will join the trust later this year.