Full picture of hospital capacity in hotspot areas is revealed for the first time, amid controversy
Several areas have more covid hospital patients than in the spring peak
Covid-19 patients are displacing other patients from critical care, but very little "surge" capacity has been opened
Instead, electives are being cancelled or moved
Greater Manchester doctor: "We're furiously bailing the water out of a sinking ship waiting for disaster"
The most comprehensive picture so far of how covid's second wave has hit the NHS in the north of England is revealed in new figures obtained by HSJ.

The latest data confirms that parts of the North West region now have more coronavirus patients in hospital beds than they did in the spring. It comes amid intense public debate about the best way to fight covid, and whether or not it is close to swamping the NHS.
Collected from local NHS sources in a joint HSJ and Independent investigation, the information shows for example that:
Lancashire and South Cumbria had 544 confirmed covid hospital patients yesterday (around 15-18 per cent of the bed base), about 20 more than during the April peak.
Liverpool University Hospitals – which remains the most severely affected trust – had 408 confirmed covid patients yesterday (20-25 per cent of bed base), whereas it never topped 400 in the spring.
The data is sent routinely by trusts to NHS England but most of it is not published – something some politicians are now calling for.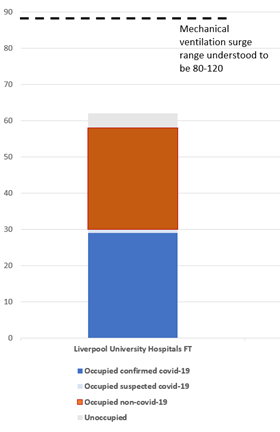 As of yesterday, there were nearly 6,100 confirmed-covid patients across England, about 650 of whom were in critical care, and 560 receiving mechanical ventilation, according to information shared with HSJ.
The number of "unoccupied" hospital beds is much lower now than in the spring, when they were cleared out in anticipation of a major hit. In the North West, up to 5,500 acute beds were reported as "unoccupied" in the spring, whereas the figure now is about 2,500 (around 14-18 per cent of the bed base).
However, critical care is the major pinch point in the most affected areas, with nearly half of the mechanical ventilation beds open at Liverpool's hospitals (29 of 62) occupied by confirmed covid patients; and a third of those across the North West (178 of 556).
However, hospitals in the area have opened very few extra critical care "surge" beds so far. The total numbers of mechanical ventilation (a subset of critical care) beds open in LUH and the rest of the region has not increased much in recent weeks, and falls well short of what they have declared they could open as potential surge capacity, if they cancelled large amounts of non-urgent care and reorganised staffing and wards.
Instead, the number of empty mechanical ventilation beds is falling – down to single figures at Liverpool and Birmingham University Hospitals yesterday – and there are falling numbers of non-covid patients receiving mechanical ventilation.
The average number of non-covid patients on mechanical ventilation at LUH is about a third less so far in October than in September. There is a similar but smaller effect across the North West, according to the information.
This is because the pressure is so far being managed by scaling back elective surgery, or attempting to move it elsewhere, rather than also a major reconfiguration of services to expand critical care capacity, like that which took place in the spring.
A senior clinician at Liverpool Hospitals told HSJ that non-urgent elective lists have been "hit hard" by the surge in covid patients and their impact on critical care capacity. They said the trust has also started to transfer a small number of critical care patients to the Walton Centre FT and Liverpool Heart and Chest Hospital, which both have critical care units. Cancer and urgent electives are continuing for now, they said.
Ganesh Suntharalingam, president of the Intensive Care Society, said: "Going into surge capacity is not trivial – it is at the expense of staff in terms of stress and PTSD and possibly of patient outcomes, so flexing staffing ratios is justified only as a crisis response.
"Alternative responses should be considered first, which may include temporarily transferring other work such as planned care to other hospitals or even other parts of the UK. This may not sit well with local targets or inter-organisational politics, but needs to be part of the debate."
A senior doctor in Greater Manchester said: "It's starting to look a mess. It's not like last time because we had emptied out ready for the first wave (in April).
"The feel is different this time, like we're furiously bailing the water out of a sinking ship waiting for disaster, whereas for the first wave it was all calm and prepared. We were watching Italy, then London, and getting our shop in order before things happened."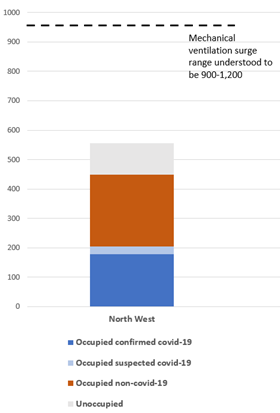 North West region
The status mechanical ventilation beds on 22 October, with indications of potential surge capacity - see note*
Nicki Credland, chair of the British Association of Critical Care Nurses, said: "We are certainly looking at a second surge now. There are some areas that are now seeing intensive care admissions that are higher than they were in wave one, but it's much more localised. The North West is being hammered more at the moment but it's spreading into the North East."
She said stopping many routine services during the first wave meant staff could be redeployed but this was not possible while other services were still going ahead.
She added: "This time the increase in patients has been more of a slow burn which is good because you can manage these patient increases better, but it means staff being under pressure for a longer period of time when they have already been through wave one."
An NHSE spokeswoman said: "Coronavirus cases and hospital admissions are rising and so it is vital everyone does what they can to control the virus, particularly by following government guidelines.
"Social distancing is the first line of defence, followed by the test and trace programme, but if infection still then spreads, the NHS has no choice but to activate local and regional escalation plans."
*Note: definitions and reporting of critical care capacity, including mechanical ventilation, are variable — especially for potential "surge" capacity, and varying surge estimates have been given throughout the pandemic. The dotted lines are based on information from various sources, but should be taken only as indications of what surge capacity may be available, depending on what decisions are made.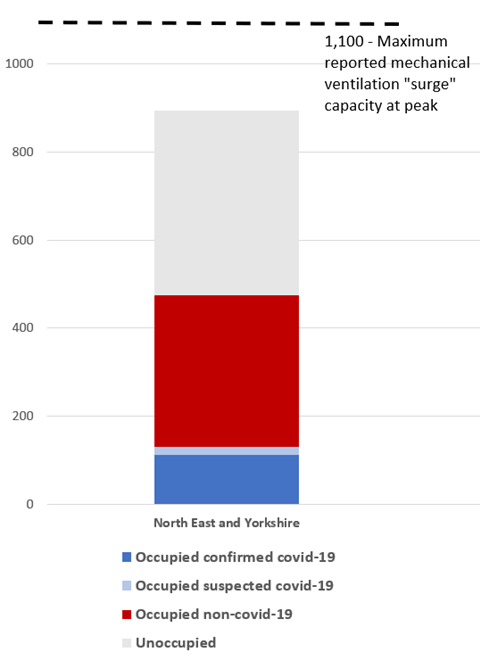 2020 HSJ Patient Safety Virtual Congress and Awards
The Patient Safety Virtual Congress brings together over 1,000 attendees with the shared goal of pushing the boundaries of patient safety in the UK. Hear from patient advocates on an equal platform and leave with practical ideas to take back to your organisation.
Register your interest
Source
HSJ/Independent sources