East London trust has 1,015 patients waiting more than a year on elective RTT pathway
Barking, Havering and Redbridge University Hospitals Trust's total dwarfs reported national figure
True national total not known as large acute trusts fail to report waiting times data
More than 1,000 patients waited more than a year for treatment at a single hospital trust – more than the rest of the English NHS put together – HSJ can reveal.
Barking, Havering and Redbridge University Hospitals Trust has not reported waiting times data to NHS England since February 2014, but a trust document obtained by HSJ shows it had 1,015 patients waiting more than a year for elective treatment at the start of February.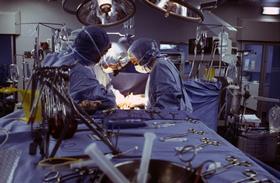 The number of one year waiters at the east London trust dwarfs the reported national total.
The latest NHS England data on elective waiting times showed 748 patients waiting more than a year for treatment as of December.
More than half of these were at just two trusts – North Bristol Trust with 167 and University Hospitals of Leicester Trust with 267. The remainder of the national total is spread over 41 acute trusts, most of which have less than five one year waiters.
Barking is one of nine acute trusts in England that do not report waiting times data, so the true national figure for patients waiting 12 months or more could be higher.
The revelation could expose Barking to a £5m fine from its commissioners. Clinical commissioning groups are allowed to fine a provider £5,000 for each month a patient waits beyond 52 weeks on a referral to treatment pathway.
Trust chief executive Matthew Hopkins said: "It is crucial that patients are seen as quickly as possible and we are sorry that a lot of patients are waiting too long for treatment. We are taking urgent action, working with our local partners and stakeholders, to ensure high quality, accessible care for our patients.
"We have significantly reduced the backlog of patients who have been waiting by putting on extra clinics to see and treat the people who had been waiting too long, but we know there is much more to do. This [financial] year we will have provided 520,000 outpatient appointments, 25,000 more than last year, and are committed to meeting the waiting time standard by the end of 2016-17.
"We announced back in early 2014 that we had introduced a new reporting system which had identified several operational issues with our referral to treatment reporting, dating back several years. We carried out a thorough validation exercise to make sure we were confident with our figures, and suspended reporting of our performance while that took place.
"A longstanding mismatch between capacity and demand, and the issues with reporting our performance, meant that a substantial backlog had built up."
He added: "Those patients who have been waiting a significant amount of time have been contacted and we are booking in their appointments for the coming weeks.
"We have put in place a robust recovery plan, with support from the NHS Trust Development Authority and NHS England."