Two thirds of the growth in emergency admissions in recent years has been for patients who are discharged without an overnight stay, HSJ analysis has revealed. 
The rising proportion of "zero day" admissions is currently the subject of discussion at the highest levels of national bodies, which are trying to determine how many of the admissions are necessary and whether providers are being paid appropriately for them.
It comes at the end of a winter in which the NHS has struggled to maintain performance against the four hour emergency target, with rising demand widely cited as reason.
HSJ analysis of hospital activity data shows that zero day admissions account for two thirds of the emergency activity growth between 2013-14 and 2016-17.
Between 2013-14 and 2016-17, emergency admissions overall rose 8.6 per cent to 5,883,234. That is an increase of 467,772 – while zero day admissions rose by 312,055 over the same period.
By 2016-17, they accounted for over 30 per cent of all accidents and admissions. The percentage rose in each preceding year.
Provisional data released to HSJ from NHS Digital covering 2017-18 suggests this share rose above 31 per cent in the first three quarters of the year. While overall accident and emergency admissions have increased 2.3 per cent year on year, in one month the number of zero day admissions was up by more than 10 per cent.
The National Audit Office is due to report on rising demand for emergency services in the coming weeks. The NAO is expected to be critical of the NHS if leaders cannot explain whether all zero day admissions are necessary.
Growth in percentage of zero day admissions
Year
% of admissions which are zero day
2013-14
27.36
2014-15
28.38
2015-16
29.51
2016-17
30.49
2017-18 (first eight months)
31.98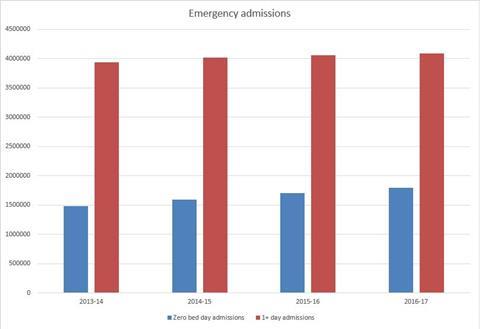 Zero day admissions growth 2016-17 to 2017-18 (provisional data)
2016-17
2017-18
Year-on-year growth (%)
April
140595
148064
5.31
May
153305
162364
5.91
June
150062
159379
6.21
July
151799
162440
7.01
August
144259
154621
7.18
September
149202
156918
5.17
October
153537
169473
10.38
November
153981
168026
9.12
December
151188
158160
4.61
Total zero day admissions to month 9
1347928
1439445
6.79
Analysis
In a zero day admission, a patient is admitted and discharged on the same day, without needing to be transferred to an overnight ward. This may be more appropriate than a full admission for a patient in need of tests after attending with chest pains, for example, or who has presented with an infection and needs monitoring to check antibiotics are taking effect.
The vital question that NHS Improvement and NHS England need to be able to answer is: should zero day admissions be rising as fast as they are?
No one believes that all zero day admissions are unnecessary, but opinion is split on whether all of the growth is justified.
Optimists argue that short stay emergency admissions are being driven by ever more appropriate and more efficient forms of care: that people who otherwise would have been kept in overnight unnecessarily are leaving after a few hours. Thanks to trusts' investment in ambulatory urgent care, the argument goes, ward capacity is kept free for the patients that really need it, while those patients who just need a few tests or a bit of observation get to go home sooner.
That argument is most commonly heard from providers, and emergency care leaders.
The counter, which comes more from the commissioner side, questions whether all those admissions are appropriate, and whether trusts might be being overpaid for some of them. For example, not all zero day admissions are alike: a patient discharged in under two hours probably needed less treatment than someone who was kept in for eight hours. Commissioners may sensibly ask whether all those two hour admissions were really necessary at all. The average tariff rate is £600 per emergency admission. Is that too much for those ultra short stays?
The outline of this debate is faintly visible in the different tones taken by NHS England and NHS Improvement. In its quarter three report, NHSI acknowledged that A&E performance had fallen short over the winter, and emphasised rising demand for emergency care.
In its February board papers, NHS England used the zero day phenomenon to soften the message on rising demand. The issue was listed as "demand moderation", in a section on efficiency which also included clinical commissioning group efficiency savings, continuing healthcare savings, and medicines optimisation.
Another important issue is readmissions: studies by Healthwatch and the Nuffield Trust last autumn showed they had risen dramatically since 2013. A pessimist might conclude that zero day patients are boomeranging back into hospital a couple of days later – although under a typical ambulatory care pathway some of these might be planned follow-up appointments, which may be distorting the picture.
No conclusion can be reached until we know whether the patients in question are receiving a good experience and good outcomes.
So what happens now? Look out for criticism from the NAO in the coming weeks, but don't expect a rapid change in policy or payment.
The planning guidance earlier this month said: "local systems are also encouraged to introduce appropriate local tariffs for emergency ambulatory care where they have not already done so." A change to the national tariff – even for 2019-20 – is not likely to follow because it would have to be worked out and agreed by September.
This is not possible because there is not yet enough understanding of why zero day admissions are rising, how much they really cost on average, and whether they should be incentivised.
In 2018-19, the job will be to produce richer data on zero day admissions, for example the number of two hour admissions compared with longer stays, and gain some better insight into these questions.