Seven trusts in Yorkshire to cede control over decision making to newly created federation board
Leaders want new structure to help speed up transformation of acute services
New board and south Yorkshire STP both headed by Sir Andrew Cash
Seven trusts will cede authority over decision making on some services to a new federation board, designed to be the main driver of transforming acute care services serving 2.3 million people.
The board will be made up of the trusts in the Working Together vanguard, which involves all five acute organisations in south Yorkshire, the Wakefield based Mid Yorkshire Foundation Trust and Chesterfield Royal Hospital FT.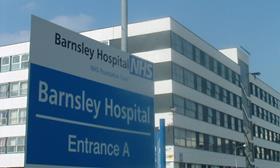 The five acute FTs in south Yorkshire are: Barnsley Hospital; Rotherham; Sheffield Children's; Sheffield Teaching Hospitals; and Doncaster and Bassetlaw.
Under the arrangements there will need to be 75 per cent agreement for decisions to be made.
It will be headed by a lead chief executive, appointed annually, and include the chief executives from each trust, the chair of the Working Together clinical reference group, and the vanguard's programme and medical director.
Responsibility for services ceded under delegated authority will be managed by the board, which will also monitor performance and delivery.
The trusts' boards will retain their statutory powers but leaders have agreed they do not want traditional decision making structures to be a barrier to innovation.
The scope of services to be included in the arrangements will be determined by the partners and align with south Yorkshire's sustainability and transformation plan.
Officials say the move will create a two-tier structure in south Yorkshire. The federation board will have its own governance arrangements, while the STP board assumes overall whole system control.
A report to the trust boards said the two-tier approach had national support as a "replicable governance structure for new models of care".
Both the federation board and the STP are being headed by Sir Andrew Cash, chief executive at Sheffield Teaching Hospitals.
He said the new board was the "next logical step" for the vanguard and would provide greater support to develop and implement changes.
"We will remain as seven separate trusts with our own accountabilities and responsibilities and we have no intention to pursue mergers or acquisitions," he said.
"Our starting point for everything we do will be: can this be done better, safer, more economically for our patients if we work with our partners in a different way?"
Collective changes could include networking clinical services to support long term sustainability and new ways of working to support specialties it is hard to recruit to.
The report said the board's main focus will be as a "delivery vehicle for the acute transformation of services".
It said the board would:
· be responsible for strategic leadership and oversight of new models of care;
· make recommendations to the seven trust boards for changes which have a material impact on them;
· hold organisations to account for progress against agreed decisions;
· establish monitoring arrangements to identify the impact on services;
· determine processes for resolving disputes; and
· oversee the creation of joint ventures or new corporate vehicles.
Working Together was initially created in 2013 to improve the quality, productivity and sustainability of services. It became an acute care collaboration vanguard in September. Work is already advanced on networks to secure the future of specialties facing the biggest staffing pressures – particularly out of hours, ENT, ophthalmology, oral and maxillofacial surgery, children's services and radiology. Integrating corporate services is also part of the arrangement.