Second warning from coroner to NHS England chief following neurosurgery delays as a result of ICU bed shortage
Teresa Dennett was denied an immediate transfer to Nottingham University Hospitals Trust
Doctors told the coroner policies to admit patients regardless of bed capacity were "aspirational"
NHS England chief executive Simon Stevens has been told for a second time by a coroner that patients could die because a shortage of intensive care beds stops them receiving urgent surgery.
Mr Stevens was sent the warning by Nottinghamshire assistant coroner Heidi Connor in January after the death of 58-year-old Teresa Dennett.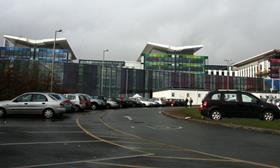 She died in February 2016 after a stroke that required emergency neurosurgery, which was delayed due to no free intensive care unit beds at Nottingham University Hospitals Trust.
A medical registrar tried to "broker a deal" with doctors at Sheffield Teaching Hospitals Foundation Trust over whether they should treat Ms Dennett, Ms Connor wrote, but they also refused.
Ms Connor said the evidence of three consultant neurosurgeons was that Ms Dennett was likely to have survived had the operation taken place. She added: "By the time a decision was made to transfer her regardless of critical care bed availability, it was too late for her to have the operation."
Ms Dennett was admitted to King's Mill Hospital, run by Sherwood Forest Hospitals FT, on 6 February last year at 9.20am and was diagnosed as having a stroke. She was initially observed before a decision was made at 12.30am on 7 February that she needed neurosurgery at NUH.
The inquest was told that while a neurosurgery registrar had agreed for Ms Dennett to be transferred, an intensive care consultant said all the beds were full with no likelihood any would become available soon.
Doctors were advised to ask Sheffield Teaching Hospital to take Ms Dennett but while registrars at the trust were willing, a consultant said she should be treated in Nottingham. The inquest was told a Freedom of Information Act request by her family found the hospital had surgeons and eight ICU beds available.
At one stage doctors considered sending Ms Dennett to Birmingham or Oxford but her doctors contacted the on-call stroke physician at Nottingham. Ms Dennett was transferred to NUH around three hours after the initial request was made.
By this time she had deteriorated too much for surgery and she died later in the morning.
In her verdict, the coroner said: "If an operation had taken place before her final deterioration at around 3.30am on 7 February, then it is likely she would have survived, albeit with ongoing neurological disabilities."
In her letter, the coroner referred to a statement by the Society of British Neurological Surgeons that said patients requiring life saving emergency surgery should always be accepted by the regional centre regardless of critical care bed availability.
She said: "Many of the neurosurgeons involved in this case had not heard of the statement before this case, and some described it as 'aspirational'…
"Crucially, it was clear that there was no written protocol in place to set out a clear pathway for referral for emergency neurosurgery. The medical registrar at [Kings Mill Hospital] was left to try to 'broker a deal' with multiple neurosurgery units, and valuable time was lost in the process.
"I made it clear at the inquest that the efforts of the medical registrar… are to be praised for all he tried to do to facilitate this."
She said unless action was taken to address her concerns future deaths could occur.
Both NUH and Sheffield told the coroner they were working on new policies that would see all patients needing life saving surgery being accepted for transfer immediately regardless of ICU bed capacity. A new written policy should be in place by March this year, Ms Connor added.
Last week HSJ revealed that Mr Stevens received a warning in December from north London senior coroner Mary Hassell after three hospitals refused an emergency transfer from East Surrey Hospital for Mary Muldowney in July last yar. St George's, Royal Sussex and King's College hospitals refused to accept Ms Muldowney because none of them had free ICU beds.
The Royal Free Hospital, which also had no ICU beds, agreed to take Ms Muldowney more than two hours after the initial transfer request but she deteriorated during the journey and surgery did not save her.
James Palmer, a consultant neurosurgeon and NHS England's clinical director for specialised commissioning, said: "The coroner has first asked the chief executives of Nottingham and Sheffield hospital trusts to report by 31 March and as soon as they have done so our medical experts have then been asked to review any further action needed in the light of their responses.
"Emergency brain surgery across the country involves daily decisions on the care of critically ill patients with often very complex clinical decisions to be taken."