Huge fall in emergency department attendances in past two weeks
Most marked in those aged five to 44, and for GI and heart complaints
GP consultations also down sharply for many conditions
Attendances at NHS emergency departments have fallen sharply as the coronavirus outbreak has gathered pace in the UK, new data has revealed.
Public Health England monitors daily visits to a network of EDs across England. The latest figures, to Sunday 22 March, showed a drop of around a third in total attendances since 8 March. The first confirmed coronavirus cases in the UK were on 31 January, and the first confirmed death was on 5 March, when cases reached 115. Strict distancing measures have been ramped up over the past week or so, with a police-enforced lockdown announced on Monday 23 March.
The number of daily attendances at the group of EDs monitored by PHE's emergency department syndromic surveillance system has fallen from around 25,000 to around 17,000 in the past two weeks — a figure well below anything seen in the past year.
No figures for emergency admissions to hospital are available, or on waiting times in ED. These are normally published with a lag of around a month.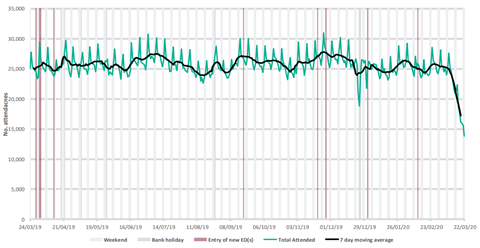 The fall in ED attendances appears to be most marked in people aged from five and 44 years, according to the data.
Attendances for gastrointestinal and heart complaints have fallen, while pneumonia attendances — which may be linked to covid-19 concerns — have been increasing. Those for respiratory and flu-like illness have been fairly stable.
It comes as there are also reports of many more medically stable patients being discharged from hospital than usual, while some elective care is being cancelled, resulting in reports from some sites away from the early covid-19 surges that they have a much lower workload than usual.
One acute chief executive in the north of England said they had more unoccupied beds than usual.
Another, in the Midlands, said: "For the majority of our staff it has never been as quiet, there are many with not a lot to do." Part of planning for the expected surge is to free up staff to be trained, and space to be redesigned and repurposed, however.
Surveillance data for in-hours GP consultations also showed they have reduced in recent weeks, with a marked drop-off for several symptoms including GI, vomiting, and diarrhoea, although the overall trend is not clearly reported.