The NHS will have to open more beds – but would struggle to staff them – if there are not sufficient reductions in delayed transfers of care ahead of winter, Simon Stevens has said.
The comments come amid a row over the release of better care fund cash to local authorities that have not agreed targets for cutting delays linked to social care.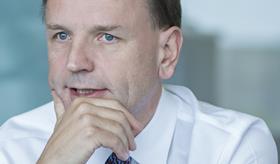 NHS England's board meeting today heard hospitals were already planning to open 3,700 additional beds this winter.
The board was told there would be sufficient capacity for the system to perform well, if the 3,700 is supplemented by a reduction in beds occupied by patients who are medically fit for discharge of 2,400.
However, the meeting was told there had not been enough improvement on DTOCs this year, with delayed transfers continuing to increase in recent months. A board paper said: "To date only limited progress has been made, with social care related DTOCs in particular continuing to rise."
National rules on the BCF, which includes an additional £1.1bn this year for adult social care, require each area to have a clear plan to "free up its share of 2,000-3,000 hospital beds across England". In cases where no agreement can be reached following escalation, "NHS England has the ability to direct use of the CCG contribution [£3.6bn nationally] to a local fund where an area fails to meet one of the BCF conditions". It must consult ministers on use of this money, but the "final decision [is] taken by NHS England".
National urgent and emergency care director Dame Pauline Philip told the meeting that so far 87 local authorities were compliant with BCF requirements and 66 were not. She indicated that discussions were ongoing over next steps.
Local Government Chronicle reported this week on a number of councils refusing to agree their targets as they said they were "unachievable".
Mr Stevens told the board that, if winter demand pressures are high, then: "To the extent those beds aren't freed up [because of delays], there will need to be further beds opened." However, he said this also required the beds to be staffed and "it's not as if there are loads of nurses around to open up extra beds".
The NHS England chief executive said this meant continuing work within the NHS, particularly community health trusts, and "also the very difficult conversations that are happening in some parts of the country now around social care".
In past years, trusts have reported additional costs hiring agency staff during winter and cancelling planned care.
NHS England chair Sir Malcolm Grant said in this year's winter preparations he and others had observed "a sense of grip across the system and a sense of leadership".
Dame Pauline outlined a new planned management approach to winter including a "central operations function" to coordinate, monitor, intervene and "provide direct management/oversight of particularly challenged systems".
Last week, NHS chief executives in areas performing badly had to attend a mandatory meeting about improving performance, where one group was asked to chant "we can do this".
In the previous week, two hospital chief executives resigned under pressure from ministers and NHS Improvement over consistently poor accident and emergency performance. Chief executives in other areas report being told by NHS Improvement and NHS England that their jobs will be at risk over winter performance.
Stevens: NHS will be forced to open extra beds if DTOCs aren't cut
1

Currently reading

Stevens: NHS will be forced to open extra beds if DTOCs aren't cut

2