Third of trusts not predicting hitting A&E target by the end of 2016-17
NHS Improvement and NHS England to replace fines for access performance with conditional access to bailout funding.
12.5 per cent of monthly bailout dependent on hitting A&E trajectory, 12.5 per cent on RTT trajectory and five per cent on cancer access
More than a third of acute hospital trusts providing A&E services will still be missing the four hour waiting time target in March 2017, according to Deparment of Health information released on Thursday.
The "strengthening financial performance and accountability in 2016-17 document released this morning sets out the agreed "performance trajectories" for each trust on three key performance measures.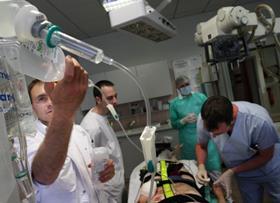 Forty-seven have been allowed to set targets for March 2017 that are below the national target that 95 per cent of patients are seen within four hours.
The document said "performance improvement trajectories" would replace "national fines" for missing the access targets on A&E, elective procedures and cancer. Thirty per cent of a trust's bailout funding would be dependent on hitting the targets agreed with NHS Improvement.
There are 140 trusts with "type one" major A&E facilities and the projections are likely to underplay the shortfall as they do not include figures for 16 trusts that have not accepted control totals for deficit reduction. The trusts whose performance trajectories are excluded include large trusts with poor A&E performance like Barts Health Trust and Norfolk and Norwich University Hospitals Foundation Trust.
The DH document said an expanded emergency care improvement programme team would cover a quarter of the country and "targeted leadership support which will be deployed to help (among other things) improve local relationships and support individual system leaders, especially where there have been interim arrangements in place".
The plans submitted by trusts and agreed by NHS Improvment in return for bailouts from the sustainability and transformation fund show all but two trust predicitng a return to compliance on planned care by the end of 2016-17.
The target of no more than eight per cent of patients waiting more than 18 weeks will be hit by March at every trust except Brighton and Sussex University Hospitals Trust and King's College Hospital Foundation Trust, the report said.
The target of 85 per cent of cancer patients being treated within 62 days of referral is predicted to be hit by all but one trusts by March 2017. Guy's and St Thomas' Foundation Trust, a major specialist trust in London, has been allowed to set a target of 81 per cent by the end of 2016-17.
The 2016/17 A&E Improvement Plan from NHS Improvement and NHS England will mandate the introduction of a primary and ambulatory care screening in emergency departments and a higher proportion of NHS 111 calls taken by clinicians.
Fourteen trusts and CCGs put in 'financial special measures'
1

2

3

Currently reading

Third of providers will still miss A&E target in March 2017

4

5

6

7