NHS Improvement chief raised concerns over "organisations who consistently deliver very low levels of performance"
January was "a very difficult month" for A&E departments, Jim Mackey said
Trusts "left in no doubt whatsoever that there needs to be a sustained improvement"
The 30 worst performers on the accident and emergency four hour standard were summoned to London by regulators this week.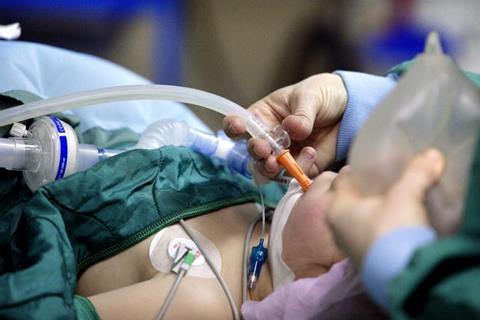 Representatives met with NHS Improvement chief executive Jim Mackey, who had written to trusts to raise concerns over "a number of organisations who consistently deliver very low levels of performance".
The letter, seen by HSJ, suggested that January had "clearly been a very difficult month" for the trusts' A&E departments. The four hour target performance data for this period is not yet available, after NHS England stopped its weekly publication at the start of the winter.
The 30 trusts called to the meeting
North Middlesex Univeristy Hospital Trust
Aintree University Hospital Foundation Trust
University Hospital of South Manchesters Foundation Trust
Tameside Hospital Foundation Trust
Stockport Foundation Trust
Torbay and South Devon Foundation Trust
Portsmouth Hospitals Trust
Hull and East Yorkshire Hospitals Trust
University Hospitals of North Midlands Trust
Nottingham University Hospitals Trust
Norfolk and Norwich University Hospitals Foundation Trust
Kettering General Hospital Foundation Trust
North Bristol Trust
Warrington and Halton Foundation Trust
Countess of Chester Foundation Trust
West Hertfordshire Hospitals Trust
Weston Area Health Trust
Great Western Hospitals Foundation Trust
The Princess Alexandra Hospital Trust
Pennine Acute Hospitals Trust
North Cumbria University Hospitals Trust
Mid Essex Hospital Services Trust
Northampton General Hospital Trust
Worcestershire Acute Hospitals Trust
Medway Foundation Trust
Gloucestershire Hospitals Foundation Trust
Maidstone and Tunbridge Wells Trust
Royal United Hospital Bath Foundation Trust
Shrewsbury and Telford Hospital Trust
East and North Hertfordshire Trust
It is not clear how the organisations were selected, but most of the trusts in attendance were among the worst performers in the most recent A&E data published by NHS England, covering the three months to December (see table below).
This showed only 19 out of 136 acute trusts met the headline standard, for 95 per cent of patients to be admitted, transferred or discharged from A&E within four hours.
At least half of the trusts invited to the meeting were performing at under 85 per cent in this period.
One attendee told HSJ: "We were left in no doubt whatsoever that there needs to be a sustained improvement." The 30 trusts were told there needed to be consistent improvement by June, they said.
They added that worst performers among the 30 were told they would need to consistently achieve 85 per cent by the second quarter of 2016-17, and 95 per cent by the end of 2017.
There was also a suggestion that NHS England will start publishing weekly performance data again soon.
The attendee said: "Jim Mackey said he wants this information to be published, so there's probably a concern about the media interest and political reaction that could come with that, and they want to try and do something."
Gloucestershire Hospitals Foundation Trust was one of the providers represented at the meeting, and Monitor this week announced an investigation into its poor A&E performance.
NHSI offered to support trusts to improve performance. Cambridge University Hospitals FT, City Hospitals Sunderland FT, Ipswich Hospital Trust and South Warwickshire FT were cited as "exemplar" trusts who had managed to turn around their performance.
Four out of the eight acute trusts in Greater Manchester were among the 30.
In the letter calling the meeting, which took place on Tuesday, Mr Mackey said: "Whilst some organisations have managed to consistently maintain good performance, it has become clear to me over the last few weeks that there are also a number or organisations who consistently deliver very low levels of performance.
"Your organisation is in the group of 30 worst performers. Various attempts have been made to address this over the last couple of years, but none of this effort has resulted in sustained improvement.
"Given the importance of this standard, and its significance in terms of patient safety, we need to find a way, quite urgently, of addressing this issue, and doing so on a sustained basis."
Acute trust performance on the four hour target, October-December 2015
| Organisation | Patients seen in four hours or less (type 1 A&E) | Percentage seen in four hours or less (all A&E) |
| --- | --- | --- |
| Tameside Hospital Foundation Trust | 77.7% | 77.7% |
| Portsmouth Hospitals Trust | 72.4% | 78.1% |
| North Middlesex University Hospital Trust | 78.5% | 78.5% |
| Stockport Foundation Trust | 80.6% | 80.6% |
| East And North Hertfordshire Trust | 71.2% | 80.6% |
| Pennine Acute Hospitals Trust | 77.3% | 80.7% |
| Hull And East Yorkshire Hospitals Trust | 78.6% | 80.7% |
| Colchester Hospital University Foundation Trust | 81.0% | 81.0% |
| The Princess Alexandra Hospital Trust | 80.7% | 81.1% |
| Royal Cornwall Hospitals Trust | 77.1% | 81.6% |
| University Hospital Of South Manchester Foundation Trust | 82.1% | 82.1% |
| North Bristol Trust | 82.3% | 82.3% |
| Nottingham University Hospitals Trust | 81.1% | 82.9% |
| Walsall Healthcare Trust | 74.1% | 83.3% |
| Mid Yorkshire Hospitals Trust | 83.5% | 83.5% |
| Dartford And Gravesham Trust | 84.2% | 84.2% |
| Norfolk And Norwich University Hospitals Foundation Trust | 83.0% | 84.3% |
| North Cumbria University Hospitals Trust | 84.4% | 84.4% |
| University Hospitals Of North Midlands Trust | 74.7% | 84.4% |
| University Hospitals Of Leicester Trust | 75.8% | 85.2% |
| Gloucestershire Hospitals Foundation Trust | 85.6% | 85.6% |
| Southend University Hospital Foundation Trust | 85.7% | 85.7% |
| United Lincolnshire Hospitals Trust | 85.9% | 85.9% |
| Shrewsbury And Telford Hospital Trust | 84.6% | 85.9% |
| Weston Area Health Trust | 86.3% | 86.3% |
| Brighton And Sussex University Hospitals Trust | 85.0% | 86.3% |
| Medway Foundation Trust | 86.4% | 86.4% |
| Barts Health Trust | 82.0% | 86.5% |
| West Hertfordshire Hospitals Trust | 80.0% | 86.7% |
| Barking, Havering And Redbridge University Hospitals Trust | 84.6% | 86.8% |
| Aintree University Hospital Foundation Trust | 75.3% | 86.9% |
| Ashford And St Peter's Hospitals Foundation Trust | 84.9% | 86.9% |
| York Teaching Hospital Foundation Trust | 78.8% | 87.1% |
| St Helens And Knowsley Hospital Services Trust | 82.9% | 87.4% |
| Warrington And Halton Hospitals Foundation Trust | 82.0% | 87.5% |
| Basildon And Thurrock University Hospitals Foundation Trust | 87.5% | 87.5% |
| Countess Of Chester Hospital Foundation Trust | 86.3% | 87.6% |
| Heart Of England Foundation Trust | 85.7% | 87.7% |
| Maidstone And Tunbridge Wells Trust | 87.7% | 87.7% |
| Hampshire Hospitals Foundation Trust | 86.1% | 87.7% |
| The Queen Elizabeth Hospital, King's Lynn Foundation Trust | 87.8% | 87.8% |
| Kettering General Hospital Foundation Trust | 87.8% | 87.8% |
| University Hospital Southampton Foundation Trust | 85.7% | 87.9% |
| Wirral University Teaching Hospital Foundation Trust | 84.1% | 88.0% |
| East Kent Hospitals University Foundation Trust | 84.2% | 88.0% |
| London North West Healthcare Trust | 72.4% | 88.1% |
| Torbay And South Devon Foundation Trust | 83.7% | 88.3% |
| Oxford University Hospitals Foundation Trust | 86.7% | 88.3% |
| Isle Of Wight Trust | 81.1% | 88.4% |
| Mid Essex Hospital Services Trust | 88.3% | 88.8% |
| Wye Valley Trust | 81.0% | 89.0% |
| Royal United Hospitals Bath Foundation Trust | 87.3% | 89.1% |
| Plymouth Hospitals Trust | 89.0% | 89.2% |
| East Sussex Healthcare Trust | 87.5% | 89.2% |
| King's College Hospital Foundation Trust | 85.7% | 89.3% |
| Northampton General Hospital Trust | 88.6% | 89.7% |
| Imperial College Healthcare Trust | 77.1% | 89.9% |
| Worcestershire Acute Hospitals Trust | 85.2% | 90.0% |
| University Hospitals Coventry And Warwickshire Trust | 86.7% | 90.0% |
| University Hospitals Bristol Foundation Trust | 88.4% | 90.2% |
| Southport And Ormskirk Hospital Trust | 84.8% | 90.2% |
| The Royal Wolverhampton Trust | 86.3% | 90.3% |
| St George's University Hospitals Foundation Trust | 89.3% | 90.3% |
| The Rotherham Foundation Trust | 90.5% | 90.5% |
| University College London Hospitals Foundation Trust | 90.6% | 90.6% |
| Great Western Hospitals Foundation Trust | 83.5% | 90.9% |
| East Cheshire Trust | 89.8% | 90.9% |
| Bolton Foundation Trust | 90.9% | 90.9% |
| Salford Royal Foundation Trust | 90.9% | 90.9% |
| Lewisham And Greenwich Trust | 88.8% | 90.9% |
| Poole Hospital Foundation Trust | 91.1% | 91.1% |
| University Hospitals Birmingham Foundation Trust | 91.3% | 91.3% |
| Blackpool Teaching Hospitals Foundation Trust | 80.2% | 91.3% |
| University Hospitals Of Morecambe Bay Foundation Trust | 90.2% | 91.5% |
| Lancashire Teaching Hospitals Foundation Trust | 91.8% | 91.8% |
| Buckinghamshire Healthcare Trust | 86.7% | 91.9% |
| The Whittington Hospital Trust | 92.1% | 92.1% |
| Taunton And Somerset Foundation Trust | 92.2% | 92.2% |
| Barnsley Hospital Foundation Trust | 92.2% | 92.2% |
| Leeds Teaching Hospitals Trust | 91.5% | 92.2% |
| Yeovil District Hospital Foundation Trust | 92.3% | 92.3% |
| The Hillingdon Hospitals Foundation Trust | 80.4% | 92.4% |
| Royal Surrey County Hospital Foundation Trust | 92.5% | 92.5% |
| Central Manchester University Hospitals Foundation Trust | 85.6% | 92.7% |
| City Hospitals Sunderland Foundation Trust | 88.8% | 92.8% |
| Croydon Health Services Trust | 89.7% | 92.8% |
| Sandwell And West Birmingham Hospitals Trust | 90.5% | 93.1% |
| Guy's And St Thomas' Foundation Trust | 91.1% | 93.2% |
| Royal Liverpool And Broadgreen University Hospitals Trust | 83.5% | 93.2% |
| The Royal Bournemouth And Christchurch Hospitals Foundation Trust | 91.6% | 93.2% |
| Gateshead Health Foundation Trust | 91.2% | 93.3% |
| Royal Devon And Exeter Foundation Trust | 93.3% | 93.3% |
| Bradford Teaching Hospitals Foundation Trust | 93.3% | 93.3% |
| Royal Free London Foundation Trust | 92.3% | 93.4% |
| The Newcastle Upon Tyne Hospitals Foundation Trust | 90.3% | 93.6% |
| James Paget University Hospitals Foundation Trust | 93.7% | 93.7% |
| Northern Lincolnshire And Goole Foundation Trust | 92.9% | 93.7% |
| County Durham And Darlington Foundation Trust | 86.3% | 93.8% |
| Cambridge University Hospitals Foundation Trust | 92.0% | 93.9% |
| South Tyneside Foundation Trust | 93.0% | 94.0% |
| Wrightington, Wigan And Leigh Foundation Trust | 94.0% | 94.0% |
| Kingston Hospital Foundation Trust | 93.6% | 94.0% |
| Epsom And St Helier University Hospitals Trust | 93.8% | 94.0% |
| George Eliot Hospital Trust | 94.1% | 94.1% |
| Salisbury Foundation Trust | 94.1% | 94.1% |
| North Tees And Hartlepool Foundation Trust | 92.8% | 94.1% |
| Hinchingbrooke Health Care Trust | 94.1% | 94.1% |
| East Lancashire Hospitals Trust | 90.7% | 94.1% |
| Burton Hospitals Foundation Trust | 89.2% | 94.1% |
| Derby Teaching Hospitals Foundation Trust | 92.3% | 94.2% |
| Chesterfield Royal Hospital Foundation Trust | 94.2% | 94.2% |
| Peterborough And Stamford Hospitals Foundation Trust | 94.0% | 94.4% |
| Surrey And Sussex Healthcare Trust | 94.6% | 94.6% |
| Airedale Foundation Trust | 94.6% | 94.6% |
| South Warwickshire Foundation Trust | 94.1% | 94.7% |
| Sherwood Forest Hospitals Foundation Trust | 92.9% | 94.8% |
| Northumbria Healthcare Foundation Trust | 94.4% | 95.0% |
| Milton Keynes University Hospital Foundation Trust | 91.8% | 95.0% |
| Royal Berkshire Foundation Trust | 94.3% | 95.0% |
| West Suffolk Foundation Trust | 95.1% | 95.1% |
| Western Sussex Hospitals Foundation Trust | 95.1% | 95.1% |
| Calderdale And Huddersfield Foundation Trust | 95.1% | 95.1% |
| Bedford Hospital Trust | 95.2% | 95.2% |
| Doncaster And Bassetlaw Hospitals Foundation Trust | 94.2% | 95.2% |
| Ipswich Hospital Trust | 95.2% | 95.3% |
| Homerton University Hospital Foundation Trust | 95.3% | 95.3% |
| Harrogate And District Foundation Trust | 94.7% | 95.4% |
| Dorset County Hospital Foundation Trust | 95.4% | 95.4% |
| Frimley Health Foundation Trust | 95.6% | 95.6% |
| South Tees Hospitals Foundation Trust | 93.3% | 95.7% |
| Chelsea And Westminster Hospital Foundation Trust | 94.0% | 95.7% |
| Northern Devon Healthcare Trust | 88.0% | 95.8% |
| Mid Cheshire Hospitals Foundation Trust | 95.3% | 96.5% |
| Luton And Dunstable University Hospital Foundation Trust | 97.8% | 98.4% |
| The Dudley Group Foundation Trust | 97.8% | 98.8% |