In 2006 the NHS Institute for Innovation and Improvement recommended that patients requiring hip and knee replacement should have surgery on the day they were admitted.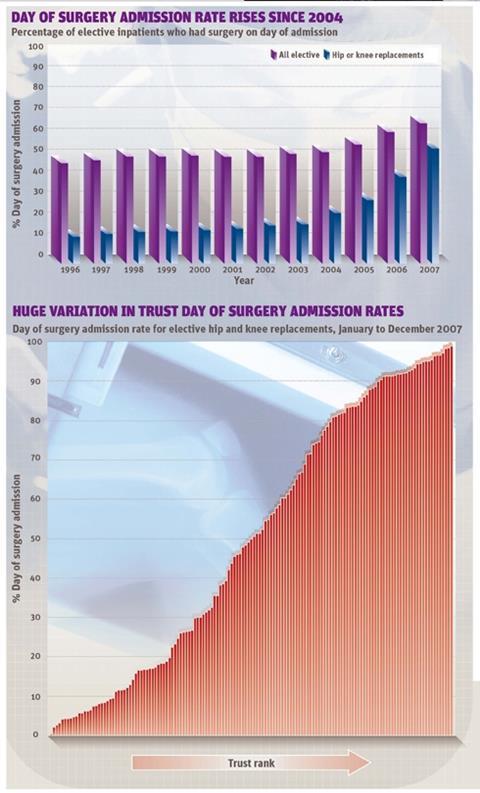 Its Better Care, Better Value tool suggests the NHS can save half a billion pounds per year by reducing pre-operative length of stay.
Both these charts show the proportion of patients who had surgery on the day of admission. The first chart shows this has steadily increased since 2004 for all elective inpatients and that this is even more marked for patients having a hip or knee replacement.
Rates vary widely both in respect of type of operation and particular trust. For instance, in 2007, 94 per cent of tonsillectomy patients were admitted on the day of surgery. Some claim it is possible to have a 100 per cent day of surgery admission rate. But this is not realistic and impacts on patient care - for example anticoagulation issues in patients with mechanical heart valves.
The second chart shows the variation in day of surgery admission rates for elective hip or knee replacement. To attempt to prevent high-risk patients from distorting the graph, children and patients with co-morbidities have been excluded. One trust, which is neither a postgraduate teaching hospital nor even a specialist orthopaedic unit, has never admitted a patient on the day of surgery and a quarter of all trusts admitted fewer than 17 per cent of patients on the day of surgery.
On the other hand, three trusts managed to admit over 98 per cent of patients on the day of surgery. These trusts have shorter overall lengths of stay for hip replacements, while maintaining average readmission and mortality rates.
Where a trust's day of surgery admission rate differs greatly from the national average, this might indicate poor organisation of its procedures, particularly with regard to pre-admission clinics. Trusts that perform poorly on this should be given a chance to self-audit and identify their processes. Perhaps there is also a need to look at specific conditions: just because it is traditional to have a pre-med before a coronary artery bypass graft does not necessarily mean it improves outcome.
Day of surgery admission is important as a marker of general effectiveness of systems and processes within a trust. Trusts should actively monitor their rate and, where possible, work with their clinical staff to reduce it.