NHS Providers says transformation funding for vanguards should be extended
Otherwise there will not be models that other areas can copy
Funding for new care model vanguards should not be stopped next March as planned, because the project needs more time to create models that can be copied elsewhere, NHS Providers has said.
NHS England has said 2017-18 is the final year of direct allocation of transformation funds to the 50 vanguards. It has been worth more than £100m in 2015-16, 2016-17 and 2017-18.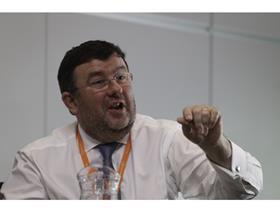 NHS Providers chief executive Chris Hopson told HSJ: "We're about two-thirds or three-quarters of the way through [development of the vanguards] but suddenly we are about to withdraw funding."
The programme set out to develop models and examples – such as for workforce, contracting and organisational form – which could be spread to the rest of the country.
Mr Hopson said currently "those building blocks won't get completed" so there should be "one year's extra funding very clearly focused on making sure those key building blocks get built and are then made available".
He said service transformation was envisaged in the Five Year Forward View was happening too slowly. Improving it would require capital investment being supplied in the autumn budget and for regulators to "flip 180 degrees and realise their job is to enable and support this transformation", while their current approach requires "more and more time invested in regulation and assurance".
Mr Hopson also called for clarity about the future role of sustainability and transformation partnerships and of the plans which were developed last year.
He said it was particularly unclear what would happen in a number of STPs where "structural" factors were preventing them from agreeing a workable plan.
"If we're going to use STPs as a vehicle to drive this transformation, we need some greater clarity about what's going to happen to them," he said.
The comments come as NHS Providers today publishes its annual State of the NHS Provider Sector report, which also says the intention of improving mental health care is being undermined by rapidly rising demand, workforce shortages and insufficient funding at the front line.