Ambulance handover delays, cancelled elective operations and delayed transfers of care all saw huge increases this winter, in what has been the most difficult year for accident and emergency departments in a decade.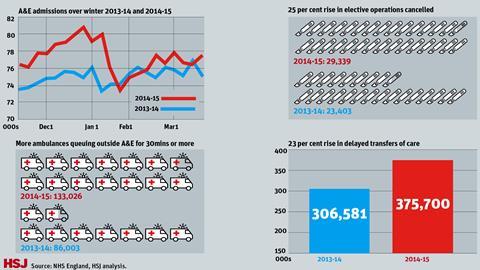 A&E admissions are 2.9 per cent higher in winter 2014-15 compared to previous year.
Increases in ambulance queues, cancelled operations and delayed transfers of care.
Royal college says workforce should be government priority for next winter.
HSJ analysis shows admissions via consultant led, 24 hour A&Es rose by 2.9 per cent between November 2014 and March 2015 compared to the same period a year earlier.
The analysis looked at winter daily situation reports published by NHS England between November and March, comparing 2014-15 and 2013-14.
There were 133,026 incidents of ambulances waiting more than 30 minutes outside A&E departments in the winter just gone, up from 86,003 in 2013-14.
Cancelled elective operations also jumped up by 25 per cent year on year.
There were 16 closures of A&E departments in 2014-15, compared to six in 2013-14.
Delayed transfers of care, which have been a focus of senior government ministers, increased by 23 per cent year on year.
Clifford Mann, president of the Royal College of Emergency Medicine, said the "key issue" this winter had been "flow through the hospital", not just the emergency department.
He added: "On the busiest days over 75 per cent of breaches were not due to the fact that there were no clinicians to see them but that they couldn't get them into a bed in the hospital."
The shortage of beds, which had led to "corridor based emergency department care", had "sapped the morale" of staff, he said.
This pressure on staff has led to a "real problem" with retention, he said.
"The risk to patient care in the future will not be whether they've met the four hour target or missed it by five minutes, it's whether or not there are experienced clinicians to see them in the emergency department when they first attend."
In some weeks during the winter, admissions rose by more than 7 per cent compared to the previous year. However, since January the increase has steadied and admissions are now only up by around 1 per cent.
However, this slight decrease in demand has not been reflected in an improved performance against the four hour target, which has remained below 90 per cent at major A&Es since December.
HSJ reported yesterday that the NHS in England will definitely miss the annual 95 per cent target for the first time in a decade, and that 26 hospital trusts were responsible for half of the national growth in patients waiting more than four hours.
The King's Fund director of policy Richard Murray said the poor performance could be explained by patients staying in hospital for longer periods.
The most recent data showing the length of time patients stay in hospital once admitted is not yet available.
Mr Murray said: "The problem for hospitals is do they have the beds to admit into? That's partly admissions but also how long do they hold [patients] once they come in? The [delayed transfers of care] data, which is rising, may suggest that length of stay is rising.
"Some providers were noticing more complex respiratory cases coming through so they might be more difficult to discharge quickly."
Dr Mann said the next government would need to look at the workforce contract as a matter of priority in order to make seven day services a reality.
He said that in order for clinicians to have a "reasonable work/life balance" and still work nights and weekends then annual leave should be pro-rated in line with the amount of out of hours work they had done.
Dr Mann added: "It's not about paying them more money…it's about demonstrating to people that if you work in these high acuity areas you can have a work/life balance that's not identical to your colleagues… but it's equitable."
Mr Murray agreed that workforce would be a key area for the next government. He added that "the reliance on so many temporary staff is clearly a bad thing for finance".
He said that a focus on "timely discharge" and to "cut through the complexities of local joint working" between social care, acute care and primary care would be necessary. He said this would be quicker "than trying to fundamentally change the health of a population so you don't arrive in A&E in the first place".
Mr Murray said he was "slightly anxious [as to] whether or not all this costs money".
He added: "How much is left to get ready for the next winter? Particularly as NHS England have said that there will be no more drip feeding extra winter money through the year and so it's already out in the system. It should be visible to people already if they're going to have the money to do these things."
Sarah Pinto-Duschinsky, director of operations and delivery for NHS England, said English A&E performance compared favourably with other countries.
She said winter pressures "underline the importance of the wider work" of the organisation's urgent and emergency care review.