Sixty seconds window to decide on whether to dispatch ambulance should be extended by 180 seconds, says NHS England director
Extension "likely" to be recommended in ambulance service reform report next month, although DH stressed no decision has been made
New commissioning framework for ambulance services will be rolled out in April 2018
The time taken by the emergency service to decide whether to dispatch an ambulance is likely to be extended from the current one minute window to four minutes as part of wide ranging reforms, an NHS England director said yesterday.
System leaders giving evidence to the Commons public accounts committee yesterday admitted there were draw backs to targets but there was no explicit suggestion that any target would be ditched.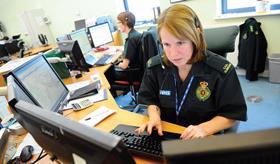 NHS England director for acute care Professor Keith Willett told MPs the recommendation to extend the response decision time window was likely to be included in the ambulance response programme report which he said would be published next month.
He said: "One in four ambulances currently dispatched on blue light and sirens do not get to the scene because [they are] stood down beforehand. That is immensely frustrating and highly inefficient… It looks like an additional 180 seconds is appropriate [to ensure better decision making]."
The Department of Health told HSJ that "no decisions" had been taken yet on whether to extend the timeframe and ministers would make a final decision based on the recommendations of the report.
Under existing arrangements the ambulance service has 60 seconds from the point when a "red call", the most serious, is connected to decide on whether to send an ambulance.
At the end of the minute, "while the call handler is still taking that call, the dispatch desk has no choice but to dispatch an ambulance with blue lights and sirens", only for it to be told it is not required minutes later, by which time it is already on the road, Professor Willett said.
The session also followed a National Audit Office report last month said there was "general consensus [among the system that] too much focus [was placed] on meeting response times [and] the majority of patients currently coded as red two do not derive clinic benefit from the arrival of an ambulance resource within eight minutes".
Professor Willett said the ambulance service required a significant culture change to become sustainable; help retain staff; and move from a "conveyance service" to a "mobile treatment vehicles" keeping patients out of overcrowded emergency departments.
The ambulance response programme report is being "independently scrutinised" by Sheffield University, and makes recommendations based on the findings of an 18 month pilot.
A new commissioning framework will be introduced from April 2018 as part of reforms to the ambulance service, which costs around £1.8bn a year, the MPs were told.
Department of Health permanent secretary Chris Wormald told the committee a new "standardised the commissioning process and therefore the operating model of ambulances" would be introduced.
Responding to concerns that a "one size fits all approach" to commissioning would not take into account the differences between geographies, in particular urban and dispersed rural areas, Professor Willett said: "We are looking for a degree of commonality not uniformity."
Mr Wormald added: "We are not trying to create a single contract. We are trying to create a framework which can be localised… It's not a one size fits all."
An NAO report in January also concluded that "the use of different operating frameworks across ambulance trusts is contributing to variations in performance".
It said: "Each trust has developed its own operating framework which is contributing to variations and inefficiencies in performance… In addition, ambulance services are not commissioned consistently across England, with differences in how they are funded and what they are funded for."
UPDATED: The story was updated at 2:40pm on 21 March to reflect that the Department of Health told HSJ that "no decisions" had been taken yet on whether to extend the timeframe and that ministers would make a final decision based on the recommendations of the report.
Private providers warned over 'fundamental' safety concerns
1

2

Currently reading

Time limit on ambulance dispatch set to be quadrupled