Treating age related hearing loss within a community setting, rather than a clinical one, can reduce stigma and help normalise the condition which is affecting a growing older population. Commissioners need to focus on making the change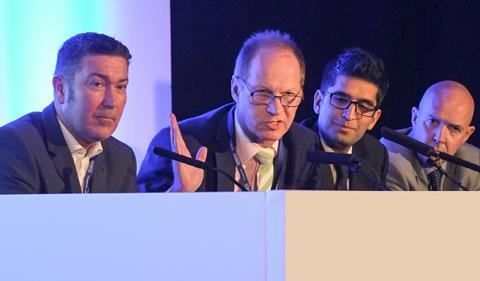 This article was part of the Audiology Today channel, in association with Specsavers Hearing Centres. The channel is no longer being updated.
Over the last year there has been increased debate in the NHS about how to provide patient services in the most appropriate settings, such as in the community.
In 2013 NHS England highlighted the need for a significant shift of resources from the hospital sector to the community, because patient and service outcomes are what matter, compared to the organisational form.
Community based services continue to be reviewed as an alternative option for patients to be treated for long term conditions, providing better access to treatment and improving patient outcomes.
Go local
In June NHS England chief executive Simon Stevens said in his speech at the NHS Confederation Conference that there is a great need to innovate and redesign service models for care delivery with greater local flexibility for NHS services to create a level playing field to provide patients with effective, accessible and efficient treatments.
He said all service providers should be accountable to ensure a patient is not disadvantaged based on where they choose to have their care.
'All providers should be accountable to ensure a patient isn't disadvantaged based on where they choose to have their care'
Hearing services is one of the early positive examples of shifting NHS services from a hospital setting into the local community.
Evidence suggests providing hearing services in a local setting can reduce stigma associated with hearing loss, increase earlier intervention and improve patient access and outcomes.
These benefits and the evidence behind the local delivery model was debated by leading experts at this year's Commissioning Show, reviewing how innovative commissioning can achieve better patient outcomes and economic efficiencies.
The experts provided compelling evidence relating to the commissioning of hearing care services and treating age related hearing loss (ARHL) - an increasing public health issue for Britain's rapidly ageing population.
Community is the best place
Providing hearing services in the local community, for example following a GP referral to a high street provider, is particularly beneficial for older patients, where ARHL is more prevalent. It offers better access to treatments at a more suitable time.
Roger Henderson, GP and senior partner, says that with his older patients, treating ARHL in a hospital setting often strengthens perceptions that ARHL is a disease rather than a natural part of ageing.
He said: "Based on my experience, in most cases the best place to refer patients with hearing loss is to a community based service, allowing patients easier access, early intervention and the ability for them to effectively manage their condition after the initial consultation."
"It is key to have a quality service that is accessible for patients, with convenient appointments at suitable times and short waiting times between referral and treatment.
'The best place to refer patients with hearing loss is to community based service'
"Providing patients with continuity during follow up appointments is also important, which I feel is best placed in a community based setting."
Although patient access to treatment for ARHL is important, many challenges remain to increase treatment uptake, including the associated stigma with ARHL.
Kevin Munro, Ewing professor of audiology at University of Manchester, noted that due to the stigma associated with ARHL, people are less likely to seek treatment.
He said: "One of the difficulties with improving the uptake of hearing services is that only one in three who could benefit from hearing services comes forward.
"ARHL is one of the most overlooked conditions and not seen as a priority condition by GPs, therefore patients have less access to treatment. When left untreated it can lead to an increased risk of falls and further co-morbidities such as depression, thereby increasing the longer term management and resource costs to the NHS.
"More needs to be done to provide earlier intervention for those with the condition."
Professor Munro added: "It is critical for providers and commissioners to work together to address this unmet need, ensuring accessibility to high quality, sustainable and cost effective care for hearing services and removing barriers to access and treatment as higher levels of patient acceptability will help improve patient outcomes."
Harjit Sandhu, head of policy at the National Community Hearing Association agreed with Professor Munro, saying that normalising hearing care by delivering care in a community based setting will help people access care and support sooner than they might have in the past.
He said: "Community based services are often easier for patients to access, which means they are more likely to attend appointments for aftercare support and this is known to be a major benefit for patients."
Be responsive to patient need
In addition to reviewing the benefits local community services provide to a patient's health, there is also an economic benefit that commissioners should consider when reviewing their service delivery options.
Mr Sandhu said: "The economic case for community based services is favourable for both commissioners and patients.
"Community based care is supported by NHS England and Monitor and is seen as an important part of ensuring the NHS meets its funding challenges, but to deliver more community based hearing care requires focusing on commissioning outcomes and not just activity.
'This new era of commissioning will deliver more value for the NHS and patients'
"This new era of commissioning will deliver more value for the NHS and patients and is something I think we can all support."
The benefits of community based hearing services are well known. For example, in a 1997 survey 95 per cent of heads of NHS audiology agreed community based audiology would be a "major benefit" for patients.
Mr Sandhu said: "Commissioners should ensure that local hearing services are responsive to patient needs and preferences.
"Providers have to ensure they meet the standards and deliver quality and patient satisfaction. The any qualified provider scheme has been a great start to delivering community based hearing care at scale and is a clear example of how value can be driven through the system whilst holding marginal cost down.
"In this new system providers have strong incentives to innovate in how they support patients and are more accountable than in the past. It is a real change in the way this service has historically been commissioned.
"Providers know that the new specification designed for the any qualified provider initiative means more for less. Data are showing this is a win for patients and commissioners."
Prioritise hearing services
Despite the evidence supporting the benefits of providing hearing services in a community based setting, data show that 60 per cent of GPs are still referring directly to a hospital.
Colin Campbell, director of professional services and NHS at Specsavers Hearing Centres, explained: "Currently only 95 out of 211 clinical commissioning groups (44 per cent) provide patient choice in accessing adult hearing services as they are not seen as a priority.
"Little progress in commissioning these services has therefore been made, however hearing loss is an increasing public health issue and should be reviewed."
Mr Campbell said there is great evidence from Specsavers Hearcare providing hearing services to patients on the high street.
'Providing early intervention in a non-clinical setting could assist reducing stigma by normalising the condition'
He said: "From our patient survey we see strong patient outcomes, with 94 per cent still wearing 12 months after fitting and 86 per cent were satisfied with their hearing aids.
"Patients also found that the benefits high street providers can offer were valuable, especially the flexibility opening times and ease of access to treatment."
Mr Campbell continued: "We are keen to share with CCGs our experience in working to meet the challenge of an ageing population with an innovative commissioning model as well as addressing a large current unmet need for hearing services.
"By providing early intervention in a non-clinical setting, this could assist in reducing stigma by normalising the condition of ARHL and the use of hearing aids.
"Ninety-four per cent of our patients report still wearing their hearing aids 12 months after fitting. Patients are also satisfied with our service with 97 per cent reporting that they are either very satisfied or satisfied with the service and outcome."
The experts concluded that with our ageing population, hearing services must be seen as a priority commissioners must address, shifting the resources and treatment for ARHL from a hospital base setting to a community based service will provide economic benefits and better patient outcomes.