The NHS must act now to deal with the rising burden of age-related conditions such as hearing loss, argues Mark Greener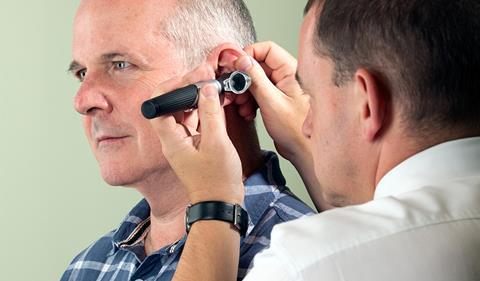 Otoscopy
This article was part of the Audiology Today channel, in association with Specsavers Hearing Centres. The channel is no longer being updated.
Age related conditions such as hearing loss are increasingly becoming a burden on health services. One study showed that one in 10 adults in the UK aged 40 to 69 failed a hearing test involving repeating words in the presence of a background noise − a hallmark of age related hearing loss.
'People using hearing instruments experience fewer extended periods of depression, worry, paranoia and insecurity than non-users'
A new report from an independent panel of experts advocates high-quality, comprehensive hearing care in convenient, non-clinical settings. This, it says, would contribute to the management of many NHS core priorities, while addressing the stigma associated with age related hearing loss and helping people to lead fulfilled lives.
Effects beyond hearing
Hearing loss potentially affects more than the ears. Hearing loss is associated with an increased risk of falls and dementia. Indeed, compared to people with normal hearing, the incidence of all cause dementia was threefold and almost five times higher with moderate and severe hearing loss respectively.
Furthermore, people using hearing instruments experience fewer extended periods of depression, worry, paranoia and insecurity than non-users.
The panel
Professor Kevin J Munro, Ewing professor of audiology at the University of Manchester and consultant clinical scientist at Central Manchester Foundation Trust
Dr Sarah Jarvis, fellow of the Royal College of General Practitioners, GP and GP trainer
Dr Stuart McClean, senior lecturer in medical anthropology at the University of the West of England, Bristol
Dr Lorraine Gailey, chief executive of Hearing Link
Mark Greener, clinical editor and columnist on Pharmacy Magazine and editorial director at ROCK medical communications
People typically take about eight to more than 20 years before noticing hearing difficulties and seeking professional help. More easily accessible hearing services with short waiting lists might lead to earlier detection and improved outcomes.
According to the study, only one in 50 adults aged 40-69 used a hearing instrument. In the panel's experience, if a person with age related hearing loss could get a problem fixed in a convenient NHS service, they were much more likely to continue to use hearing instruments.
Several other factors contributed to this under-use, including perceived lack of benefit, discomfort, fit, appearance, as well as denial and stigma.
For example, hearing loss and instruments could lead to people feeling "disabled" rather than "able"; "cognitively impaired" rather than "intelligent"; and old, unattractive or undesirable. Modern hearing instruments − which can be almost invisible − can overcome some of these issues.
In addition, many people with age related hearing loss might not feel or describe themselves as sick. In these cases, referral to a hospital based audiology service potentially perpetuates their impression that hearing loss is a disease, contributing to low service uptake.
A convenient provider in a non-clinical setting might help counter the stigma arising from medicalisation, and help to normalise hearing loss.
Costs of hearing loss
In 2010-11, NHS England spent £450m managing hearing problems, a figure that will inevitably increase. However, only 2m of the 6m people in the UK who could benefit from using hearing instruments do so, and about 20 per cent probably do not use them optimally, suggesting that much of this investment is wasted.
'Early screening for hearing loss in people aged 55 to 74 is cost-effective compared to other common interventions'
In addition, "properly" managing hearing loss in people with dementia could save at least £28m per year in England. Informal care accounted for 36 per cent of the total cost of £17bn imposed by dementia in the UK. A local audiology provider means that carers do not lose as much time from work, helping to contain increasing indirect costs.
The report Hear and now: Why GPs need to rethink age related hearing loss shows that early screening for hearing loss in people aged 55 to 74 is cost-effective compared to other common interventions.
It also identifies opportunities for opportunistic screening during consultations for several conditions.
Convenient care
The report argues that providing high quality, comprehensive NHS hearing care in convenient, non-clinical environments has several potential benefits, including:
Increased visibility and greater public awareness about hearing care
Challenging outdated and discriminatory attitudes towards hearing loss
Increased recognition and acceptance of age related changes in hearing
Empowering people with age related hearing loss and encouraging people with hearing loss to seek help
Reduced accessibility issues and facilitating adequate follow-up
Facilitating earlier detection of changes in hearing that limit effective communication and compromise quality of life
Emphasising management plans based on shared decision-making
Encouraging uptake of hearing instruments and other interventions
Increased long term adherence, benefit and satisfaction
value for money for the NHS and social services
The panel hopes that the report is the first step on a road that ends in people regarding attendance at a local audiology service for ARHL as naturally as a trip to the optician or a dental check-up.
About the report
Hear and now: Why GPs need to think again about age related hearing loss by Munro, K.J.; Jarvis, S; McClean, S; Gailey, L; and Greener, M (2013) was funded by an educational grant from Specsavers Hearcare, though the views expressed are those of the authors and may not necessarily be shared by Specsavers Hearcare.
Mark Greener is clinical editor and a columnist at Pharmacy Magazine and editorial director at ROCK medical communications