A trust dogged by performance and financial problems for more than a decade has moved out of special measures.
The Care Quality Commission today said Barking, Havering and Redbridge University Hospitals Trust in east London had made sufficient improvements to be removed from the regime. This was then confirmed by NHS Improvement.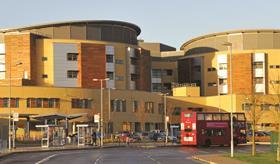 The trust was placed in special measures in December 2013 and remained in the regime after an inspection in March 2015.
Chief inspector of hospitals Professor Sir Mike Richards said the trust had areas of outstanding care for dementia patients and had improved facilities for children with learning disabilities.
Matthew Hopkins was appointed trust chief executive to lead a largely new executive team in April 2014.
In 2013, only 53 per cent of staff would recommend the trust for care. In the latest data on this measure, for 2016, this figure rose to 83 per cent.
The re-inspection in September and October 2016 focused on the four areas where the organisation had been rated inadequate at the previous visit: urgent and emergency services; medical care; services for children and young people; and outpatients and diagnostic imaging.
Sir Mike said: "[When] we last visited the trust… it was evident that improvements were being made, but more needed to be done to ensure the trust could deliver safe, quality care across all services.
"I am pleased to say that our latest inspection demonstrated that the trust has continued to make progress; to provide safer, better quality care. We found that the senior leadership was visible and involved in clinical activity. The staff were positive about the changes, their environment, and the future direction of the trust and the services.
"The inspection team was impressed by a number of innovative quality improvement and research projects which have taken place to improve the patient experience.
"While further improvements are necessary, we are confident that both leadership and staff know what needs to be done to continue towards achieving an improved rating."
The trust still has performance and finance issues, including performance against the four hour A&E target of 87.1 per cent for the third quarter of 2016-17. This is some way below the national performance target of 95 per cent, but only very slightly below the London average over this period.
It is on track to achieve a deficit of £13.3m by the end of 2016-17 – only £1.4m off-plan – and recently started reporting elective waiting time performance after losing track of thousands of patient records. But with a third quarter performance of 78.3 per cent against the national target for treating patients within 18 weeks of 92 per cent, it is still the fourth worst performing trust in the country on this measure.
Chief executive Matthew Hopkins said his team had made a point of addressing the "safe" and "well-led" domains in the CQC's findings. He also slimmed down the number of directorates from 13 to six.
Mr Hopkins told HSJ: "There really wasn't a performance review culture in the organisation before. There was also a mismatch between demand and capacity and we increased the number of anaesthetists and surgeons to address this in RTT."
He said when he was appointed he told then chief executive of the NHS Trust Development Authority that it would take at least five years to turn around the organisation and that his next goals for the trust were getting it from "requires improvement" to "good" and moving up a grade on NHS Improvement's risk category scheme.
NHS Improvement's executive regional managing director for London, Steve Russell, said: "Having previously worked at the trust myself, I know first hand that staff at all levels are 100 per cent committed to delivering superb care for every patient, every time.
"In every corner of the trust, you can find people wanting to share ideas about how to do things better, how to be more effective, how to be more efficient – their pride in doing a good job for their patients and community is almost tangible. I'm really pleased that their progress so far is evident in today's announcement, and look forward to seeing their continued progress, which NHS Improvement will continue to support and monitor."
The trust still has a significant legacy debt, thought to be more than £200m, relating to historic financial deficits after a PFI rebuild.
There are 11 hospital trusts still in quality special measures.
Source
CQC report and NHS Improvement statement