Independent review identified tensions in relationships between Dr Nadeem Moghal and the consultant body at Barking, Havering and Redbridge University Hospitals Trust
Tensions emerged after medical director sought to challenge "innappropriate behaviours"
Reviewers said his position may now be unsustainable
It may be "unsustainable" for a trust's medical director to remain in post after he sought to challenge "inappropriate behaviours" among its medical consultants, a review has found.
A review into governance failures at Barking, Havering and Redbridge University Hospitals Trust has identified tensions in relationships between Dr Nadeem Moghal and the trust's consultant body.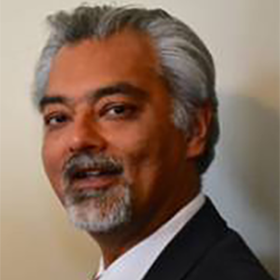 Dr Nadeem Moghal
The review, commissioned by NHS Improvement, said: "The medical director is described by colleagues as having taken a proactive approach to tackling inappropriate behaviours amongst medical consultants, including promoting more structured job planning and greater transparency in relation to private patient activities.
"There is strong support amongst fellow board members for the motives underlying the MD's actions in tackling inappropriate behaviours and an acknowledgement that there is a need for medical practices to modernise at the trust.
"However, there is also a view that, at times, the MD's style and approach can be overly robust and that it is not always conducive to bringing the medical workforce with him."
Deloitte said this had contributed to tensions in relationships, as well as an informal vote of no confidence lodged by a group of consultants. This related to the MD's engagement style, tensions around the trust's financial position, and a trust policy in relation to staff car parking.
It said interviewees and focus groups had indicated there were pockets of consultants "not working in a multidisciplinary manner", and who "do not embrace accountability and responsibility for delivery of all aspects of operational activities".
The review added: "Taking a definitive view on the root causes of underlying tensions, and the appropriate solutions, is beyond the scope of this review but we have concerns that sentiment amongst the consultant body has reached a level where the MD's position may be unsustainable over the longer term.
"At the same time, we understand how it would send the wrong message to the medical workforce if the MD's efforts to tackle difficult behaviours were curtailed. In our view, there is a need for a more detailed review of medical leadership and culture before taking definitive action as a board."
The trust said it will consider the report's findings.
CEO failed to 'grasp severity' of trust's financial crisis
1

2

Currently reading

Medical director's position may be 'unsustainable' after tackling 'inappropriate' consultants