Patient not told of aneurysm for four years before his death
Trust had no protocol in place to flag up £potentially life threatening" radiological results
Health secretary asked to consider a trust review of procedures
A coroner has called on the health secretary to examine a trust's systems for reviewing scans after a patient died of an aneurysm that was spotted but not acted upon for four years.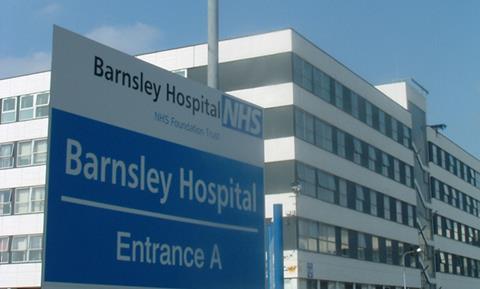 Barnsley Hospital NHS Foundation Trust
Louise Slater, assistant coroner for south Yorkshire (west) has told Jeremy Hunt "there is a risk that future deaths will occur unless action is taken" at Barnsley Hospital Foundation Trust.
The warning follows the conclusion of the inquest into the death of John Higgs, who died from a ruptured abdominal aortic aneurysm at Barnsley General Hospital in 2015.
The aneurysm was seen in a scan by a consultant surgeon four years earlier but this information was not shared with the patient, his GP or picked up by other doctors.
Ms Slater wrote to Mr Hunt last month asking him to consider a review of procedures by the trust to prevent future deaths.
An inquest held into Mr Higgs' death concluded on 7 April. A narrative conclusion was recorded. The letter to Mr Hunt, dated 10 April, was published by the Courts and Tribunals Judiciary last week.
Mr Higgs was taken to the hospital after he collapsed suddenly on 18 November 2015. He was thought to have suffered a stroke but an ultrasound scan revealed the leaking aneurysm.
He died from a ruptured abdominal aortic aneurysm, a stroke and old age.
After his death, Mr Higgs' wife contacted the trust after spotting the cause of death on his death certificate and an internal investigation was launched.
It revealed a CT scan in March 2011 had identified an abdominal aortic aneurysm but neither Mr Higgs nor his GP were informed so he was not referred to vascular surgeons.
The inquest heard the consultant surgeon in charge of his care saw the original CT scan results in 2011 and planned to tell Mr Higgs when he attended a clinic five days later.
However, the patient was seen by a junior doctor at the clinic who either did not review the results or they were unavailable because the paper report was being filed in patient records.
In her report, the assistant coroner said: "There was no evidence in court of a safe system of communication at the time [in 2011]."
The scan results were not looked at when Mr Higgs attended hospital on "a number of occasions" in the four years before his death, when he was seen by "several different doctors".
The inquest heard a radiology protocol was in place at the trust for "unexpected cancer pathology" where results were sent to the treating consultant and the multidisciplinary team cancer coordinator for action.
However, there is no similar protocol for "non-cancerous but significant and potentially life-threatening findings" such as an aneurysm.
Although the trust had since moved to an electronic system, the coroner said significant findings were still only sent to the consultant and no "red flag" was in place to alert other clinicians.
Ms Slater has asked the health secretary to consider whether the trust should review systems and procedures in relation to non-cancerous radiological findings. A response is expected by 27 June.
Richard Jenkins, interim chief executive at the trust, apologised to the family of Mr Higgs for deficiencies in his care.
He said: "The trust had undertaken an investigation into Mr Higgs care prior to the inquest and we are carefully studying the coroner's findings to ensure that all necessary steps have been taken to prevent a similar situation from arising in future."