Whipps Cross rated inadequate for a second time
Staff told CQC about bullying at the hospital
Barts Health Trust to remain in special measures
The Royal London has rating upgraded to requires improvement
Whipps Cross Hospital, the main acute site for Barts Health Trust, has been rated inadequate for second time by the Care Quality Commission.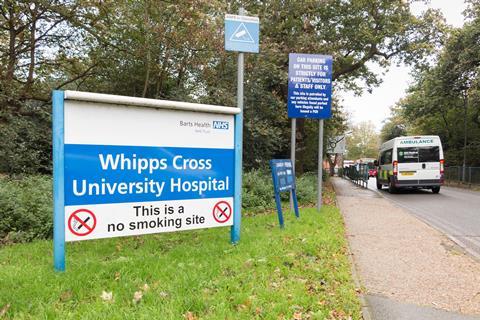 Whipps Cross University Hospital
The report, published today, includes reports from staff about bullying at the hospital and evidence of high use of agency staff affecting care.
However, the report also highlights improvements at the hospital – five out of eight service specialities have had their ratings upgraded.
In March 2015, Barts Health was placed in special measures after Whipps Cross was rated inadequate. The CQC confirmed the trust is still in special measures and rated inadequate overall.
During its inspection of Whipps Cross in July this year, the CQC heard reports from surgical staff about "ongoing issues of bullying and harassment".
The inspection report says: "[Staff] were visibly distressed and told us they did not feel supported by their managers and service leaders. They felt the trust was not supportive of whistleblowers.
"Staff told us personal clashes with the manager prevented them from promotions, gaining access to training and development opportunities. Another staff member told us that since they could not prove instances of bullying or favouritism they would not be believed or listened to."
The report also reveals issues around high use of agency staff on various wards. On some surgical wards, agency staff accounted for up to 70 per cent of nurses, while 40 per cent of middle grade shifts in urgent and emergency care were covered by locum staff on short term contracts.
"[Surgical] nursing staff told us they were concerned about the quality of the agency nurses and gave us examples when this compromised patients' care and treatment. Substantive staff told us they felt under significant pressure when working with the agency nurses," the report says.
The report also says some nursing staff felt "bullied or intimidated by manages" into sending nurses or healthcare assistants to work on other wards so the trust could maintain safe staffing levels.
The Royal London Hospital was also inspected in July and had its rating upgraded from inadequate to requires improvement.
Trust chief executive Alwen Williams said: "These reports make clear that the quality of care for patients at our hospitals is getting better all the time. I'm very grateful for the dedication and passion our staff show every day and night.
"We still have much to do and we must tackle all the areas where we are still letting out patients down, as well as taking inspiration from where we are doing well. I am confident that Barts Health is now on the right track and with the support of our partners and our committed workforce we will continue to improve."
Source date
15 December 2016