Consultant told coroner short staffing in ICU affected patient's care
Inquest heard Errol Mann died of a pulmonary embolism that was not properly investigated
Barts Health Trust says it has increased consultant numbers to maintain patient safety
Staffing gaps in an intensive care unit run by the largest NHS trust directly affected the care of a patient who died at a hospital in east London, a coroner has said.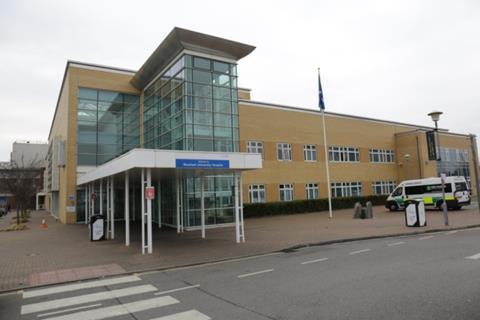 A consultant at Barts Health Trust told Nadia Persaud, senior coroner for east London, there were still gaps in the trust's ITU rota in March 2017, adding: "As long as there are gaps in the rota, patient care is affected."
A trust spokeswoman said it had recruited extra consultants "to maintain patient safety".
The concerns over staffing at the trust emerged at the inquest into the death of Errol Mann, which concluded in April.
Mr Mann was admitted to Newham University Hospital on 2 August 2015 and died five days later from a pulmonary embolism. This had been suspected by emergency department staff, who recommended a CT scan. However, when he was admitted to the ICU the potential pulmonary embolism was not investigated and staff made an assumption it had been excluded "but no checks were made to confirm this", the coroner said.
Mr Mann was discharged from ICU on 6 August but deteriorated shortly after when staff diagnosed a pulmonary embolism and a treatment dose of Tinzaparin was given. Mr Mann died in the next day. Ms Persaud said: "The failure to investigate this condition and to ensure consistent prophylactic treatment contributed to his death."
In a report to trust chief executive Alwen Wiliams, the coroner said she was concerned more deaths could happen if action was not taken to address short staffing in the ICU.
She said: "Evidence was given by a consultant in ITU that the ICU department was extremely short staffed during the week of 3-6 August 2015.
"The consultant confirmed that there was no administrative support and there were several gaps in the rota for clinical fellows. She confirmed that because of staffing issues, the time of the consultant on duty was not fully devoted to clinical care. She gave evidence that the lack of staff directly affected the care provided to Mr Mann."
The coroner said concerns had been escalated to senior medical staff "but no additional manpower was provided".
Ms Persaud added: "When asked whether staffing on ICU was still a problem and whether this still affects patient safety, the consultant confirmed that staffing issues vary depending upon the time of year. She stated however that we have never been fully recruited on the clinical fellow front. There are still gaps in the rota.
"She stated that even as of 31 March 2017 gaps continue and as long as there are gaps on the rota, patient care is affected."
Ms Persaud said Barts should consider the evidence of the consultant "and take any steps deemed necessary to ensure staffing resilience in ITU". She said staffing during the summer months should be specifically considered.
A trust spokeswoman said: "This was a sad and complex case, and we have apologised to the family for shortcomings in Mr Mann's care. We are also writing to the coroner to set out the action the trust is taking to ensure patient safety in future.
"On staffing, we will explain to the coroner that although the intensive care unit had a shortage of permanent staff in autumn 2015, a consultant will always cover vacant posts if agency or bank staff are unavailable, therefore providing an even higher standard of care. Since 2015 we have recruited extra consultants to the intensive care unit to maintain safety."
She also said: "One of the issues was that Mr Mann suffered from severe needle-phobia and he refused treatment on several occasions. Staff explained the potential risk to his health, but were duty-bound to respect his decision. Another factor was that Mr Mann's symptoms initially suggested he was suffering complications from his existing medical conditions, rather than the pulmonary embolism from which he died.
"We apologise that a CT was not performed to exclude a pulmonary embolism, although at the time he was showing signs of improvement on treatment of his presenting medical problems, so it was not deemed necessary. Indeed, it could not have been performed immediately, until his condition had further improved.
"Some of the treatment for the other medical problems that he presented with was the same as treatment for a pulmonary embolism, and so while in hospital Mr Mann received multiple doses of the appropriate medication for treatment of a pulmonary embolism."
The coroner's report did not mention Mr Mann having a needle phobia and said he had received several doses of drugs.
Source
Information provided to HSJ