Non-executive directors leave one of the Essex trusts involved in 'group model'
Former committee chair says 'management team was using the move to a group structure to minimise and avoid scrutiny'
Trusts are 'reviewing options as to the future organisation form'
Two non-executive directors resigned after raising concerns around the governance of an NHS hospital trust involved in a new 'group model', HSJ has learned.
In January, plans were finalised for a shared management team to run three acute trusts in Essex: Basildon and Thurrock University Hospitals Foundation Trust, Southend University Hospital FT and Mid Essex Hospital Services Trust.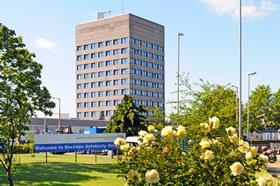 Each trust has retained a separate statutory board but is effectively managed by a "joint working board", which includes a shared executive team and three non-executives from each trust. However, the individual trust boards remain ultimately accountable for decisions.
David Hulbert, who chaired the quality and patient safety committee at Basildon and Thurrock, told HSJ he resigned in April because he thought the new structure sought to minimise scrutiny from non-executives.
He said: "Obviously it was a new organisational structure and that has implications for changing governance processes, but I certainly felt the executive team, supported by the chair, weren't comfortable with the oversight from non-executives.
"In my view, the management team was using the move to a group structure to minimise and avoid scrutiny… and I resigned a year early in April this year in frustration."
He acknowledged his criticism might be construed as "sour grapes" by the trust, given he was not offered a post on the joint board. But he said this was not the case and the concerns were genuine.
He said other NEDs raised similar concerns and there was a feeling that decisions had already been made by the joint board, with limited opportunity for scrutiny at trust level, but the trust board would still be accountable.
Clare Panniker is chief executive of the three trusts, while Nigel Beverley is chair of Basildon and Thurrock sits on the joint working board.
HSJ understands another NED who raised concerns prior to resigning was Tom Phillips, a former audit committee chair at the trust until December.
He told HSJ he resigned "for reasons fully understood at that time by my non-executive colleagues and the lead governor", but said he could not comment further under an agreement with the trust.
The three trusts said several "significant developments and challenges" had resulted from the organisations being placed in the NHS England led success regime.
Their statement added: "Mr Hulbert was a respected and valued member of the board but was unable to commit to the direction of travel agreed by the majority of his colleagues and resigned from office."
John Govett, an independent non-executive who sits on the joint working board, said: "On behalf of the wider non-executive team it's important to note that the site management team [at Basildon and Thurrock] and executive team have the full confidence of non-executive colleagues and together we are continuing to monitor recovery plans around an improving picture of performance and patient safety."
A group structure has also been implemented by Salford Royal FT and Pennine Acute Hospitals Trust, which is expected to simplify the governance within two years when Salford formally acquires Pennine.
Asked if there are plans to formally merge the Essex trusts, a spokeswoman said: "We are currently reviewing options as to the future organisation form of the three trusts; this is clearly subject to both post consultation realisation of the future clinical service configuration across the three trusts and secondly any future structure being permissible following Competition and Markets Authority review. At the present time, all options remain open and no definitive decision has been made."
Last month, HSJ revealed how the former finance director at Basildon and Thurrock had disagreed with a recommendation from the chief finance officer of the group to accept the trust's financial target from NHS Improvement. Private board papers showed the board ultimately went against the trust finance director's advice and accepted the target.
Source
Information provided to HSJ