Loan will mean cumulative deficit reaches £46.4m by the end of 2016-17
Projected £10.2m deficit for 2016-17 could rise if trust does not meet funding targets
Finance director says deficit reduction dependent on STP's success
FINANCE: Bedford Hospital Trust has agreed a loan of £13.2m from NHS Improvement to cover its deficit in the current financial year, according to its latest annual report.
This loan comes after the trust reported a £17.9m deficit at the end of 2015-16 – £1.7m more than planned in April 2015 – and will leave it with a cumulative deficit of £46.4m by the end of March 2017. The trust's average annual income over the last three financial years has been £166m.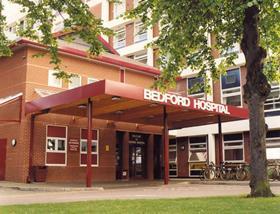 Bedford's loan consists of £10.2m to cover its projected deficit this year and an additional £3m to help the hospital make more regular payments against its working capital. Finance director Damian Reid said the trust may need to ask to increase the loan to £14m as it may have "underestimated" the timing of payments, which could mean more due in this financial year than expected.
Mr Reid also warned there was a risk that the £10.2m deficit forecast for 2016-17 could rise as the rules on receiving money from the sustainability and transformation fund tighten as the year progresses.
He said: "Our deficit for the first three months is £2.5m, which means on a straight line basis we would be on line to achieve the £10.2m.
"STF funding has harder targets later in the year than we have had so far so there is some risk about maintaining performance through the year. For instance, we would have to be able to deliver A&E [targets] in quarters two, three and four to be able to secure STF funding."
However, Mr Reid said despite accident and emergency attendances last year being among the highest the trust has ever even seen, it did meet the national target of seeing 95 per cent of patients within four hours.
He added that the hospital was hoping to improve on its revenue deficit in 2017-18 but its success was dependent on better integration with community and GP services in Bedfordshire, as well as a driving benefits from "closer cooperation" with the other trusts in its sustainability and transformation plan area, Milton Keynes and Luton and Dunstable. He said: "I would also say it is very critical to get the STF on to a recurrent basis so it [also] depends on how the Department of Health treats that next year."
Bedford has set itself the aim of breaking even by 2020, with a target of making 4.4 per cent efficiency savings this financial year, equating to £7.6m. Last year it achieved savings of £8.1m, around 5 per cent of its budget, but was reliant on non-recurrent items such as a land sales.
Source
Trust board papers and information provided to HSJ