Bedford Hospital Trust "requires" people to stand once a meeting runs over 60 minutes
Step is to comply with indicators in staff health CQUIN worth £900,000 to the trust
NHS England regional team says it "does not set out" activities trusts must do to receive the funding
A Midlands trusts is asking staff to stand when meetings run over an hour to help meet its staff health and wellbeing CQUIN goal, which is worth £900,000 this financial year.
Bedford Hospital Trust board papers revealed that "all meetings lasting long than one hour would require attendees to stand after an hour had passed". The minutes for the November and December board meetings noted: "All members stood up and continued with the meeting."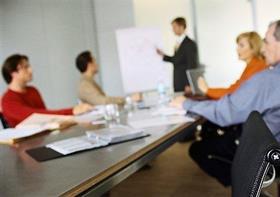 The 2016-17 staff health and wellbeing national commissioning for quality and innovation payment is worth 0.75 per cent of a trust's contract value. The CQUIN is measured across three indicators: the introduction of health and wellbeing initiatives (the trust regards standing in meetings as an activity that comes under this indicator); promoting healthy food; and the uptake of the flu vaccination among staff. Funding incentives are split equally across these three indicators.
The trust has said it could receive up to £2.9m from all agreed CQUIN schemes this year, worth 2.5 per cent of its contract values. The introduction of wellbeing initiatives element of the staff health CQUIN could earn it up to £290,000 in 2016-17.
A trust spokeswoman declined to say what proportion of the health and wellbeing indicator of was attributed to standing during meetings. She said the plan contains "a number of initiatives" including cycling to work and joining the staff gym. She added: "The plan… also includes building physical activity into working hours by, for example, promoting good musculoskeletal health through standing or movement when in extended meetings."
NHS England guidance on the CQUIN said clinical commissioning groups should "review individual plans" with providers on how they will meet the CQUIN indicators. Bedfordshire CCG declined to comment on the method chosen by the trust to secure funding, instead referring HSJ to NHS England.
A spokesman for NHS England Central Midlands said it "does not set out nationally" which activities a trust should offer staff to meet this national CQUIN. He said: "Specific activities such as standing during longer meetings will be for individual organisations to determine… We have also encouraged the take up of offering physiotherapy services."
The CQUIN guidance contains nine ideas for staff initiatives developed in conjunction with Public Health England. None of them mention standing during meetings, however the national CQUIN templates document said a trust should build "physical activity into working hours and reduce sedentary behaviour".
It also said staff absence costs the NHS £2.4bn a year and improving staff health and wellbeing can boost staff retention and clinical outcomes for patients.