Two Bedfordshire hospital trusts intend to merge by April – a timeframe that both organisations admit is "ambitious".
Bedford Hospital Trust and Luton and Dunstable University Hospital Foundation will submit a business case in December after a two month period of staff and public consultation, which has already begun. The proposed timeline would then allow just three months for NHS regulators and the Competition and Markets Authority to approve the plan.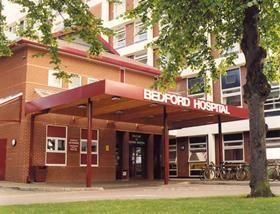 The public proposal document recognised the timetable is "largely dependent on the requirements" of its regulators. It said: "The management teams recognise that these timings are ambitious, however this is considered to be in everyone's best interest and we want to create certainty for staff and patients as quickly as possible."
It was only last month that the trusts announced their decision to explore a merger,
The document revealed the trusts intend to become a single foundation trust. Currently only Luton has foundation status.
The new single organisation would share management and clinical teams. The document said that emergency, consultant led maternity and paediatric services will remain at both sites. However, it is unclear what type of emergency service will operate at Bedford. The proposal said: "Additional support out of hours for higher risk emergencies [will be] provided by Luton and Dunstable. Ambulances would work with both hospitals to get patients to the best location for treatment".
Bedford's emergency department has long been threatened with being downgraded.
The trusts have also agreed:
Clinical teams will provide a single service across two or more sites with specialists working as part of one team rotating between hospitals to provide 24/7 specialist care across Bedfordshire. The trusts hope these measures will help resolve how "difficult" they find it to retain and recruit staff.
A single corporate service unit, including IT, finance and HR, will support both hospitals.
To bring services back to Bedfordshire, citing plastic surgery and specialist cardiac imaging specifically.
To create a single advice and guidance service covering both locations.
The proposal mentions the Bedfordshire, Luton and Milton Keynes sustainability and transformation partnership but it does not mention the accountable care system the region has committed to. The STP was confirmed in June as one of the first eight ACS regions.
Last month, Bedford chief executive Stephen Conroy said the merger is "not replacing" the ACS but it remains unclear how the ACS can meet the April deadline to achieve "full ACS status" if the organisations are focused on such a fast merger.
The document also said the merger would "build and strengthen the existing partnership" between Bedford and Luton trusts, but makes no reference to Milton Keynes FT, the other acute trust in the STP area.
Source
Public proposal document
Source date
18 October 2018