Best Places to Work 2015 - community trust runner up
Full time equivalent staff: 3,227
Sickness absence rates: 4.13 per cent
Staff recommending care: 89 per cent
Staff recommending as place to work: 71 per cent

This year, Derbyshire Community Health Services won an NHS England Innovation Challenge award for a new fitness for work service. Run by occupational health experts the service offers specialist workplace support and care to staff that are off work or struggling to remain at work due to medical conditions.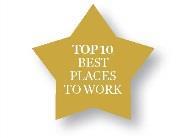 Derbyshire was one of 13 winners selected from 340 applicants and as a result received £75,000 to expand the service. The trust estimates that it has saved at least £250,000 in sickness absence costs since the project launched. Jayne Crook, a specialist occupational health physiotherapist and one of the two people leading the project, says: "We are grateful to all those involved in enabling the service to work efficiently on a daily basis […] and help play a role in preventing as well as managing sickness absence."
Involving staff in everything it does is also a key priority for Derbyshire Community, says Amanda Rawlings, the director of people and organisational effectiveness. Ms Rawlings affirms: "Our big focus is on staff wellbeing and boosting engagement, so if there are issues affecting staff we know about them quickly and can take action."
Two years ago the trust introduced a staff forum, which brings together a cross-section of employees, including staff governors, partnership representatives and the frontline care council to discuss workplace issues chosen by staff. As a direct result of discussions at the staff forum, the executive team supported a drive to encourage staff to seek a higher rate of "permissions to share" on patient records. This has since been approved by the trust board as one of the organisation's strategic "big nine" key performance indicators for 2015/16.
The trust has also been recognised for its outstanding HR by the Healthcare People Management Association. Winning three awards in one night, Ms Rawlings won HR Director of the year; judges described her as being, "focused, dedicated and passionate about all she does".
The trust's Chesterfield team also won HR team of the year and its organisational effectiveness team was awarded the "courage to manage award".