Best Places to Work 2015 - mental health/learning disabilities winner
Full time equivalent staff: 3,470
Sickness absence rates: 3.84 per cent
Staff recommending care: 72 per cent
Staff recommending as place to work: 73 per cent

With six out of seven executive directors at East London Foundation Trust clinically trained, the trust is able to "represent clinical professions at a board level as well as being able to recognise the clinical impacts of decisions on patient outcomes and staff experience," says the trust's chief executive Dr Robert Dolan.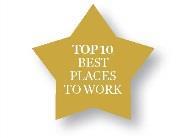 Demonstrating the trust's ethos "clinician-led, management supported" Dr Dolan says: "At ELFT, we have developed a culture of continuous quality improvement; we put our clinicians and patients at the heart of what we do…Evidence shows that there is a link between staff and patient experiences, which is why we actively involve clinicians in the management and development of the trust."
As one of only two "super hubs" for community nursing development in the capital, ensuring that the trust is "developing clinical leaders for the future" is a key priority for Dr Dolan. The trust has given over 300 inpatient nursing staff clinical leadership development training. Included in this training are sessions on leadership and management, the art of engagement and recovery, understanding yourself and others, resilience and understanding the services users' experience.
In addition, the trust runs an apprenticeship programme for band 6 nurses that seeks to prepare them for the demands of being a lead clinician and junior manager at band 5. During the apprenticeship nurses take clinical, leadership and management modules and are allocated a mentor to support, challenge, assess and be a critical friend.
East London provides services to one of the most culturally diverse parts of the UK and has made significant improvements to its staff equality and diversity approach. This year the trust won "most improved award" in Stonewall's 2015 Workplace Equality index, health sector awards, moving up an impressive 117 places from 228 in 2014 to 111 in 2015. The trust's deputy chief executive and director of operations Dr Navina Evans says that the trust is "committed to ensuring that LGBT equality is an integral part of the trust's culture, practice and wider equality agenda."
Actively promoting diversity within its senior leadership roles, East London Foundation Trust has recruited five new board members since 2010 who are either woman and/or from an ethnic minority background. Marie Gabriel, the trust's chair, says: "My experience as chair at ELFT underlines my belief that a diverse board is not a 'nice to have': it is a prerequisite for the success of our organisation. Only through this diversity can we deliver the care our local communities need by fostering innovation, harnessing talent and embracing the fact that equality is our core business."
*This trust provides community services as well