Best Places to Work 2015 - mental health/learning disabilities runner up
Full time equivalent staff: 3,071
Sickness absence rates: 4.38 per cent
Staff recommending care: 74 per cent
Staff recommending as place to work: 74 per cent

Named by the King's Fund as one of the few high performing trusts in staff engagement in a 2014 report, Oxleas Foundation Trust was praised for its efforts in developing more inclusive and supportive leadership styles.
The report stated: "Oxleas Foundation Trust made substantial investment to convince sceptical leaders and managers of the need to change, before helping them to 'unlearn' ingrained behaviours and develop a broader set of leadership skills."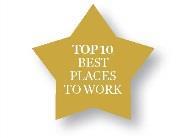 In reaction to the report the trust's director of human resources Simon Hart says: "We were really pleased to have this confirmation from the King's Fund but, as always, it is the opinion of our staff that really counts."
Focussing on staff opinion has clearly paid off with the trust receiving an impressive 4.02 out of 5 for staff engagement in the NHS Staff survey - the highest score for any mental health trust.
With over 125 sites, the trust still ensures that all board members visit different services each month to discuss with staff what it is like working within their team. Trust chief executive, Stephen Firn, says: "We know that providing excellent patient care relies on having highly motivated and engaged staff."
Ranked sixth in HSJ's 2015 top chief executives, Mr Firn continues: "I make sure I meet every new member of staff personally and ask them to share their experiences with me."
A total of 837 of Oxleas' staff responded to the NHS staff survey this year and subsequently it was rated as one of the best in the country for effective team working, effective appraisals, reporting errors/incidents, fairness of reporting incidents and not experiencing work related stress.
Discussing this year's staff survey success Mr Firn says: "We are delighted that this staff survey is even better than last year's. Despite all the pressures on the NHS, our staff continue to say that they feel engaged and that they would recommend Oxleas as a place to be treated and to work. This is particularly important because we know that good staff satisfaction leads to good patient care."
Following feedback from the staff survey the trust will now also focus on reducing the levels of discrimination, bullying and abuse experienced by staff from patients and relatives. Mr Hart comments: "Although the [NHS Staff survey] indicates that only a small number of people are affected [by bullying], we want to make sure that this type of behaviour is not accepted and that individuals are supported if it does occur."