Best Places to Work 2015 - acute specialist trust winner
Full time equivalent staff: 208
Sickness absence rates: 3.18 per cent
Staff recommending care: 91 per cent
Staff recommending as place to work: 79 per cent

Locally known as "The Min", Royal National Hospital for Rheumatic Diseases (RNHRD) merged with Royal United Hospitals Bath in February this year. Despite merging due to the financial pressures of being such a small trust, Royal National's 2014 staff survey results prove that the trust was certainly not struggling in terms of its staff engagement.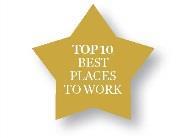 With a 61 per cent response rate to the NHS staff survey, nine out of 10 of those surveyed said that they feel satisfied with the quality of work that they were able to deliver. An even greater proportion had increased job satisfaction with the knowledge that their role made a difference to patients and service users.
The organisation also scored an impressively low 2.73 out of 5 for the level of work pressure felt by staff and comparatively high 3.9 out of 5 for effective team working.
Mergers can often be hard on a trust's workforce, however during this period staff engagement scores for RNHRD actually went up compared to the year before, as did its response rate to the staff survey.
While working towards integrating the two trusts, a programme focussed on improving communication with staff about the process was rolled out. This included regular immersion events run by individual teams. The events provided staff with the opportunity to celebrate successes related to the integration of staff teams and to also generate a clear vision of what integration should look like from their perspectives.
Talking about the trust's merger with Royal United, Claire Buchanan, director of human resources says: "The RUH is proud to have welcomed staff from the Royal National Hospital for Rheumatic Diseases. This is the second year running that the RNHRD has been recognised in the top 100 and we hope to continue to build on this success."
Ms Buchanan adds: "With the Royal United Hospital also featuring in this year's top 100, it is clear to see that two motivated and highly-skilled teams of staff have come together for the direct benefit of patients. We will continue to support our staff throughout the integration process so that they can continue to do what they do best - deliver world-class care."