Best Places to Work 2015 - CCG winner
Full time equivalent staff: 34
Sickness absence rates: 2.57 per cent
Staff recommending care: 100 per cent

"We are a very focussed and enthusiastic organisation with great clinical leaders at our heart," says Allan Kitt, accountable officer for the Best Places to Work top performing CCG.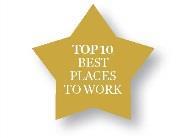 South West Lincolnshire Clinical Commissioning Group was recognised within our top 10 last year and praised for its open and communicative culture. Of their achievement this year Mr Kitt says: "We invest in developing our team members and our leaders are very visible and accessible to staff; it is an easy organisation in which to ask difficult questions."
The CCG has continued improving its staff engagement by introducing bi-monthly question and answer sessions between the staff, chair and chief officers. These sessions are a part of a wider "Making a Difference" programme, designed to enable participation from every staff member at every level of the organisation.
"The Q&A sessions bring staff up to date with the latest developments both nationally in the NHS and locally in the Lincolnshire community and the CCG," says Jo Wright, Chief Finance Officer for the CCG. She adds: "They give staff an opportunity to ask about anything from what the latest NHS policy announcement means to them, to the new office layout."
Although small in size this does not stop staff from believing that they are making a difference to the 127,573 population that they serve. Hundred per cent of staff, surveyed in the recent NHS staff survey, had increased job satisfaction through the belief that their role made a difference to patients and service users. "Team members are genuinely empowered to do the right thing for patients; staff clearly find it a satisfying way to work," affirms Mr Kitt.
In the 12 months prior to the NHS staff survey, more than nine out of 10 employees at South West Lincolnshire said they had received job-relevant learning and development training.
Among these programmes offered by the CCG is a resilience building programme. This involves using behavioural diagnostics in individual and group coaching sessions available for all staff regardless of level. The aim of it is to raise staff resilience in times of worry and to promote a healthy work-life balance; something that they also do by refusing to book meetings and events outside of staff hours.