Best Places to Work 2015 - acute specialist trust runner up
Full time equivalent staff: 1,160
Sickness absence rates: 4.45 per cent
Staff recommending care: 88 per cent
Staff recommending as place to work: 77 per cent

Unique in its status as the only specialist neurosciences trust in UK, The Walton Centre Foundation Trust is based in Liverpool and has workforce of around 1,300 staff.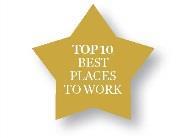 In 2012 the trust reviewed its health and wellbeing strategy after recording sickness absence rates of around 7 per cent. Galvanised by this, the trust implemented a health and wellbeing programme led by union rep and staffside chair Jean Blevin. The programme offers a variety of activities including Zumba, Pilates and circuit training. Most recently the trust implemented massage therapy sessions. According to Jane Mullin, deputy director of HR, the massage therapy has been received very positively and one employee even told her it has kept her in work.
Health and wellbeing is a priority for the Walton Centre and it has been rewarded for its efforts, receiving a health and wellbeing award in 2014 from Investors in People (IIP).
Recognised by IIP for "World Class HR" the trust received a Gold Standard accreditation.
Mike Gibney, director of workforce explains: "They [IIP] come in for 11 days and interview over 70 staff and at the end of it you can pass, fail or receive bronze, silver or gold."
He adds: "There are only five trusts in the country that are currently gold standard and when IIP came in they said that only 1 per cent of all UK employers have both the gold standard and health and wellbeing award."
Since starting the health and wellbeing agenda, staff sickness absence rates have fallen to 4 per cent, and Ms Mullin reports that there are plans to expand their agenda beyond just physical activity. "In the past we concentrated on the physical activities, so the next steps will be continuing with and developing those activities but it's also looking at health and wellbeing in its round."
Staff engagement is also a priority for the trust. There are staff listening weeks in which managers and non-executive directors go into different departments for informal, confidential conversations about working conditions; a quarterly staff forum; and regular "back to the floor" executive walkabouts.
As Mr Gibney explains, the organisation is providing collective leadership courses for those in middle management roles. "In the end the face of this organisation are those middle and line managers and so we're running these programmes and the basis of it is they need to invest their time in staff, it's not all about writing reports and organising rotas they've got to talk to staff and engage with staff," he says.