Patient-level information and costing collects data in a way that engages clinicians in improving efficiency. Louise Ross and Jennifer Butcher explain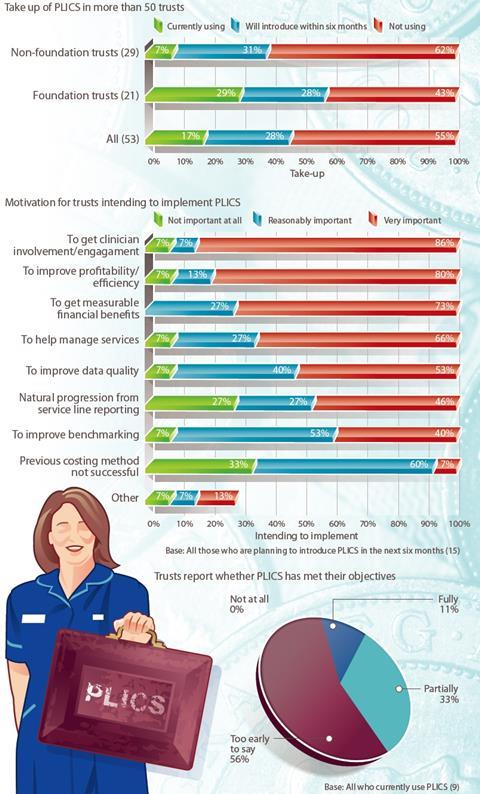 A costing system where every patient counts
The government has warned it cannot continue the recent increased investment in the NHS and a £90bn black hole in the public finances imposes additional pressure to achieve savings. There is a risk of "blanket" cuts which unfairly penalise services that have already made efficiencies, or have heavier demands on them.
17% - Trusts and foundation trusts, out of a survey of 50, which have begun using patient-level information and costing

28% - Trusts and foundation trusts that say they will be rolling out PLICS within the next six months
Good quality costing information is the best defence against inequitable or illogical allocation of scarce resources.
Patient level information and costing systems could offer a solution. This method collects the costs of interactions, processes or events relating to individual patients, helping clinicians understand the cause and effect relationships between their decisions and the costs. Business calls this approach ABC - activity based costing.
Empowering clinicians
Activity based costing approaches are not just operational tools for the finance team. They gather information to inform strategic decisions such as pricing, outsourcing, resource allocation and identifying inefficiencies, issues as relevant to the NHS as any business. ABC and patient-level information and costing are therefore management tools, and their great contribution is to empower those who make decisions - in the patient-level approach, clinicians.
In its report A Picture of Health the Chartered Institute of Management Accountants surveyed the take-up of patient-level costing among more than 50 trusts. Of these, 17 per cent are in the early stages of using it, while a further 28 per cent plan to roll it out in the next six months.
ABC's popularity has waned and resurged several times since its introduction in the late 1980s. It is resource intensive and some critics argue that can outweigh its benefits.
But the balance of costs and benefits in the NHS is different from other businesses. Patients' individual states of health may require different treatments from those suggested for others with the same condition. Under the previous costing system, when costs were understood by service line, this variability went unrecognised and, by default, was punished.
Clinicians are used to making evidence based decisions about the effectiveness of initiatives in terms of outcomes for the patient. The patient-level costing approach provides the evidence to determine the cost-effectiveness of these initiatives.
There is a recognisable conflict of interests between those who prioritise the management of costs, and those who wish to provide the best patient care. Patient-level information and costing may be an answer. Better information can identify where false economies are practised - for example, a treatment that is likely to lead to readmission.
The CIMA survey shows the primary motivation for those intending to implement patient-level information and costing was to engage clinicians, closely followed by improving profitability or efficiency. Only 11 per cent of those already using it claim they have met their objectives. Most (56 per cent) advise it is "too early to say", but none felt they could characterise the initiative as a failure.
Significant commitment
ABC has taught us to expect that patient-level systems will require a significant commitment. Clinical decision makers need to understand cause and effect relationships and the cost implications of decisions; and they will need PLICS software training.
Collecting cost data is an iterative process. As users identify anomalies, relationships, unsuspected influences on costs or drivers of cost, their insight into cost behaviour improves and more benefits are realised. This has been the experience with ABC, and will be the case with the patient-level approach.
It is worth sticking with. For many trusts, robust information may not be ready in time to defend or refocus the first wave of cuts. But improvements will accrete and successive rounds of resource allocation should be better informed.
Our survey shows that trusts currently using patient-level information and costing are actively taking steps to improve the quality of their data, and 56 per cent are already using the data to improve efficiency.
PLICS pointers
Get in early. When PLICS is introduced in an organisation, the winners are often those who get involved with the project from the start
Make sure you get the training you need. The software should be user friendly but leaning to use it correctly is essential
Scrutinise and question data where you think it can be improved
Make use of finance - your finance business partner is there to help find solutions and improve the data
PLICS will take time to get going and time to improve so be prepared for this. Don't expect immediate results, but be persistent