High-tech training at a leading foundation trust is giving staff enhanced skills to cope with stress. Helen Mooney reports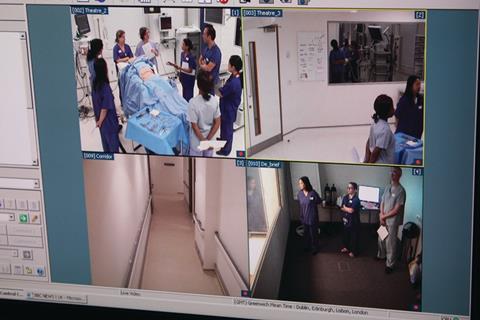 Behavioural training: there's a new show in town
The education centre at University College London Hospitals Foundation Trust opened in 2008 to give staff and other NHS professionals at all levels the chance not only to improve their clinical and medical skills but to help them analyse how they act and react in different situations.
There is tension, stress and anxiety and we try to train people to deal with that
One of the programmes the centre offers is behavioural training. This has been established to test how particular groups of healthcare staff act in stressful situations. These can include medical emergency but also other situations such as a regulatory meeting requiring high level negotiation, or dealing with a difficult patient with severe anxiety who prevents a doctor or nurses from working efficiently.
The training monitors and records the reactions of staff in different stressful situations. A range of versatile rooms have been created at the centre to resemble, for example, a nursing ward, a clinic or GP consulting room or indeed a managerial meeting room.
Inside and all around these - including the corridors - cameras record people's actions, while fixed microphones pick up every conversation. In addition, the centre uses audio-visual technology to give staff demonstrative and accurate feedback.
Professional medical actors are also used to perform role play to give staff a genuine "mock-up" experience.
Steve Andrews, the education centre's director of programmes, says there is much evidence to suggest a connection between leadership, morale, teamwork and patient safety.
"The training we offer here is intense; people don't relax. There is tension, stress and anxiety and we try to train people to deal with that," he explains.
After action reviews
"We aim to capture what people are learning from this. Staff are learning about themselves training in multidisciplinary teams. We always ask teams whether they have previously trained together and the answer is always that they never have."
The centre's behavioural training programmes use "after-action review" to help inform valuable feedback and embed new, enhanced skills.
At present the centre runs three types of behavioural training programmes: communications for nursing staff; dealing with challenging behaviour; and being effective in meetings.
To learn about being effective in meetings participants, who can be from a clinical or non-clinical background, are invited to hold a "typical" meeting in the after-action review suites.
The meeting is recorded on DVD, which an expert trainer then replays with the participants to spotlight and help modify behaviours that affect individual and group success.
The course aims to teach managers how to recognise the effects of positive and negative behaviour of individuals within groups, how to command attention and communicate effectively among peers, some useful methods for self-expression, and how to portray the image they desire.
"We introduced the after action reviews because we found staff were learning lessons but not implementing that learning," trust director of education Aidan Halligan explains.
He says 700 staff at the trust have now been through the training and it at has enabled the organisation to solve its own problems "from the inside out".
"We have been running the programme for a year and it has been a success.
"Often the most senior staff are the people that often feel the most anxious about participating but we need to bring some tension to learning to make it authentic," Professor Halligan says.
The centre also offers a wide range of clinical training to staff.
It recently launched a new safety programme to support the implementation of the World Health Organization checklist in operating theatres. The checklist is part of a major drive to make surgery safer and aims to reduce the risk of avoidable complications and deaths as a result of surgery.
The WHO checklist course, using theatre simulations, is to be rolled out trust wide as mandatory training.
Extending training to other trusts
UCLH is keen to open the centre to other hospitals because it believes it has now become the NHS "expert" in delivering this type of training.
It is planning to develop an education centre faculty employing clinical and non-medical staff to develop the centre's programmes and quality assure them once they are open to other health service organisations.
However, advice to other trusts thinking of establishing similar programmes includes:
use strong, experienced trainers and facilitators to carry out the training
encourage senior managers and clinicians to be involved in training as well as more junior staff
train in multidisciplinary teams
watch and record training and deconstruct what has happened
allow for feedback and self-analysis.
FIND OUT MORE