Evidence is essential to designing community services that truly transform care delivery rather than simply shift vulnerable budgets, warns Noel Plumridge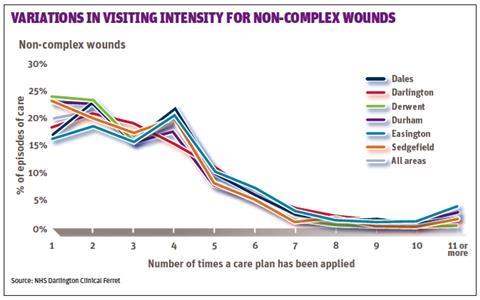 Capturing the costs of community services
It is not so long since community budgets, when managed by district health authorities, were cut each year to bridge the funding gap between irresistible "winter pressures" at the acute hospital and an inflexible cash limit. District nurses, therapy heads and community hospital managers have long memories, and rightly suspect the motives behind their recent and often perfunctory wooing by acute hospitals.
Does "vertical integration" amount to anything more than a shotgun wedding between primary care trust provider arms - a sector worth between £10bn and £15bn - and acute hospital trusts? Are community services being "transformed" or simply transferred, ripe for asset stripping?
The assumption of inefficiency and poor value for money in community care runs directly counter to the commissioning wisdom of at least two decades that the route to better value is to do less in hospital and more in the community. So, what can managers of community services do to dispel this assumption?
One NHS body addressing the issue with some energy is NHS Darlington. It is no small organisation, with 3,200 staff, a budget of some £110m and County Durham and Darlington Community Health Services providing services for a population of around 600,000.
The Co Durham managers recognised some time ago that data being collected for reference costing and for monitoring compliance with DH targets was inadequate for outcome-based assessing efficiency or for responding to potential competition.
Without information of the quality becoming commonplace in the acute sector, they would always be vulnerable, either to cost-cutting commissioners or to undercutting predators competing for their business.
Co Durham's vision is for all its services to have reliable information on activity, outcomes and finance at the level of the individual patient. And not just to have it, but to use it to drive efficiency at team level. In this respect it mirrors the patient-level costing philosophy that is becoming increasingly commonplace in acute hospitals, though the chosen software tool - the SystmOne clinical record system - is being implemented in a way that reflects the different challenges of community settings and long term patients.
Getting the support of frontline clinicians has been crucial. Co Durham's strategy has been threefold:
extracting activity and outcome data without imposing extra data collection requirements on clinicians
reporting progress directly to clinicians
using clinically relevant activity descriptions, starting with the largest services and establishing agreed "currencies" for activity and outcomes.
This information is now being structured to allow clinicians to analyse their own practice. For instance, exploring variation in wound care - some 39 per cent of district nursing activity - across the geographical area of the service has led to new wound care guidance. By examining the number of visits per episode of care, and how long visits continue, the Co Durham team has been able to build up consistency.
Clinical outcomes are now also being recorded.
Originally intended as a clinical management tool, the availability of this type of data is significant in a context of "vertical integration" - for which the chief executive of Darlington's acute hospital trust strongly advocates.
First, it offers coherent and consistent ways of measuring and benchmarking non-acute clinical activity, and of identifying variations, thus bringing more effective management control to a material area of NHS activity. Second, it supports the evidenced-based review of entire clinical pathways, especially in long term care: arguably the key to whole systems productivity gain.
Finally, it offers a ready tool by which acute trust board members, who may be unfamiliar with clinical practice outside the hospital, can understand the costs and benefits of care services within their newly acquired areas of responsibility. A crucial strategic message for community services managers is that better co-ordination of their services with acute hospital care is a vital route to productivity gain. The essential need is evidence.
Top tips
Knowledge of actual costs per item of care is essential - and need not be related to a community currency or tariff
Keep frontline staff involved. Where possible, relate actual costs to clinical outcomes
The patient-level costing approach that many acute trusts now use can bring real benefits outside hospital
Acute trust boards are as important a target for productivity information as commissioners