A complex reprocurement set out to help young patients and their families benefit from integrated community services. Kevin Hewitt, partnership director of the Community Children's Health Partnership, explains the journey.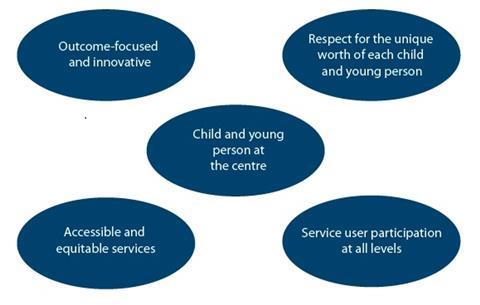 In 2007, NHS Bristol and NHS South Gloucestershire, alongside partnership organisations, launched what was at the time the largest ever tendering process for clinical services in the UK.
The vision was for a community children's health service fit for the 21st century. The result is the Community Children's Health Partnership, which is a formal, legal partnership between North Bristol Trust and Barnardo's.
The reprocurement process for community children's health services in Bristol and South Gloucestershire was launched in 2007, and involved an annual £22.5m contract over five years (plus two), affecting 778 staff in child and adolescent mental health services, community child health and health visiting. Of these staff, 410 were destined to have a new employer.
The contract included the full range of CAMHS services, from primary mental health specialists to highly specialised Tier 4 services such as prison CAMHS, the drug and alcohol team, learning disability/mental health teams, deliberate self harm team, youth offending staff and an inpatient psychiatric unit.
It included community child health services: community paediatricians, health visitors, school health nurses, speech and language therapists, occupational therapists and physiotherapists. For commissioners in Bristol, challenges included:
92,000 population under the age of 19;
27,600 children estimated to be vulnerable;
50 per cent of Bristol wards were in the top 25 per cent of deprived wards nationally;
15,000 children had mental health needs;
29 per cent of children lived in income-deprived households (rising to 93 per cent in the most deprived wards;
A black and minority ethnic population of 11 per cent.
The drivers for the decision to reprocure were complex but were essentially based on the service fragmentation.
Community children's health services - CAMHS and community child health - in Bristol had been historically split across three provider organisations: University Hospitals Bristol Foundation Trust; North Bristol Trust and, for health visitors, the provider arm of NHS Bristol.
South Gloucestershire was in a slightly different position, with CAMHS and community child health services delivered by a single provider - North Bristol Trust. Health visitors in South Gloucestershire were at that time employed within the provider arm of NHS South Gloucestershire and were not offered as part of the tender. They will shortly be transferring into North Bristol Trust following the national transfer of the primary care trust's community provider functions.
These former complex arrangements resulted in inequalities in access and provision across Bristol and effective partnership working with the local authority was also being compromised at the time.
The outcome of the tendering process was:
A contract award to North Bristol Trust, from 1 April 2009, of £150m, delivered on time and within budget;
A new and innovative service model between North Bristol Trust and Barnardo's;
Integration between CAMHS and CCH services achieved by having both services managed within a single employing trust;
Integration across the CAMHS pathway;
The development of a robust and inclusive outcomes and performance framework;
A service model with a clear commitment to working in partnership within local authority children's trust areas/localities;
A holistic, single pathway service model;
A partnership with Barnardo's which offered a real opportunity to ensure the voice of children, young people and families was heard when planning, monitoring and evaluating services;
Improved access for the most vulnerable families.
Our data analysis within the bidding process revealed that a minimum of 30 per cent of referred children needed at some point to access services in both the child health and CAMHS specialties and it made perfect sense to make sure that these services partially overlapped to smooth out the care pathway.
The new model
On the diagram, the child/young person's journey into the system is from left to right and it is important to note the emphasis given to transition between the different parts of the service system, for example between community services and the inpatient hospital, which is managed by a different provider, and between the community children's service system and adult services, also managed by different providers.
The arrows indicate flows of children and young people between services (step up and step down) and the overlapping sections represent services which are integrated across CAMHS/CCH.
The Barnardo's tag is at the intersection between parts of the service because these represent "referral-on" gaps though which children could fall unless properly navigated and gaps which Barnardo's can help children and families to navigate across.
The Community Children's Health Partnership is a legal partnership between North Bristol Trust and Barnardo's, with Barnardo's as sub-contracted partners. The Barnardo's staff are funded within the contract but are not employed by the trust.
The partnership operates to a clear and explicit set of core values which are embedded in the induction and appraisal process for all staff - see above.
Together with Barnardo's and a group of service users, we have also developed a Service Users' Charter and its aspirations are embedded in the staff appraisal and consultants' job planning process to guide practice and decision making.
Over 80 per cent of partnership staff have now been trained by Barnardo's in service user participation and the acute trust has appointed a Barnardo's worker within its corporate advice and complaints team.
As well as the core values and users' charter, the partnership operates some key principles:
integration;
minimising delays to the patient journey created by internal gates and barriers;
early intervention and prevention, including preventing the need for referral to more specialist services if needs can be met at a less specialised level;
use of care pathways;
co-location of staff in appropriate premises within each of the local authority areas/localities.
Considering the scale of the organisational change which occupied much of 2009-10 and at least the initial part of 2010-11 we have performed well. All CQUIN quality targets were met and we hit or exceeded all outcomes framework targets. We:
reduced waits for initial appointments and achievement of an 18-week pathway to treatment;
achieved eight-week waits for all community paediatricians;
increased breastfeeding rates from 27 per cent to 32 per cent in the most deprived wards in Bristol and established a breastfeeding peer support project with Barnardo's;
improved equity of access across the geographical areas;
made access easier for hard-to-reach families, especially in south Bristol, using local teams;
had almost all staff trained in service user participation;
embedded service user participation;
raised the profile for these services in the trust;
achieved the service being nationally profiled/frequently contacted for advice on the service model;
redesigned the workforce, introducing a new management structure which reduced professional silo working;
improved recruitment.
The CQUIN gateways and targets for 11/12:

100% - 24/7 cover available to meet urgent mental health needs, including children with learning disabilities

90% - Initial and further information reports on statementing are completed in six weeks: the exception is when a child needs to be seen and fails to attend

100% - Individual management reports completed by trust staff within the timescale required by the chair of a serious case review panel
The challenges to the project have included year-on-year cash releasing efficiency savings of 3.5 per cent while remaining innovative and performance managed; the development of trust between clinicians and Barnardo's staff; one contract, two PCT funding streams and managing equity of access.
Also challenging was the culture change involved. A clear communications strategy was developed to include a quarterly bulletin, led by Barnardo's, and regular communication forums between managers, staff and the unions.
Management of expectations was important. Staff are enthusiastic but sometimes expect too much too soon.
Vision for Children
In its engagement paper Achieving Equity and Excellence for Children the government sets out its vision for children's health services in the future
Services are personalised to individual needs and appropriate for children, young people and their families
Age-specific information is routinely available and accessible
Children, young people and their families will be at the centre of design and delivery of services, facilitated by local professionals
Improvements will be measured in terms of outcomes for children and young people, rather than just time-focused targets.
The Outcomes Framework
The Community Children's Health Partnership is performance managed against the targets contained in the outcomes and performance framework on a quarterly basis. They are:
Improve outcomes for service users
Involve users in service planning and delivery
Outcomes for equitable and targeted service delivery
Improve accessibility and responsiveness of service
Improve clinical effectiveness of services
Outcomes associated with prevention and early intervention
Effective management, planning of partnership structures
Safeguard
Workforce: staffing, skill mix, training and supervision
Premises and information management and technology
For more information on the service model email kevin.hewitt@nbt.nhs.uk or sharon.nicholson@nbt.nhs.uk
To find out more about the Service Users' Charter visit http://www.nbt.nhs.uk/cchp
The author would like to thank Heather Kapeluch, Anne Goymer and Sharon Nicholson for their work on the project.