The UK Biobank was sold as being a far reaching study into the world of genetics, but how will its potential for altruism fare against its potential for commercialism?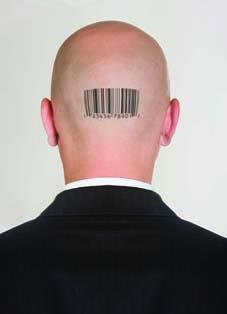 Biobank man
Key points
UK Biobank has around 330,000 people signed up to provide personal data, including DNA.
Large pharmaceutical companies and research organisations will have access to the material.
UK Biobank insists access will be restricted to "bona fide" medical research.
The project sees scope for international co-operation with other comparable databases.
Healthcare support worker Marise Holmes is one of more than 330,000 people (as of the second week of this month) to have signed up for a major medical research project from which they will never derive any personal benefits.
Large pharmaceutical companies and research organisations will have access to Ms Holmes' blood and urine samples, from which they will be able to extract DNA to carry out investigations into the genetic determinants of illness.
They will also be able to construct a detailed history of the environment in which she lives and of her health, including every visit to hospital and GP surgery, and every prescription medicine she has taken.
And it may be that in the future the NHS will sign deals allowing global information organisations to use her data. Perhaps to offer customised health scans factoring in genetic and environmental considerations.
Ms Holmes is part of UK Biobank, which describes itself as the world's largest ever study of the genetic and environmental causes of the big killers: cancer, heart disease, dementia and stroke.
Its £61m funding comes from the Department of Health, Scottish Executive, Welsh Assembly, the Wellcome Trust and the Medical Research Council. And within a year it is expected to hit its recruitment target of 500,000 volunteers aged 40-69 and then begin work in earnest.
UK Biobank will follow each volunteer's life through their medical and other health-related records. Researchers from the NHS, academia and the commercial sector will be allowed to mine this vast repository to deliver new treatments and cures hoped to bear fruit in 20 or 30 years.
But some commentators worry that allowing the commercial sector access to such a genetic mother lode might lead to profit being put before altruism. In July, the House of Lords science and technology committee issued a report calling for the NHS to do more to translate the advances in gene science into clinical practice but also for tighter regulation of "direct to consumer" genetic testing.
Critics speak of commercial healthcare companies dreaming of their marketing ideal; a "pre-symptomatic patient" - who represents a whole new marketplace to sell preventive treatments and products.
In the US, Google already runs Google Health - a free-to-use intranet that allows subscribers to organise their health information in one place. It gathers medical records from doctors, hospitals and pharmacies, and allows health information to be shared securely with a family member, doctors or carers. Google says there are no plans for a UK version, which is not surprising given NHS confidentiality rules around sharing patient records.
Great potential
But another US company - 23andMe - which is run by Google co-founder Sergey Brin's wife Anne Wojcicki and in which Google is a major investor, describes itself as an "industry leader in personal genetics". It is one of a number of companies that already give consumers a glimpse of their health risks and ancestry using DNA analysis, so for 23andMe the commercial potential of all the NHS information has to be tantalising.
A spokesman for the Department of Health says the DH has not talked to Google, 23andMe or any other consumer-related genetics companies about Biobank.
He says: "Understanding and harnessing genetics information offers great potential to develop new treatments and cures. Strict regulations are in place to ensure information is not used incorrectly.
"Our support of UK Biobank is not about commercial gain. It is a major UK medical research initiative that will provide the world's biggest resource to examine the role of nature versus nurture to develop better treatments."
New discoveries are what encouraged Marise Holmes to sign up: "I am in good health myself and I just find it interesting that it will do something good for future generations. Although I don't think I will be around when they come up with new discoveries."
Researchers can apply to use the database, although they will not be given access to the volunteers, who will remain strictly anonymous and known only to Biobank staff.
Researchers, for example, might access the DNA from 10,000 participants who developed heart disease and also from a sample of those that did not, in an attempt to gauge the benefits, risk contribution and interaction of specific genes, lifestyles, and medications.
Ms Holmes is unconcerned that her data, even though anonymised, will be used by commercial organisations and is reassured that it will not fall into inappropriate hands.
"The people at Biobank were very good at explaining that all the data was confidential," she says.
Volunteers are invited to one of 20 local assessment centres, where they complete an automated questionnaire and are interviewed about lifestyle, medical history and nutritional habits. Basic variables such as weight, height, blood pressure, bone density, grip strength and lung function are measured and blood and urine samples are taken.
These samples will be preserved so that DNA and other biologically important substances can be extracted and analysed in the future. For the duration of the study, all disease events, drug prescriptions and deaths of participants are recorded in a database, taking advantage of the NHS Connecting for Health electronic records system (hopefully fully functioning).
It is made clear to volunteers on signing up that they are not getting a health check, although anyone presenting with obvious measurable signs of health problems would be advised to see their doctor.
Problems detected
Some volunteers may be asked back at a later date for further research. But any problems detected perhaps 10 or 20 years later, such as genetic risk factors, when researchers mine the data, would not be conveyed either to the participant or their physician.
Biobank chief executive officer and principal investigator Rory Collins says this is to ensure volunteers are not penalised by insurance companies.
"There is no feedback to the volunteers when a genetic assay is done, so from the point of view of insurance companies no test has been done so it cannot compromise volunteers seeking life assurance, etc," Professor Collins explains.
Biobank was born of the 1997 New Labour drive for a "knowledge economy", which would harness the IT revolution to use NHS data and the newly unravelled human genome to drive forward commercial genetic research.
Not surprisingly, vociferous support for a system linking NHS medical records to individual DNA came from biotechnology, venture capital and the pharmaceutical industries as well as politicians.
The idea was for the UK to take the lead in commercialising what was then seen as the almost limitless possibilities of the human genome to transform the NHS into a prediction and prevention service.
The most consistent critic, Helen Wallace, director of the watchdog GeneWatch says this would create a vast untapped market - "the pre-symptomatic patient" - healthy people who could be offered a range of new treatments and functional food products based on risk assessments gleaned from Biobank data.
"Companies are pushing it, particularly those wishing to promote functional foods like cholesterol-lowering margarines or extra health scans based on your risk assessment.
"There is great commercial potential but Biobank has no finalised policy on intellectual property and access. No agreement on how much pharmaceutical companies will pay and how much information they can access or whether they will be allowed to patent genes or proteins they discover. It is possible they will patent specific gene sequences and gain excessive monopolies over future treatments."
She is also critical of the genetics heavy bias of the project.
"Social, environmental and economic factors make more of a difference to health than genetic make-up and perhaps the £61m might be better spent on health promotion. Prediction of future common illnesses by testing people's genes is unlikely to be a successful or cost effective means of disease prevention. Everyone can benefit by quitting smoking or eating healthily, not just a 'genetically susceptible' minority."
Politically driven?
Although it has since given its full support to the scheme, in 2003 the Commons science and technology select committee concluded: "Our impression is that a scientific case for Biobank has been put together by the funders to support a politically driven project."
And geneticist Steve Jones, head of the biology department at University College London, told The Daily Telegraph in April this year there was "too much optimism" surrounding gene research and a danger it has become "largely unfounded".
"Just a couple of years ago, there was real optimism that a new era of understanding was around the corner," Dr Jones said. "That did not last long, for hubris has been replaced with concern: like Macavity the Mystery Cat, the evidence of genetic inheritance is clear, but the genes themselves are just not there."
But in the US, for around Story text,000, 23andMe will genotype your DNA - basically give you a trawl through your family's genetic past into your future, setting down the genetic markers from inheritance of athletic traits, such as endurance, to any predisposition to cancer or heart disease.
Professor Collins sounds surprised when I ask about any approaches by Google or 23andMe. They had not made any, but he stresses that he would not reject any reasonable approaches from anyone carrying out "bona fide" medical research.
He says concerns raised by GeneWatch and others overstate the significance of genetics and underplay the role of all the other information that Biobank will amass on environmental and social factors and medical care and treatment.
"I went to GeneWatch's offices in Buxton and spent three hours explaining that genetics was only part of the study, it's a classic epidemiological study. Genes are a fixed point, they can't be changed. Getting someone to stop smoking leads to a change in patterns of disease. Genes are not a useful predictor of someone getting a disease but they can be useful in finding ways of prevention or treatment."
He points to US doctors Michael Brown and Joseph Goldstein, who won the 1985 Nobel Prize for medicine for work in the genetics of low density lipoproteins that turned specific genetic information about an inherited form of cardiovascular disease into more widely applicable molecular understanding.
"It wasn't a useful predictor for detecting who would have high cholesterol and possibly heart disease but it was useful in developing statins, one of the most widely used anti-cholesterol drugs, that have benefited many millions. Genetics, environment and lifestyle all have a role and we have tried to recruit from a wide range of social and ethnic groups and environments."
Professor Collins says the purpose of Biobank is to be used by as many organisations for as much genuine health related research as possible. This is why cost of access, still a closely guarded secret, is being kept low.
"Academic researchers and commercial companies would pay for the cost of an assay and some time later any research gleaned would have to be published for the consumption of the greater research community. And all the data will come back to Biobank and add to the store of knowledge."
When obtaining volunteers' consent Biobank staff make it explicit that the data may be used by commercial organisations.
Professor Collins explains why: "The pharmaceutical industry designs new drugs. There is little tradition of new innovation outside the pharmaceutical industry. Most academic research is pharma funded, so it is difficult to distinguish one from the other. The requirement will be that the research is health related and must be bona fide.
"For instance if a tobacco company wanted to do some research to find out if smoking was not a risk factor in cancer then that would not be bona fide health research."
A steering committee and an access committee determine whether individual research applications are unacceptable.
Not a genetic MoT
Customer research before the recruitment started revealed that people were not interested in personal health gain. But it is emphasised that volunteers are not getting some form of genetic MoT.
Professor Collins explains that it may be many years before their samples are touched: "It might be 10 years' time before someone wants to do an assay on heart disease and then it might be that 10,000 samples are looked at so 490,000 [are not]."
But of course its success also depends on a fully joined up NHS electronic health record and, depending on where you are in the UK, there are different levels of involvement. In Scotland there is the widest range of information, with mortality and morbidity, and hospitalisations, but also primary care and pharmacy prescriptions. In England and Wales it is deaths, disease and hospitalisations only at present.
"But they are migrating towards an integrated system, which will be retrospective of course, which is another benefit. We can go back in time with volunteers," says Professor Collins.
He is excited that much more primary care data will be available. "The fact that we can link deaths, diseases, hospitalisation and primary care data means that it will be very interesting for researchers interested in things that are seen and managed by a GP that don't go into hospital, such as joint disease, bone disease, depression or Parkinson's."
Iceland, with its genetically homogenous population and little migration, pioneered this type of research in 1998, signing a controversial exclusive deal with genetics company deCode, which was given access to genealogies and DNA from the whole adult population. The company has now claimed intellectual rights for the nation's entire genetic database with the trade-off that citizens get free medicines.
China already has a genetic database of 500,000 samples and plans to amass five million by 2017 and there are gene research banks in Mexico and Japan. Professor Collins says there is scope for collaboration between all these countries.
So what is Biobank's goal? According to Professor Collins: "A measure of the success of Biobank will be that people use it. It will be a reservoir that helps address questions about the determinants of disease."