The Baby Friendly accreditation scheme has the power to reduce costs as well as infant and maternal illnesses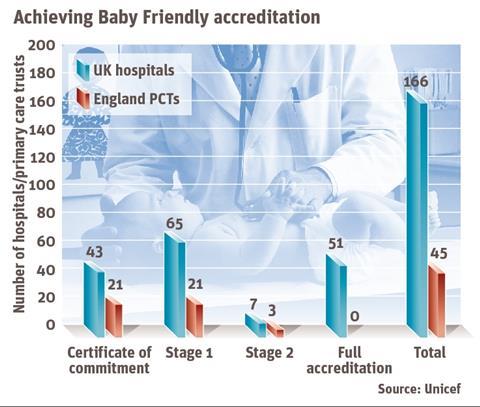 Guide to increasing breastfeeding rates with Baby Friendly
Top Tips
Improving breastfeeding rates requires a multifaceted approach. Mothers require good basic standards of information and support from their hospital and community health services, but they also need wider community support to enable them to continue breastfeeding. The Baby Friendly Initiative will help trusts improve basic practice and the implantation of informal support groups and peer support programmes can help improve wider community support. However, wider community support programmes will be much less effective if no attempt is made to improve basic practice within health services.
Identifying and employing the right project lead is vital to successful implementation of the initiative. Project and change management skills are essential, as well as the ability to communicate with all levels of staff.
Identifying a project champion at senior management level from the very start will help ensure that the project stays on track. The project champion should offer leadership and support to the project lead and other staff and be prepared to argue the case for continuing the work to improve breastfeeding rates when conflicting demands threaten the project.
Breastfeeding provides mothers and babies with significant protection from a range of illnesses, so improving breastfeeding rates is an effective public health intervention.
Public service agreement 12 requires every trust to increase breastfeeding rates at six to eight weeks, which, due to the UK's entrenched bottle feeding culture and a history of poor breastfeeding practice and support within the NHS, requires trusts to think strategically across both maternity and community services to change attitudes and practice.
The World Health Organization/Unicef Baby Friendly Initiative is a global accreditation scheme. This can help trusts by providing an evidence based, structured programme for maternity and community healthcare facilities to follow, in order to improve breastfeeding skills and so improve breastfeeding rates.
Facilities that put the standards in place undergo a rigorous external assessment and, if all standards are met, are accredited as Baby Friendly.
Independent studies have shown Baby Friendly accreditation to be an effective mechanism for improving breastfeeding rates in the UK.
The initiative is recommended by the National Institute for Health and Clinical Excellence and forms part of Department of Health strategies for reducing health inequalities, maternal and infant nutrition, and obesity. To make the process of "going Baby Friendly" as easy as possible, Unicef UK has introduced a staged approach to achieving accreditation, which breaks the work down into logical and manageable tasks.
It also offers a strategic package of services and materials to help implement each stage, including:
individual strategic planning visits and implementation visits by a Unicef UK professional officer to assist trusts to plan effectively for working towards Baby Friendly accreditation;
strategy guidance, which includes information on developing a breastfeeding strategy for a trust or equivalent body and sample job descriptions and action plans;
a project management course for those people tasked with managing implementation of Baby Friendly standards;
a train the trainer course for those tasked with ensuring that all staff are trained to implement best practice, including materials and teaching aids;
audit tools and audit training for maternity and community facilities to help inform action planning and maintenance of best practice standards;
a breastfeeding management course designed for health professionals with direct responsibility for supporting breastfeeding mothers.
While charges have to be made to cover the costs of assessments, site visits, training courses and other activities, there is no element of profit.
When considering costs it is important to remember that implementing the Baby Friendly Initiative across the NHS would lead to significant savings as the increase in breastfeeding would result in a reduction in many infant and maternal illnesses.
For example, there is evidence that breastfed babies have 15 per cent fewer GP consultations during their first six months of life than babies fed on artificial formula. l
Trailblazing in Oldham
When work began at the Royal Oldham Hospital in 1994, breastfeeding initiation rates were very low - around 29 per cent.
Oldham had several areas of social deprivation and many ethnic minorities with associated language and cultural challenges.
A committed infant feeding co-ordinator, with support from the director of nursing, implemented the Baby Friendly standards across the maternity unit, which led to a dramatic rise in breastfeeding initiation rates to 66 per cent.
The unit has now been Baby Friendly for 10 years, and has been joined by the North Manchester General Hospital, while the remaining two hospitals in Pennine Acute Trust are also working towards accreditation.
Meanwhile, work is taking place across the trust to implement Baby Friendly standards across all community settings, so that women who start breastfeeding in hospital are given the support they need to carry on once they get home.