Creativity is now compulsory for SHAs but how to go about it is open to suggestion, say Chris Ham and colleagues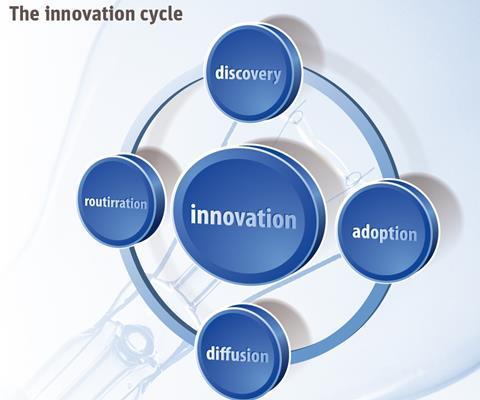 The innovation cycle
The NHS generates new products and practices faster than it takes them up and good practice often fails to spread. The government's answer has been to implement Lord Darzi's proposal of a legal requirement to innovate placed on all English strategic health authorities.
Rewards for innovation might include opportunities to take part in national and international innovation networks and visits to examples of innovation elsewhere
Learning how other national and international organisations have approached, planned and embedded innovation will help SHAs foster a culture of inventiveness.
But it is clear that no single approach will be successful in all settings as it is the interaction between the intervention, the intended audience and the context that determines outcomes.
SHAs can consider the following strategies.
Build on previous NHS experience of what has and hasn't worked
Previous experience in the NHS Modernisation Agency and the National Primary Care Development Team under Sir John Oldham has shown the benefits of working through quality improvement collaboratives and professional networks to stimulate and spread innovation.
Networks are not a panacea but when used skilfully they can contribute to developing new ways of working.
Engage frontline staff and mobilise commitment to change from within
The NHS Institute for Innovation and Improvement's work on social movement theory is a practical example of how to get frontline NHS staff engaged and putting their commitment to change into action.
Linked to collaboratives and professional networks, this approach finds expression in the notion of "communities of practice" as a means of promoting innovation.
SHAs could set up a number of these communities to support staff in co-producing service improvements.
Adopt a campaigning approach to support action on priorities
The US Institute for Healthcare Improvement's 100,000 lives campaign on patient safety illustrates the impact that a campaigning approach can have in areas where there is good evidence of what works and a compelling case for immediate action. The promotional techniques, planning and use of nodes and networks could be adopted and adapted in the NHS, both at a national level and within SHAs.
Support senior innovators through training and by creating slack
Senior managers, clinical leaders and frontline staff involved in innovation are likely to benefit from training and the time and space to get off the treadmill and develop their ideas.
This might involve a regional programme of training and support and facilitated exchange of learning. Organisations like the Health Foundation provide funding for development opportunities of this kind.
Make it easy to find and share knowledge about innovations
Drawing on the experience of the US Agency for Healthcare Research and Quality, the health service could create a website to promote information sharing or include local case studies on Web of Knowledge sites, making it easier to discover and share knowledge about innovations, and spread best practice.
Learn from organisations that have a track record of innovation
The US Veterans Health Administration illustrates how organisational turnaround and improvement can occur through a linked programme of interventions.
These include leadership from the top, structured communication through internal newsletters, emails and meetings, using collaboratives and adopting a formal framework of spread.
This framework used a checklist for spread that could be modified and used in the health service.
Value and celebrate innovation and innovators
Rewards for innovation might include opportunities to take part in national and international innovation networks and visits to examples of innovation elsewhere.
Over time the award winners would become an innovation community of practice.
Valuing innovators also involves tolerating the "maverick" ways of working that people in these roles often exhibit, rather than seeking to ensure conformity with a corporate culture.
Foster links with non-NHS organisations
As the health service adopts a more systematic approach to the uptake and spread of innovation, it will be important to involve the private sector, universities, third sector organisations and other sources of fresh thinking to avoid becoming too insular. This is unlikely to happen spontaneously so SHAs have a role in facilitating such involvement.
Recognise and nurture innovation brokers or change champions
Innovation is often achieved by applying approaches developed in one sector to another.
Innovation "brokers" can help to bridge sectors and build new networks and communities.
Networks help to convert "individual deviance" (AKA innovation) into collective deviance, and therefore to embed it more firmly in organisational routines.
Use competition and incentives to drive innovation
Healthcare leaders, whether managers or clinicians, have an inherent desire and drive to be seen to be at the leading edge of performance.
A system of awards and recognition of innovation will appeal to this desire.
The NHS could tap into this through the systematic and transparent use of data on comparative performance.
This menu of approaches shows the importance of senior leader involvement in whatever approach is taken.
For innovation to gain a grip within and across the health service, it is not sufficient for frontline staff and clinical leaders to be developed and supported.
Change within microsystems must be linked to change within organisations and regions as a whole.
The review reported in this article was commissioned by NHS East Midlands and produced by the University of Birmingham Health Services Management Centre.