Penelope Dash and Ben Richardson offer practical advice for how to use current policy thinking to boost care and cost-effectiveness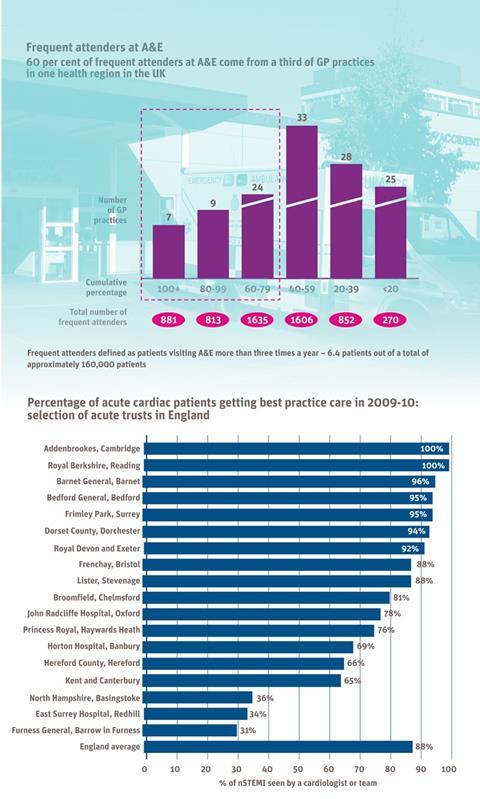 Using clinical information to scrutinise care and costs
This is the last in a series of three articles setting out how quality and productivity can be improved. The first discussed eight areas which could be addressed to reduce expenditure while continuing to raise quality of care. The second drew lessons from large-scale transformations in other organisations.
This article describes how the present policy environment should be used to drive improved quality while reducing (or holding flat) spending on health and healthcare services. Five areas need to be addressed.
Clear lines of accountability
The Liberating the NHS white paper on health and healthcare sets out a clear demarcation between the NHS as a commissioning organisation and a multitude of providers contracted to supply services.
The commissioning line will run from the National Commissioning Board through regional offices to new GP commissioning consortia.
The board and its regional offices will need to effectively hold consortia to account, potentially through an authorisation and compliance process along the lines used for foundation trusts. They will also be responsible for the commissioning of a number of services including maternity care and primary care.
The prime role of GP consortia will be to ensure improved health, high quality services, adherence to national standards/targets and to maintain financial balance.
This will require effective prioritisation of resources; redesign of care pathways to ensure effective resource use and improved quality; active consideration of which providers offer optimal quality and lowest cost; robust demand management to adhere to plans; and strong performance management to continually (weekly/monthly) review quality and efficiency data.
For example, the recognition that a small number of practices account for the majority of accident and emergency attendances and emergency admissions should help GP consortia focus on getting their colleagues to improve quality of out-of-hospital care and reduce acute sector use (see top chart, opposite).
This raises a number of questions about what performance mechanisms GPs will use to manage their colleagues and at what point individuals or practices will be removed from consortia.
Robust use of information
Information can be highly influential in changing clinical behaviour and can also improve the accountability of services to the public.
We suggest this drive should be accelerated with regular review by users, commissioners and providers of routinely collected data. An enormous amount of data is collected but it is not always used effectively to improve quality and efficiency. For example:
Clinical metrics for acute cardiac care are published annually in the MINAP study and could be used to actively improve quality among providers through simply sharing data as well as potentially withdrawing contracts from poorer quality units (see lower chart, opposite).
The primary care tool kit, developed by the Department of Health, includes a wide range of metrics about the quality of primary care services - this could be extensively used by the national commissioning board in its new role commissioning primary care services.
Data about the efficiency of community services as produced by the NHS Institute could be used to reduce the unit costs of care through more effective deployment of staff.
Payment mechanisms
At present, payment mechanisms do not support a more productive system. Over the last few years, additional resources have largely gone to acute care, because of a combination of improved access, incentives to grow volume and other factors such as changes to out of hours services. This needs to be addressed with consideration of alternative payment systems, for example pathway tariffs that bridge primary/community care, acute care and social care.
Use of best practice tariffs can also be considered to drive change, for example a tariff for a hip replacement based on one to two days' length of stay; payment for primary care services based on optimal delivery models which capture the benefits of scale; and payment for radiological procedures based on high throughput reporting.
Failure regimens
Effective financial incentives for providers can act as drivers of improved quality and productivity but need to be underpinned by a failure regimen. At the moment, failure regimens are fundamentally flawed, with few examples of contracts being removed from any of primary care, community care or acute care providers.
Enhanced capabilities
Ensuring high-quality commissioning, effectively capturing and using information, implementing incentives to drive change, and managing cost-effective service provision all require a strong skill set.
These skills need to be bought in or built in-house with a strong focus on building skills and capabilities in economic analysis, financial management and lean and performance management, as well as enhancing organisational skills such as leadership development.
Research suggests that better clinical and management leadership drives improved performance.
Implementing the above areas will require concerted action over the next few years - but nothing less is required if the quality and productivity challenge is to be met.
Penelope Dash and Ben Richardson are Partners at McKinsey and Co.
Find out more