Concluding their look at integrated healthcare services, Judith Smith and Chris Ham set out seven proposals for making it happen in light of the Equity and Excellence white paper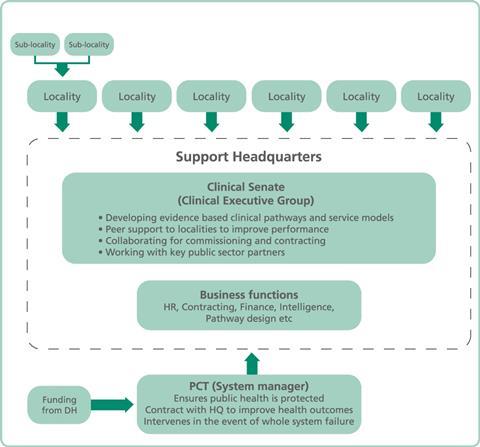 Integrated care relationships in Cumbria
International experience demonstrates that integrating healthcare services can deliver more efficient, patient-focused care. The white paper Equity and Excellence: liberating the NHS provides an opportunity to move the health service towards more joined-up systems.
A compelling narrative shared by clinicians, managers and the public is vital
A new briefing paper from the Nuffield Trust - Removing the Policy Barriers to Integrated Care - uses five case studies of health economies in the English NHS as the basis for examining how local clinicians and managers are working together to develop better service integration and less fragmented care.
Last week, we examined the barriers faced by these case studies as they have sought to shape new local services; this week we set out seven proposals for policy makers about what needs to be done to facilitate better integrated service provision in the context of the new white paper proposals.
Our first proposal is that policy makers should explicitly recognise the need for competition in some areas of care and for collaboration in others, and should adapt competition rules to reflect this.
Trafford integrated care system is seeking to develop new forms of community-based "office medicine" that enable patients to access specialists in out-of-hospital settings (see box below). While Trafford is committed to offering patients choice of specialist and treatment time, it has faced a challenge, in that the drawing together of acute, community and primary health services into a single organisation is potentially anti-competitive.
Innovative care delivery
Second, we propose that policy makers should actively encourage the use of incentives and financial flows "beyond the tariff", enabling capitated budgets to be developed to support integrated care.
NHS Cumbria is reducing emergency admissions by delegating commissioning budgets to GP groups to develop new forms of primary care led services. If commissioners can adapt the payment regime to avoid the incentives on hospitals to increase activity, this shows significant potential to enable resource transfers to primary care (see box).
Our third proposal is that the new GP commissioning consortia should support innovative care delivery, and that secondary care clinicians should be closely involved with GPs in design and implementation. This multispecialty approach is bearing fruit in Trafford as clinical panels scope new care pathways for integrated care. The challenge in the next phase is how to enable sufficient competition and choice, and avoid conflicts of interest for clinicians who are both commissioners and providers.
Fourth, there should be renewed efforts to encourage the NHS and local authorities to work in a more integrated way. This includes commissioning that uses combined health and social care resources.
Our fifth proposal is that the activities of foundation trust regulator Monitor and the Care Quality Commission need to be aligned in support of integration, with regulation focusing on the experience of patients across a whole care pathway, including at points of transition. Better integrated regulation would entail bringing together assessment of primary, social, mental health and hospital care providers so that care systems, rather than single organisations, are the focus of regulators.
Sixth, we assert the importance of local system leadership in view of the demise of primary care trusts and the development of GP commissioning consortia. It will be important for policy makers to set out where responsibility for local system management will rest in the post-white paper world.
While a clinical senate in Cumbria and a clinical board in Trafford provide part of the solution to local system leadership, there will also be a need for robust patient and public involvement and for leadership that can hold sway with key stakeholders.
Finally, policy makers need to work with professional associations and patient groups to communicate to the public, and to NHS staff, the importance of moving towards new forms of care in different settings. A compelling narrative, shared by clinicians, managers, patients and the public, is vital if the sorts of care aspired to by Trafford, Cumbria and others can become a reality in an extensive and sustained way.
These seven proposals need to be acted on together. The hope is that policy makers will be able to shape levers and incentives that can enable an appropriate balance of competition and collaboration. The acid test will be the extent to which changes to policy can lead to less fragmented and better integrated care for patients.
FIND OUT MORE
Removing the Policy Barriers to Integrated Care in England
NHS trafford
NHS Trafford serves a population of 213,000 people in Greater Manchester. Local health service organisations have come together to develop an integrated health system across primary, community and hospital care. The platform recognises unsustainable local hospital services and the new system focuses on developing innovative models of care
within an office medicine approach, where hospital specialists and GPs work together to provide care in community settings wherever possible.
Clinical clout: NHS cumbria
NHS Cumbria services a population of around 500,000 people across a large area.
The primary care trust is devolving budgets to six localities. Beneath several of these, integrated care organisations take responsibility for both the commissioning and provision of many services, with Cumbria's community-focused diabetes service being a striking example.
Strong clinical leadership of localities, together with GPs holding real budgets for commissioning, is a particular feature of the Cumbria approach, as is the use of care pathways as the basis for service planning and funding.