In an age of information overload, the need for relevant data is growing as boards face tough decisions on reducing health inequalities, as Stuart Shepherd explains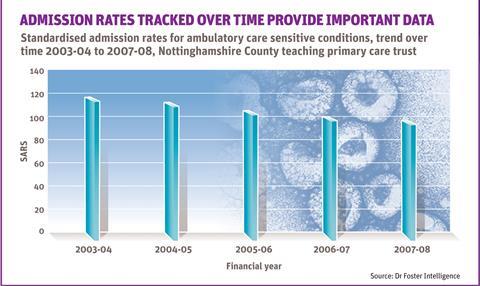 admission rates
Put the question to primary care trust boards about whether or not their main provider trust is in debt and in most cases they will be able to tell you, and if it is, by how much. Ask the same board what the costs of preventable illness in their PCT are and it is less likely to be able to tell you.
To meet the challenge of tackling High Quality Care for All priorities for health inequalities - smoking, obesity, alcohol, mental health, sexual health and drugs - it might make a big difference to any PCT board if they had this knowledge to hand.
It would also help them to manage knowledge and assess needs (competency five of world class commissioning) in work on the new system of comprehensive area assessments and with so many other policy drivers that bring health inequalities to the top of the agenda.
As the new Dr Foster Intelligence supported report The Intelligent Board 2009: commissioning to reduce inequalities acknowledges, this challenge takes place in a domain "fraught with complexity and information overload".
Essentially, the report notes, the job is to understand the local population, prioritise prevention and interventions and monitor the impact these have over the long, medium and short term. The first step in achieving this is to have information to hand that has been analysed and contextualised and can be used intelligently.
Case study: Nottinghamshire County Teaching PCT
For several years, Nottinghamshire County teaching primary care trust has been using standardised admission rates data fromDr Foster and the NHS Institute for Innovation and Improvement to help identify high risk patients with long term conditions such as diabetes and respiratory problems.
"Using standardised admissions rates that compare performances of practice based commissioning clusters and a nationalaverage - along with information from community clinicians and consultants in acute care - allows us to understand variation in clinical practice and target our interventions," says director of procurement and market management Deborah Jaines.
Over a five year period and with the introduction of a community matron service and an integrated community approach the trust has seen its rate for ambulatory care sensitive conditions reduced to levels below what would be expected given the population (see chart, left).
Ms Jaines adds: "Bringing together all of our intelligence we have been able to target strategic initiatives to reduce falls and fractured neck of femur in localities and wards with some of the highest standardised admission rates in the country for these incidents."
Principles for an intelligent board put forward in the report include suggestions that information should:
be available in a timely manner;
draw on local and national sources;
support meaningful segmentation and highlight variation down to neighbourhood level;
combine quantitative and qualitative data;
present trends and anticipate issues;
be clearly presented with graphic overviews and brief commentary.
Alan Stephenson, chair of Ashton, Leigh and Wigan PCT and the independent reference group that helped compile The Intelligent Board 2009 says: "Non executive PCT directors need to know if their commissioning is perpetuating inequalities or reducing them. They cannot do this without the right and most up to date information."
Prompting questions
Standardised admission rates - one such source of information - equate to the difference between actual and expected admissions to hospital for certain inequality related conditions. Taking readily available administrative data, Dr Foster has created a set of these rates and, because they provide a prompt for important questions about these inequalities and the application of information, these have been used in the report as the basis for illustrative analyses.
"The rates are just one from a multitude of data sources to which people can refer to tackle health inequalities," says Alex Kafetz, strategic insight manager at Dr Foster Intelligence.
"Where a PCT sees that its actual admissions rate for diabetes for example is higher than anticipated it poses a number of questions for the organisation - is the rate high because some diabetics in the community are not being reached and how do we resolve that? Or are some people with diabetes not getting the support they need to manage their condition at home and ending up in acute care?"
National and regional comparisons as well as those between populations with similar demographic characteristics can all help PCT boards to start asking themselves what the report highlights as three checklist questions:
Is population health at the heart of commissioning?
How effective are our partnerships?
Are we making the most of existing data?
Uncovering the inequality
Know the life expectancy and mortality rates across your patch
Understand the difference between the least and most deprived
Find out the top five causes of mortality and morbidity and the variations across communities
Ask yourself how you compare for these figures with peer and benchmark PCTs
Determine whether those most at risk are being found and targeted by your screening
Check what inequality target you and your local authority share
Consider the insights that standardised admission rates and local information give you about your success in finding and responding to health inequalities
Adapted from The Intelligent Board 2009: commissioning to reduce inequalities