Moving care closer to home and focusing on prevention are ways to achieve long term efficiencies, says Jennifer Taylor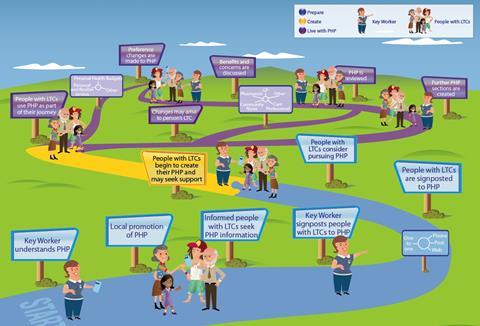 Personal health planning and the journey for people with long term conditions
When people talk about sustainability, energy is often the focus, but the issue is much wider. Sustainability cuts right across organisations as way of thinking and a way a of behaving.
Keeping people healthy and out of hospital is bound to be more sustainable
Sustainability is about more than doing the same things more efficiently. That is not enough to meet the government's target of an 80 per cent reduction in carbon emissions by 2050.
Organisations need to do things differently through transformational change. It goes beyond striving for sustainability by trying to run a hospital outpatient clinic more efficiently with less electricity, gas and heating. It asks whether outpatient clinics should take place in hospital at all.
A more sustainable way to run many outpatient clinics is in primary care, says NHS Sustainable Development Unit director David Pencheon. It is also cheaper and more patient centred, and improves the education and empowerment of GPs and patients. Such change is still congruent with the core values of the NHS but delivers them in different ways.
Another example is prevention, which receives less than 5 per cent of NHS spending. Boosting that to 20 per cent would be more cost effective and sustainable, argues Dr Pencheon.
The upshot is giving care where it is most appropriately done. In some cases that will be in hospital, but many services can be moved into primary care, which will meet a number of NHS priorities simultaneously, including containing cost, improving quality, managing demand, empowering patients and the public, and upskilling primary care. This transformational change will also lead to a more sustainable health service, both environmentally and financially.
The health system needs incentives to provide care closer to home, since providers are at present paid for activity rather than outcomes.
"There isn't much of a financial incentive to keep people healthy in the health service because a trust will get rewarded for doing a certain number of procedures," says Dr Pencheon.
He recalls when he lived in China and people paid the doctor while they were fit and stopped paying when they got ill - a simple incentive for doctors and the health system to keep people healthy.
Nuffield Trust senior fellow Geraint Lewis developed the virtual wards concept to prevent emergency hospital admissions.
He uses predictive risk modelling to predict which people are at risk of an emergency hospital admission in the next 12 months. They are then given intensive preventive care to keep them healthier and reduce their risk of an emergency hospital admission.
Patients are managed in their own homes by a multidisciplinary team rather than in hospital.
"Rather than wait for high risk patients to come into hospital as an emergency, the idea is to take the hospital coordination system out to them a year in advance to help keep them healthier," says Dr Lewis.
By working across the boundaries of primary and secondary care, virtual wards will potentially improve patient experience and reduce costs.
Dr Pencheon adds: "Keeping people healthy and out of hospital is bound to be more sustainable. We should modernise health services in this way as it contains cost, improves quality and is sustainable."
Top tips
Think beyond energy and efficiency when looking striving for sustainability
Think innovatively about sustainable ways of delivering services across artificial boundaries of self/primary/secondary care and health/social care
Consider sustainability as a core part of the quality drive
NHS East of England is delivering healthcare at home for people with long term conditions using a personal health planning tool. It is intended that the tool will be made accessible on the web to patients, carers and health professionals and will involve different levels of support (see journey map).
The aims are two-fold. First, the personal health plan allows people with long term conditions to take control and to articulate what they need and want. Second, it will pool people's services together so that care is more systematised and there is less duplication and less unmet need.
Benefits include improved patient experience because they will be more involved; safety and effectiveness because people will get the right services; cost effectiveness because of less duplication; and sustainability because much of the care will be provided at home, with more telephone support.
The strategic health authority is also redesigning outpatient services.
"The majority of specialist outpatient attendances [for people with long term conditions] don't need to be in a hospital," says Steven Laitner, associate medical director and co-chair of the long term conditions programme board at the SHA, and a part time GP.
Specialist consultant time will be brought into a community based service as an alternative to outpatients, supporting patients in staying out of hospital.
With less travel for patients and less use of hospitals, the service should make a smaller carbon footprint.
Find out more