Embedding clinical guidance into the full commissioning cycle offers support at all levels, from planning to procurement to public involvement, says Jennifer Taylor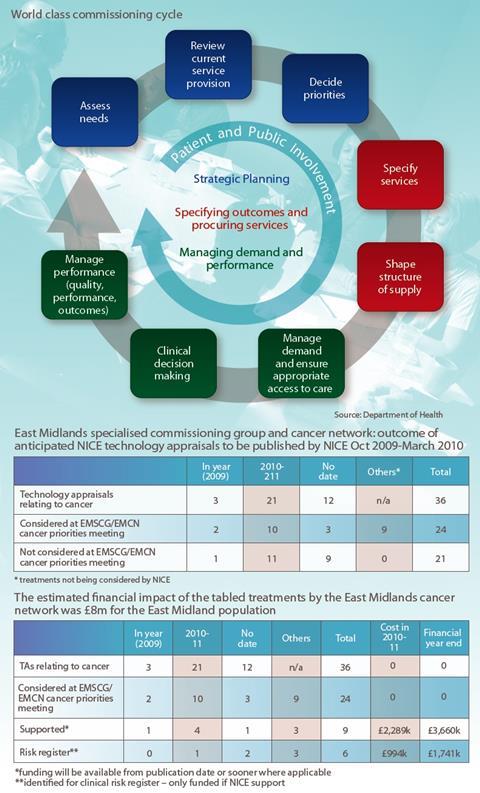 NICE completes the commissioning cycle
When the National Institute for Health and Clinical Excellence was developing the guide How to Use NICE Guidance to Commission High Quality Services, it asked commissioners: "How and where do you use NICE guidance in the commissioning cycle?"
It's about making NICE everybody's business in the commissioning function of the PCT
The resounding answer was that it can and should be used at all parts of the cycle (see diagram).
Some of these ideas can be found in part four of the guide, "NICE guidance and the commissioning cycle".
Embedding the guidance into the entire cycle can help commissioners with strategic planning; specifying outcomes and procuring services; managing demand and performance; and patient and public involvement.
When commissioning a new service, for example, NICE guidance will help commissioners understand which interventions are clinically and cost effective, and which ones are not, plus provide a standard of care that can be expected from providers.
But how can primary care trusts embed the guidance into their commissioning processes? Some are developing policies for how their commissioning processes should take place, and ensuring NICE guidance is used as the evidence base to inform decisions.
Also, where primary care trusts have a NICE implementation lead they are not only partly responsible for gaining assurance that providers are compliant with NICE, but are working with colleagues to make sure the different departments within the PCT are much more cognisant of NICE guidance and more joined up.
PCTs can use a variety of methods for entrenching NICE guidance, but the goal is the same.
"It's about making NICE everybody's business in the commissioning function of the PCT," says Annie Coppel, implementation consultant and project lead for the commissioning guidance.
Using NICE guidance can also help PCTs to achieve world class commissioning competencies. It is specifically noted under competencies 6, 8 and 11, and can help commissioners achieve others as well. Competency 6, for example, is about prioritising investments and NICE guidance provides the evidence base for what is cost effective practice and what is not cost effective.
NICE is continuing to look at how it can better support commissioners to help deliver high quality patient care, but also to meet the productivity and financial challenge. To do that, in future NICE may make its "don't do" recommendations more prominent.
It may also begin to present evidence along care pathways, and it could start including service delivery recommendations within its clinical guidelines.
NICE implementation director Val Moore says: "PCTs are asking not just about what the evidence is for how to treat somebody, but how that care should be organised."
Case study: East Midlands specialised commissioning group
Two years ago the East Midlands specialised commissioning group set up a system of horizon scanning to look at what NICE would most likely be considering in the next 18 months (see tables). Before this, individual PCTs had been making decisions about specific treatments, which led to disparities in access for patients.
The specialised commissioning group persuaded its member PCTs that it would be beneficial for cancer chemotherapy to be managed by the group. Now the cancer network approaches all its clinicians in September and asks what therapies they think will have the greatest benefit for patients. The list is pared down, and during a joint meeting of the specialised commissioning group, cancer network and specialist clinicians, a decision is made to do one of three things.
The first option is to support the drug for funding from 1 April on the basis that it is value for money now. This could be before the NICE guidance comes out and it requires clinicians to agree to local criteria before the guidance becomes available. A second option is to fund the drug from the date that the NICE guidance is produced. The final option is to not fund the drug.
There is also a risk register of drugs the group will only fund if NICE approves them; money from the budget is kept back for these therapies (see tables).
"The key is that then the clinicians know exactly what is likely to be funded the following year and they can plan their business and their activity accordingly," says Malcolm Qualie, head of health policy for the East Midlands Specialised Commissioning Group. Providers also know what to expect and can plan their services well in advance.
Mr Qualie adds that the process would not be possible without the work of the cancer network pharmacists and the engagement of clinicians.
In future the commissioning group will make more decisions about what to stop funding, backed up by the evidence produced by NICE. It could also mean NICE guidance will only be partially commissioned, with funding for a particular drug allocated only to patients who are most likely to respond to the drug.
"We need to find ways to ensure that what we commission meets the QIPP - quality, innovation, productivity and prevention - agenda: in some cases that will mean tightening criteria within NICE guidance to target those patients who benefit the most. If we don't do this the NICE agenda will not be affordable," says Mr Qualie.