'Human factors' can create gaps in systems that endanger patients. In the second part in our series Helen Mooney explains how self-knowledge is the first step to safer care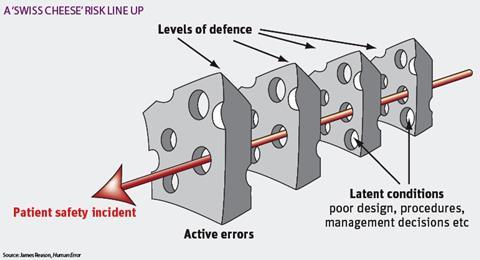 Patient safety: the human factors
"Human factors" apply to individuals, teams and organisations. They can be environmental, organisational or job factors, or the individual characteristics that influence behaviour at work. By better understanding the impact of human factors, trusts and staff can take a step further in putting patient safety first.
The Swiss cheese model hypothesises that in any system there are many levels of defence
According to Martin Bromiley, founder of the Clinical Human Factors Group and core team member of Patient Safety First, both clinicians and managers should not underestimate the impact of human factors.
"To develop a safety culture, trust leaders and managers need to build an organisation-wide knowledge of human factors and how it relates to patient safety, and individuals and teams can use human factors knowledge to make their activities safer," he says. "This would go a long way towards creating an environment where staff can feel empowered to challenge observed omissions in care or unsafe practice."
Common human factors that can increase risk include:
mental workload
distractions
physical environment
physical demands
device and product design
teamwork
process design.
If organisations and staff are aware of these factors it can go some way toward understanding why healthcare staff make errors and, in particular, which "systems factors" threaten patient safety; improve the safety culture of teams and organisations; enhance teamwork and improve communication between healthcare staff; improve the design of healthcare systems and equipment; and help to identify "what went wrong" and predict "what could go wrong" in order to lessen the likelihood of patient harm.
One human factors model is the Swiss cheese model of organisational accidents, pioneered by James Reason in the 1990s (see picture). The Swiss cheese model hypothesises that in any system there are many levels of defence. Examples of levels of defence would be checking of drugs before administration, a pre-operative checklist or marking a surgical site before an operation.
Each of these levels of defence has little "holes" in it which are caused by factors such as poor design, senior management decision making, procedures, lack of training, and limited resources. These holes are known as latent conditions.
If latent conditions become aligned over successive levels of defence they create a window of opportunity for a patient safety incident to occur. Latent conditions also increase the likelihood that healthcare professionals will make active errors. That is to say, errors that occur while delivering patient care. When a combination of latent conditions and active errors causes all levels of defences to be breached a patient safety incident occurs.
How people work
Research psychologist and human factors practitioner Ken Catchpole explains that human factors is a way of designing the world both physically and psychologically to make the most of humans and the way they work.
"It is about taking human abilities and designing systems around them; humans tend to have the same limitations and it is important to remember, for example when designing a piece of technology, that there is a human at the centre of it who will be working it," he says.
Dr Catchpole says that in perioperative care, for example, this means looking at the human performance of the operating team and examining how their abilities can be enhanced or reduced by the systems in which they work, and the equipment.
Royal Wolverhampton Hospitals Trust patient safety manager Mandy Gibbs admits many people in the NHS are not sure what is meant by "human factors".
"We are aiming to grow the understanding of human factors in our trust as part of our patient safety improvement work. We now have several human factors workstreams aimed at understanding more about our safety culture.
"We have already created a tabard with a 'do not disturb' sign on it for clinicians to wear when administering medication to patients."
To enhance the safety culture the trust has established the campaign and framework for Preventing Harm, Improving Safety.
The trust has also introduced patient safety walk-rounds as part of the "leadership for safety" intervention.
"All members of the trust board do a walkround of the hospital and spend an hour talking to multidisciplinary teams about issues, including the environment in which they are working and about improving communications within teams," says Ms Gibbs.
FIND OUT MORE