An HSJ Award winning scheme is out to discover how much fitter a whole city can become. Stuart Shepherd reports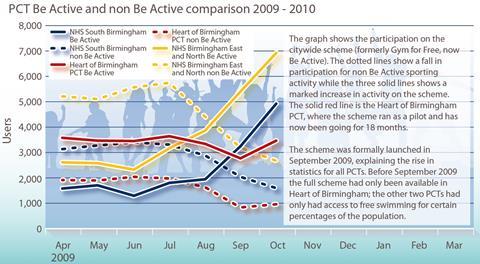 Public health: Birmingham gets fit with a purpose
Launched in September 2009, Be Active offers free swimming, gym and aerobics classes to all residents of Birmingham. The citywide expansion of the Gym for Free programme, which won the overall prize at last year's HSJ Awards, will run until March 2011 and will cost £9m.
The success, impact and popularity of such an innovative idea and the way the partners are able to pool budgets and commit funds in new and different ways made it a difficult proposition to resist
Birmingham City Council and the three primary care trusts putting money into the scheme believe this is a sound and affordable investment in public health. They are, they calculate, already spending something in the region of £13m every year on obesity related illnesses, a figure likely only to go up unless current trends are reversed.
A big chunk of the people benefiting from Be Active are from city centre areas blighted by poverty, crime, health inequalities and some of the worst child deprivation in the country.
"I wanted to do something to tackle health inequalities and their social determinants that involved little or no cost to those we were targeting - a vision the NHS could not reach for on its own," says Heart of Birmingham Teaching PCT head of public health programmes Kevin Haywood.
"So in seeking the support of a group of local councillors for the initial pilot scheme in 2008 in Ladywood I gave them facts and figures - that the men of their constituency were likely to die nine years earlier than if they lived four miles up the road and that the local children were the most obese in the city."
Mr Haywood worked closely with Birmingham City Council senior constituency manager Karen Jerwood to develop the scheme that followed to promote regular exercise. It had a dramatic impact on how Ladywood's local authority leisure facilities were accessed, and picked up the HSJ Award for best social marketing project alongside the grand prize.
When the pilot started just 95 local residents were paying by direct debit to use the sports centre regularly. Seven months later and with prices no longer a barrier, 7,000 free swipe cards had been issued.
"Without knowing how many people would take up the scheme we agreed to fund each participant at £18-£20 per month," says Mr Haywood. "The money ran out quickly but because of the strength of our partnership and because the leisure centre had met its income target for the year we were able to see the pilot through the full 12 months at no further costs."
Next step - build on the success of the social marketing approach to roll out across the wider PCT patch, with a publicity campaign headed by Frank Bruno.
"Managing change and getting the leisure centre staff on board was vital," says Mr Haywood. "With the public coming in numbers they had never seen before and prepared to queue from 7am it was very important they understood their part in it."
It took a year of negotiating with primary care managers and the city council's strategic sports department to take free provision across the whole city.
"There was some reluctance at first," says Ms Jerwood, "but the success, impact and popularity of such an innovative idea and the way the partners are able to pool budgets and commit funds in new and different ways made it a difficult proposition to resist."
The use of local facilities increased considerably, as did participation among women and members of the Pakistani and African-Caribbean communities.
A qualitative evaluation of the pilot project by Birmingham City University showed people using the scheme were reporting feeling better physically and mentally, with a increased confidence and less depression.
There was more interest too in other health related lifestyle changes such as smoking cessation, alcohol reduction and healthier eating.
Top tips
Vision This is an opportunity to take a calculated risk, putting money into health promotion, prevention and wellbeing with the prospect of reductions on acute service spending.
Negotiate Strengthen the partnership, get the politicians on board, invest in time for face to face conversations with local councillors.
Funding With wider agendas of cohesion and employment to address alongside health and community cohesion, funding can be drawn down from several streams.
Employment opportunities As well as improving participants' physical and mental preparedness for work, the increase in numbers of gym and aerobic classes saw Birmingham employ some of these local people as sessional workers at the facilities.
Community cohesion An unexpected outcome demonstrated by research. People started meeting and talking to neighbours, making new friends.
Criteria for participation As part of a drive to encourage regular exercise, council tax paying residents are asked to use facilities a minimum of four times a month.
Evaluation and research Swipe cards allow monitoring of attendance rates and other data. Citywide research will examine reductions in body mass index, blood pressure, levels of diabetes and coronary heart disease.