Closer integration of care may be taking on an ever-higher profile, but it is often thwarted by government policy, write Chris Ham and Judith Smith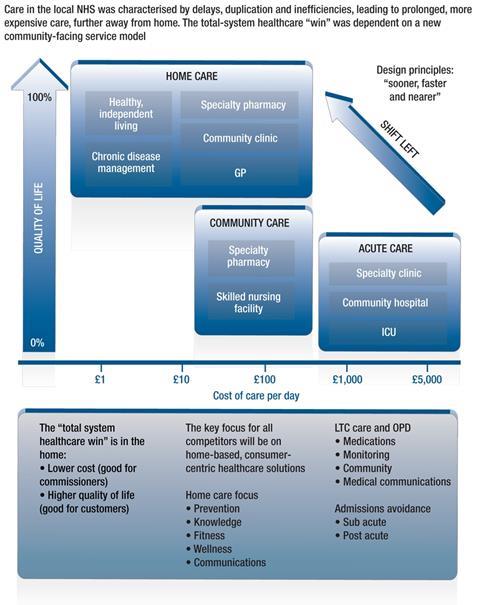 the shift to a community-facing model, nottingham
The importance of achieving closer integration of care was recognised in the final report of the next stage review published in 2008, especially for people with long term conditions and frail older people.
A key aim of integration in many areas is to make care closer to home a reality. This is illustrated in the work of Principia Partners in Health in Nottingham, which is explored in the Nuffield Trust's report, Removing the Policy Barriers to Integrated Care in England. Principia is a social enterprise of 16 general practices working with primary care trust-provided community services.
One of the aims of Principia is to shift the emphasis from acute care to community care and home care (see figure 1). Its ambition is to extend integration to secondary care and to build a multispecialty group practice to co-ordinated care.
Care closer to home is also a core objective of work taking place in Redbridge. This is being taken forward through the development of polysystems serving populations of around 50,000. People's homes are at the heart of polysystems and care in the home is supported by federations of general practices working closely with staff in community health services.
The Nuffield Trust's research with leaders in Nottingham, Redbridge and other areas has demonstrated a real enthusiasm and commitment. Staff working with patients on a day-to-day basis understand the barriers to providing truly joined-up care and the need to break these down. And while they are making progress in achieving closer integration, their efforts have sometimes foundered on government policies that often appear to be moving in the opposite direction.
Policy on choice and competition is an example. A specific illustration is the transforming community services initiative that requires PCTs to separate their commissioning responsibilities from their role as direct service providers in order to stimulate increased contestability in community services. This initiative may make it more difficult to integrate care in general practices and community services if responsibility for these services is transferred to organisations more distant from primary care.
The requirement by Monitor that foundation trusts create surpluses for future investment may also inhibit development of integrated models of care. This requirement creates a strong incentive for foundation trust leaders to focus on the interests of their organisations rather than the wider system of care of which they are a part. It also results in more resources being sucked into acute hospitals.
Payment by results reinforces the regulatory regime applied to foundation trusts by creating incentives to increase hospital activity. In theory, payment by results should also motivate PCTs and GP commissioners to manage demand for hospital services, but in practice the weakness of commissioning has prevented this from happening in most areas. The world class commissioning programme has made slow progress in addressing these weaknesses.
A further concern is the emphasis in the regulatory regime put in place by the Care Quality Commission and its predecessors is on the performance of individual organisations rather than local systems of care. This means that NHS leaders are focused, quite naturally, on achieving good results for their organisations, almost irrespective of the consequences for the wider health and social care system. Monitor's approach to foundation trusts reinforces the emphasis on organisational performance and means that the sum of local system performance may be less than the parts.
A final barrier is public and political concerns about service changes that might result from integration. If local access to hospital services is threatened by the strengthening of services out of hospital, then it may be difficult to persuade key stakeholders of the benefits. The election of the coalition government has confirmed the sensitivities associated with service changes and the importance of securing support for these changes from the public and GPs. In next week's article we will discuss how these barriers might be overcome.
Community ambitions
Principia Partners in Health is a social enterprise which aims to improve the co-ordination of care and develop a new community-facing clinical services model. It serves a population of 118,000 and is self governed and self managed. One unique feature is a board elected by patients, with a majority of lay members.
Redbridge PCT serves a population of 240,000 in northwest London. It is devolving budgets to federations of general practices and is developing a system of clinical commissioning in which GPs will work with other clinicians to deliver more care closer to home. The ambition is that primary and secondary care clinicians will integrate care in polysystems to bring the local system back into financial balance and to improve the quality of care.
Find out more:
The Nuffield Trust's report, Removing the policy barriers to integrated care in England, is available for download free at www.nuffieldtrust.org.uk/publications