In Salisbury work on upgrading risk assessment for lethal blood clots halved secondary venous thromboembolism rates in two years, reports Jennifer Taylor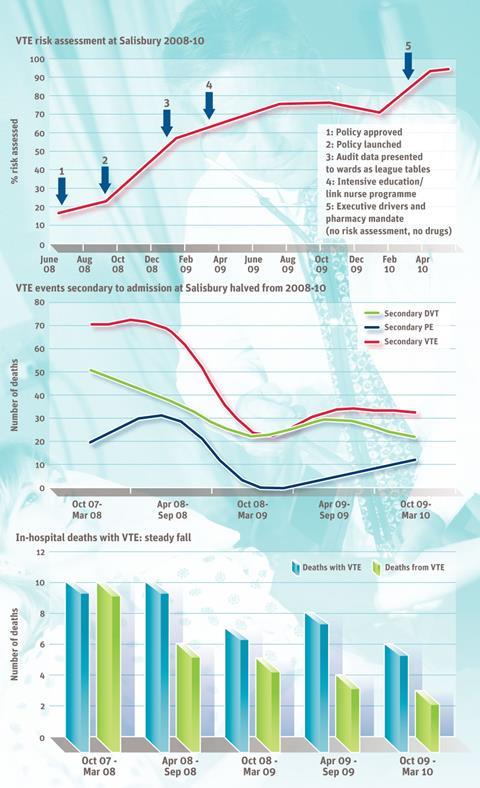 Revised risk assessment policy reduced vte incidence and mortality
In 2005 the chief medical officer instructed all trusts to perform a documented venous thromboembolism risk assessment and the Commons health committee revealed that around 25,000 people in UK die from preventable hospital acquired VTE each year.
The most common scenario is that a clot in the veins in the leg results in a clot in the lung (a pulmonary embolism), which can be fatal. Half to two thirds
of the clots are preventable; blood thinning treatment can clear the leg clot and prevent it spreading.
Around 25-50 per cent of patients develop chronic health problems from clots such as leg ulceration or breathlessness, which adds to the costs of the initial event.
The National Institute for Health and Clinical Excellence published clinical guidelines CG92 in January 2010 which state that all inpatients, including patients admitted for day case procedures, should have a documented VTE risk assessment.
The commissioning for quality and innovation - CQUIN - standard is for more than 90 per cent of patients to have a documented risk assessment. A guide for delivering the CQUIN goal was published in June by the King's thrombosis centre based at King's College Hospital Foundation Trust, and a Department of Health risk assessment tool came out in March 2010.
Salisbury Foundation Trust chief executive Matthew Kershaw says VTE is a major issue for patient safety, with the same level of importance as infection control. And given that "providing a safe, effective service to patients" is "the main organising principle of what we do", prevention of VTE has to be a priority.
Salisbury is ahead of the game because its former medical director Alistair Flowerdew had an interest in VTE. Tamara Everington, haematology consultant and VTE lead, set up a VTE implementation working group, now the thrombosis committee, and a strategy for risk assessing all inpatients at the point of decision to admit was developed.
Telling tales
The trust ran an education programme, using staff with personal experience of VTE to tell patient stories.
"That gets them thinking about what they can do to help prevent it," says Dr Everington. All staff - nurses, doctors, healthcare support workers, pharmacists - were educated about the risks because they all have a role to play in prevention.
The next step was to create league tables of ward performance. Certificates of outstanding performance are given to high achieving departments and the low performers are given help to improve.
Funding from a pharmaceutical company has been used for a two day a week VTE specialist nurse, who coordinates an educational programme for nurses so they can make improvements on their own wards.
When the VTE policy was written, the trust's compliance for documented risk assessment of all inpatients and targeted thromboprophylaxis was about 15 per cent. The league tables pushed that up to about 50 per cent, and the nurse education up to 70-75 per cent.
A mandatory step was introduced whereby staff cannot get drugs from the pharmacy unless they have completed the VTE risk assessment.
Dr Everington says: "The pharmacists have been absolutely critical in making this work. They're on the ward every day policing it and they are the baddies in pharmacy [not giving out drugs unless the risk assessment has been done]".
The chief executive, medical director and head of nursing have taken a hands-on
approach to managing the departments that are performing less well.
With compliance up to 90 per cent the next step is to use an electronic handover tool - a shared care document used by all clinical staff - to drive compliance to 100 per cent.
In two years the trust has halved secondary VTEs and mortality has decreased. In 2008 Salisbury became an exemplar centre for VTE in a network led by King's.
Top tips for preventing VTE
In 2009, the National Institute for Health Research in England commissioned 10 collaboration for leadership in applied health research and care bodies - CLAHRCs. These partnerships between universities and NHS organisations are focused on improving patient outcomes
Peter Aitken is lead for improvement at the South West peninsula CLAHRC, which has been evaluating the venous thromboembolism work at five acute trusts. The initial work shows common themes of what works for preventing VTE:
Establish and maintain a VTE committee comprised of a range of staff from the hospital. Input and enthusiasm from the chief executive is vital.
Treat VTE with the same importance and level of staffing as infection control.
Hold VTE awareness events for staff and the public, and use peer review by clinical teams to check progress.
Risk assess patients and give appropriate prophylaxis treatment.
Ensure CQUIN money is ringfenced and put back into improving VTE risk assessment and prevention.