From managing masks to shaping public messages, staff in flu hotspots have plenty of advice for trusts braced for an autumn surge in cases. By Jennifer Taylor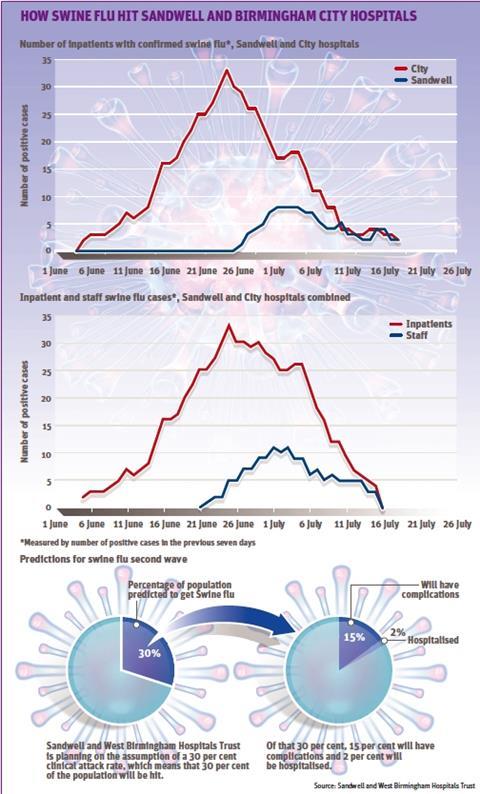 How Swine Flu hit Sandwell and Birmingham City Hospitals
As the nation anticipates increasing numbers of swine flu cases, flu hotspot areas have already put their local plans to the test.
30% - Percentage of people expected to get swine flu in Sandwell and West Birmingham

2% - Percentage expected to be hospitalised
When an outbreak occurred in Birmingham, GPs were unprepared for the level of swabbing required. "No matter how well prepared you are, once it actually hits in big numbers you'll suddenly find that different organisations will activate their plans at a slightly different speed," says Matthew Dodd, deputy chief operating officer and swine flu lead at Sandwell and West Birmingham Hospitals Trust. "When there's a vacuum, often that gets filled by people turning up to the emergency department."
To deal with the outbreak, management took central control of masks, relaying information and staff sickness.
Guidance dictates that FFP3 masks, which offer more protection than FFP2 standard surgical masks, should be limited to aerosol generating procedures such as intubation or CPR.
The trust took central control of mask purchasing, distribution and training. "If you distribute these high level masks to all areas, everybody will just use them," he says.
High level masks need to be fit tested, which can use several, so if your policy is to fit test a lot of staff you will run out. Mr Dodd adds: "There's no point fit testing people on a mask that you can't then guarantee further supplies of."
He advises keeping a healthy stock of surgical masks, which are cheap and readily available. If worn by staff and patient, they will cover 95 per cent of patient contacts. Given the potential for FFP3 shortages, the trust is investigating the possibility of reusable masks.
Centralise information
Centralising the relay of consistent information to all staff, including medical teams, has also been crucial. Patients with flu like symptoms won't just turn up in accident and emergency, so staff in all areas need to know what to do. That includes maternity and direct access services such as sickle cell and thalassaemia.
As employers, trusts need clear, central policies on staff sickness. "Identify what your message is going to be at a very early stage in terms of time off, when they can come back, [and] Tamiflu." Central points of contact should be available at weekends and out of hours.
Trusts need to prevent the spread of swine flu within the hospital by putting confirmed patients together in a bay. Suspected cases should be isolated until the results of their swab come back from the lab, but this can create a bottleneck.
Mr Dodd advises getting swabs sent off and results returned quickly, and using side rooms smartly. Critical care will be under the greatest pressure and the key here is to have good turnover to avoid having to open up another facility for flu patients.
NHS Berkshire East became a hotspot area following an outbreak at Eton College. The PCT established a local flu line through the out of hours service's call centre. Patients with symptoms indicating swine flu were given a unique reference number which a friend could take to a collection point and collect Tamiflu.
The PCT monitors demand and capacity daily to ensure it has the right number of collection points.
Local flu helplines?
A national flu line has now been set up but PCTs should still have backup plans for a local flu line, says John Pullin, deputy director of commissioning at NHS Berkshire East.
Working in partnership with key stakeholders, including local authorities, the ambulance service, police and fire, has been key to the PCT's response. That involved regular telephone conferences for updates and feedback of problems. "It's making sure the message is as consistent and as simple as possible to avoid complexity and confusion," says Mr Pullin.
Most frequently asked questions by staff
What are the symptoms?
What is fit testing?
How long can/should staff have off if their child has swine flu?
Will I be/what happens if I am asked to move wards?
What support is available if I am worried about the implications of a pandemic?
I'm frightened that coming to work will leave me vulnerable to infection, what should I do?
I am concerned about the 48 hour European working time directive - will I be able to exceed it if there is a shortage of staff because of swine flu?
I have been told my sickness breaches the sickness absence policy and I will be under investigation. If I get swine flu, how will that affect my sickness record?
What if I am pregnant and at work?
What if I have a reduced immunity due to a medical condition or medication I am taking?