A successful pilot audit of standards in intermediate services is expected to be rolled out on a national scale, writes Lynne Greenwood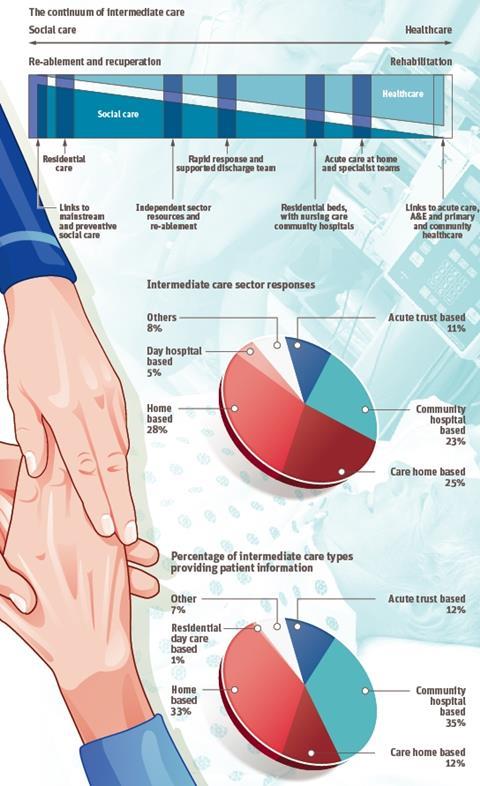 The national standard for intermediate care
A comprehensive national audit of intermediate care services, aimed at measuring and improving standards, could follow a pilot audit conducted by the British Geriatrics Society.
28% - Intermediate care based at the patients' homes

5% - Intermediate care based at a day hospital

1% - Residential day centres providing intermediate care that provide patient information
Duncan Forsyth, consultant geriatrician at Addenbrooke's Hospital, one of the BGS members spearheading the national audit development, believes it could become the equivalent of the National Sentinel Stroke Audit, which has helped to drive up standards year on year.
Dr Forsyth, who is also chair of the older people's specialist forum at the Department of Health, says: "We were left with the view that there is a lot of intermediate care out there, some but not all of which involves geriatricians, but we needed to know where the gaps existed."
The latest audit, whose final results are currently being analysed, was designed to show what standards were set for intermediate care and whether it was a safe service for elderly people. It follows surveys of rehabilitation beds carried out by the BGS in 2005 and 2007-08 when questions were also asked about intermediate care.
Data shortage
Headline results from initial analysis of the survey of 116 intermediate care services provided by 34 primary care trusts showed that 20 per cent did not hold weekly multidisciplinary team meetings, which are seen as critical to ensuring good outcomes. It also revealed that 40 per cent of the services did not have any clinical governance meetings, which help to ensure the quality and safety of services and which are standard in most hospitals' elderly care departments.
Another finding was that 35 per cent of services did not collect vital data on the numbers of patients who had been transferred from acute wards to intermediate care services - and had to be transferred back because their condition had deteriorated.
John Young, head of the academic unit of elderly care and rehabilitation at the Bradford Institute for Health Research, who is also involved in developing standards for intermediate care, says: "It is important to monitor these cases so that if there is a high rate, the reasons can be investigated. It can be a critical performance indicator to show whether that situation is improving or getting worse."
He believes regular clinical governance meetings are vital opportunities to discuss issues such as guidelines on new practices. "The survey suggests that some services are in limbo, disconnected from mainstream services in either primary or secondary care, yet they are vital services for older people, some of the most vulnerable in our society," says Professor Young.
He believes that, while both hospital services and residential care are under regular review, intermediate care services are not being scrutinised.
The BGS is now seeking funding from the Royal College of Physicians to design and implement a national audit.
Professor Young believes geriatricians, who previously have not been encouraged to get involved in intermediate care, must take some responsibility.
In July 2009, the DH published Intermediate Care: halfway home, a best practice update building on the original 2001 guidance. It provides renewed clarification of intermediate care, intended to change the way it works in relation to other local services and indicating the way forward for the next few years.
Blurred boundaries in Nottingham
Consultant physician Aamer Ali began his role in interface geriatrics in September, the first of three appointments to be funded jointly by Nottingham's two primary care and one secondary healthcare trust.
Officially, his role is split evenly between secondary and primary care, although he says the boundaries are "inevitably blurred".
"When I am aiming to avoid a hospital admission by setting up an emergency crisis response and then seeing the patient in my clinic a week later, is it primary or secondary care?"
In the community, his role includes caring for patients admitted under the intermediate care residential beds service in two care homes. He also aims to provide medical input to the intermediate care at home service, a role as yet in its infancy.
Shirley Smith, assistant director of commissioning for community services at NHS Nottingham City, says: "Ensuring appropriate levels of medical support to a community based intermediate care service has always been a challenge. We expect the appointment of a community geriatrician to build the skills, knowledge, competence and confidence in both our intermediate care and long term condition teams, enabling them to provide robust proactive clinical and preventive services that avoid unnecessary hospital admission of our frail elderly population and of those with multiple long term conditions."
Intermediate care requirements
A published local plan and a local multi-agency board responsible for intermediate care
A service led by a senior clinician
Recording and reviewing of waiting times for admission
Regular multidisciplinary team meetings
Regular clinical governance meetings
Medical assessment and drug reviews conducted on all patients admitted to intermediate care.